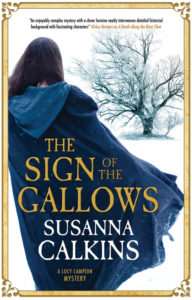 I love this series set in 1660's London, featuring former maid turned bookseller Lucy Campion.  London has weathered both the plague and the great fire, and the upheaval finds some women able to take work usually reserved for men.  While Lucy is not technically a bookseller's apprentice, she does everything an apprentice would do.  In the 1660's, bookselling also meant publishing, so Lucy works as a typesetter, a sometime writer of murder broadsheets, which were often sold at public executions, as well as working as a seller.  Her intelligence and connections to the wealthy Hargreaves family, her former employer, get her into some places the police cannot go. She's also torn between two suitors – Constable Duncan and Adam Hargreaves.
That's the background of the stories, and you need not have read the other books in the series to enjoy this one, as Calkins is an excellent storyteller and draws the reader into Lucy's world effortlessly.  The book opens at a crossroads – Lucy is passing a well known hanging tree on her way to sell tracts at a marketplace.  She's been knocked down by two men in a cart before she reaches it, and to her horror, she discovers a very recently hanged man at the tree.  She's pretty sure the two men who knocked her down are responsible in some way and she hurries back to town for the Constable.
The hanged man provides quite a puzzle:  was he a murder or a suicide?  If he was a suicide he cannot be buried in hallowed ground.  The threads unraveled by Lucy, the Constable and Adam Hargreaves (recently back from the New World), depend upon a cipher found in the man's pocket. As Lucy attempts to figure out the cipher she heads to the house of a well known mathematician, a friend of the Hargreaves, who introduce her as they ask the man to help unscramble the code.  Duncan is frustrated both by her access and the amount of time she's spending with Adam, and Lucy is frustrated when the mathematician is a dead end.
This book has excellent pacing, and the story unfolds organically, as one piece fits seamlessly into the next. Calkins also skillfully creates a feeling of 1667 London, with the many layers of class, the way of life for ordinary people, even to the medicines taken and the food eaten.  Calkins really puts the reader inside Lucy's world.
Lucy is a wonderful character.  She's intelligent, stubborn and relentless as she pursues answers to the many questions that arise throughout the book, some of which involve discerning the character of those she meets and attempting to sense if they are telling her the truth or not.  The details of bookselling in 1667 are especially fascinating (certainly to this former bookseller), as it's a profession that's changed mightily, though happily still exists.
I loved Lucy's personal "crossroads" as she attempts to decide what's best for her moving forward.  She's a strong character and a believable one.  She doesn't feel like an historical anachronism.  This is a wonderful series, a really wonderful array of characters, and best of all a great mystery at the center of things.