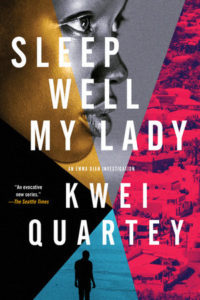 This is the follow up to Quartey's series debut, The Missing American, which, while excellent, was at times almost needlessly complicated.  The star of the book in every way was Emma Djan, who lives in Ghana and has left the police force to work for a private investigation firm.  She's a fully realized, complex, nuanced and charming character, and as a reader you are with her at every plot turn.
This book felt much stronger to me, the plot was more streamlined (though still entertainingly tricky), and while Quartey always infused his stories with some real heartbreak he is also a wonderful pure mystery writer.  The clues are fair and well laid.
Set in Accra, Ghana, the Ghanaian culture is a character in the book as much as any of the people in the story.  Ghana sounds like an incredibly lively and vital place with a police department that's more interested in solving cases than finding the actual perpetrators of the crime.  Emma's boss, Mr. Sowah, is also a former cop, and he is excellent at working the system.
Quartey is also outstanding at making you truly feel for the victim.  In both books the victim becomes a fully realized person, thanks to Quartey's use of a timeline that dips forward and backward.  As the book opens the beautiful Lady Araba, a fashion designer, is missed from her fashion show at the opening of Accra fashion week.
Unfortunately, Lady Araba's gardener has just discovered her dead in her bedroom.  Quartey skillfully illuminates Araba's backstory, as well as her relationship with Augustus Seeza, a well-known TV talk show host (known for asking penetrating and difficult questions of his subjects).  Augustus, unfortunately, is also a raging alcoholic, and Kwartey's explication of his life and the toll it takes on those around him, from his parents to his ex wife to Lady Araba, is heartbreakingly and realistically depicted.
Emma's agency is hired to look into Araba's murder by her aunt, who is sure the wrong person (Araba's driver) is in jail.  She is sure Augustus is the real culprit.  As Mr. Sowah deploys his agents to a number of different places, Emma finds herself backstage at Accra's fledgling forensic lab.  The clues she is able to uncover both at the lab and through a talk with a coroner help her to solve the case.
Like any golden age writer, Kwartey's suspect pool is tight, and he deflects suspicion from one to another with ease and skill.  It's easy to suspect each one in turn as you try and figure out who really killed Lady Araba.
Kwartey has a spectacular voice and his Ghanaian setting is not only unusual, it gives him plenty of scope.  The first book was about internet scammers, who are decidedly poorer and working class, while this book is set within Accra's more privileged class.  I think the sky is the limit for future installments as he has a wide canvas, a deft hand with a plot, and a real genius with character.  Emma Djan is someone to treasure.