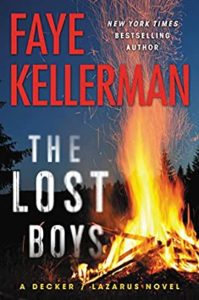 I was a devout acolyte of Faye Kellerman's early Decker and Lazarus books.  The Ritual Bath (1986) is, to me, one of the greatest first mysteries ever.  In it, Peter Decker, an LAPD detective, encounters the orthodox Jewish Rina Lazarus after a rape and murder at her neighborhood mikvah, or ritual bath.  Improbably, the two eventually get married and the series, now 26 books long, is a strong one.  The early books were marked by intensity of character discovery, intensity of violence, and Kellerman's propulsive narrative skill.
All these many books later, Peter and Rina have aged into a comfortable old married couple with many children and grandchildren, and Peter has retired from the LAPD and taken on a "retirement" job as a detective in upstate New York.  I have found through reading many writers who were almost excessively violent in early books – Karin Slaughter and Val McDermid come to mind – that as the authors age, the violence becomes less extreme.  In the cases of all of these talented writers I stuck with the books, because all of them are extremely well written.
What hasn't changed are the wonder of Kellerman's main characters.  All these years later, I love them as much as I did in my first encounter.  Rina is that almost perfect woman who isn't annoying (unlike say, Susan Silverman in the Robert Parker books).  Peter is kind – a kind husband and father, and a kind mentor to his present partner, Tyler McAdams, a recent law school grad who is figuring out his life.  Rina and Peter are always worth a visit just on their own.
What also hasn't changed is Kellerman's sure hand with narrative.  She sets up her story with a good hook.  A developmentally disabled man, Bertram Telemann, has disappeared from a scheduled field trip set up by the home he lives in.  The group had gone into the woods to hike and a head count on the bus home comes up one short.
While looking for Bertram, the police come across some older bones, and a cold case comes into play.  Ten years ago, three college students had disappeared on a camping trip in the woods and were never heard from again.  Sadly, the bones discovered turn out to belong to one of the missing boys, and Peter and his partner begin to unravel the case.
Kellerman has such a sure hand she's able to unspool both stories almost simultaneously, though the story of the boys takes front and center as Decker and his partner reach out to the parents of the missing boys to help them understand what happened.
Decker announces a change toward the end of the book that made me think this was a series wrap up, but Kellerman leaves a thread to unravel in a future story at the end of the book.  She also lays out a possible new direction for the series.  Either way this was a book that flew through my reading fingers far too quickly.  It also made me remember and appreciate all the reasons I love this series.