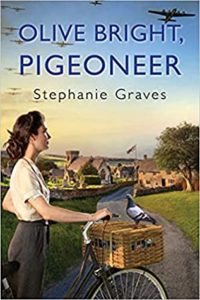 This novel will be published December 29.
This novel is more of a village cozy than a war novel, though it's set at the start of WWII in the tiny British village of Pipley.  The heroine, Olive, longs to enlist as a FANY (First Aid Nursing Yeomanry), but she's tethered to home, helping her father with her stepmother, who has MS, as well as with a young war refugee, Jonathon.  She also has the responsibility of the family pigeon loft, a fine one, and one her bristly father hopes will meet with the approval of the NPS, or National Pigeon Service.
The NPS does not show up to inspect the Bright loft, however, but some gentlemen representing a more covert branch of the British government do appear and decide to give Olive a try.  They even provide a cover for her, working as a FANY, because her work with the pigeons has to be kept a secret even from her father.
Olive is thrilled and begins to train several of her pigeons in secret.  This is a many layered story, and the pigeons are only a small portion of it.  There's Olive's prickly reaction to the agent in charge of her, Jamie Aldridge, which says to me romance will appear in later books.  There's Olive's devotion to Agatha Christie novels.  She loves Poirot, and she likes the idea of the puzzle pieces of a mystery slotting together.  And there's her stepmother Harriet's determination to produce a stage version of Pride and Prejudice for village enjoyment.  She's busy casting about for a perfect Darcy.  And there's the pig club, which Harriet has roped Olive into leading.
Amidst all of this, there's also the village busybody, Miss Husselbee, who terrifies everyone with her umbrella and her copious taking of notes, recording the many perceived wrong doings of various villagers.  And to add to this Olive is planning to attend the annual daffodil dance, and as a cover she's agreed to attend with Jamie Aldridge.  When the two of them arrive at the dance, she dumps him with her stepmother who begins to pepper him with questions, and makes her way to the cake table, where she encounters Violet Darling, recently returned to town after a somewhat scandalous exit years ago.
Violet has her eye on a cake made of spam and frosted with potatoes. The two women decide no one would ever eat it, when Miss Husselbee steps up and proves them wrong, devouring a healthy slice.  She's of course later discovered dead and the spam cake has disappeared, but there's enough evidence for the coroner to discover that Miss H. was poisoned by foxglove (a poison beloved of golden age writers).
All of these elements play their part in a story that is at times both needlessly complicated and at the same time gently enjoyable.  I loved my visit to Pipley, I enjoyed Olive, and I really enjoyed learning about the pigeons and the kind of work they did during the war, which was truly amazing.  I even enjoyed Olive and Jamie's relationship, fraught with conflict as it was.  I also felt this book would have benefitted by the loss of a plot thread or two and a bit of tightening up, as well as much, much more about the pigeons.
While there are many books about WWII and even more mysteries set in British Villages, this is absolutely the first one I've read about pigeons, and I would definitely read another one.  The author does include a nice note at the end with more information about them, and she leaves this book well set up for a sequel.  Caveats aside, I thought Olive was a great character and series anchor.