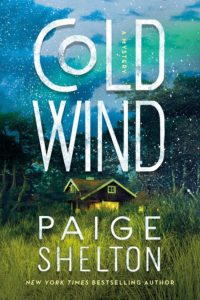 This is the second book in Paige Shelton's series about thriller writer Elizabeth Fairchild, now in hiding in tiny Benedict, Alaska as Beth Rivers, after being kidnapped by a crazed fan.  Elizabeth/Beth lives in a halfway house and appreciates the privacy she finds in the Alaskan wild, a place that truly seems to be its own country, existing without a real nod to the rules and regulations more common in the lower 48.  Shelton, the author of four other cozier series than this one, is a real pro at narrative, pacing, and character.  These skills easily transfer to this series which is a bit darker in tone, and fits in more with work by writers like Ellen Hart, Dana Stabenow and Julia Spencer-Fleming.
Beth is the "editor" of the tiny local paper, working out of a shack where she is able to filch wi-fi from the local library.  While she does put a paper together she also uses the office to continue writing her novels, though no one in town knows what she's up to, though several, including the librarian, Orin, guess that there's plenty she's not telling.  In Alaska, though, no one pries into another's business – except, of course, Beth.
Beth suffers from PTSD and bears a scar on her head from her kidnapping, a scar which gives her pain and keeps her in close contact with the local doctor.  It doesn't hurt for her to live in the local halfway house where she's watched over a bit by its proprietor, the gruff and observant Viola.  As the book opens, Viola has taken on a new resident, a recovering addict named Ellen.  When Ellen arrives, she's in full withdrawal mode and is exceedingly hostile, to the point of being a little dangerous.
The element which truly kicks off this fast paced story is a mudslide, a mudslide which uncovers some hidden secrets (including a body) and finds two girls, covered in mud and unable to speak, at Beth's office door.  She takes them to the authorities where they are cared for until their father is found.  He takes them back home, but Beth has bonded with the two girls and can't seem to let them go.
Meanwhile, the mudslide has uncovered a frozen body in a shed near the home of the owner of "the mercantile," Randy.  Because Beth has been helpful on an investigation in the first book (Thin Ice) and because she has bonded with the two mysterious girls, she's allowed along on some of the official investigation and makes some more discoveries on her own.
The story, the setting, and the characters all unfold organically and naturally into one another as the mudslide reveals more and more secrets about some of the residents of Benedict.  Shelton is an incredibly vivid and gifted story teller, and I was totally drawn into both Beth's investigation and the mystery as well as her ongoing fear of her kidnapper (who has not been caught) and the personal and psychological ramifications that has for her.
I was fascinated by the way people in Alaska accept many things, not least of all the weather, which is a factor in several white knuckle driving episodes in the book.  It turned out to be Shelton's version of letting her character venture-into-a-dark-house on her own, despite reasonable warnings not to do so.  It was believable, though, and since most of us have had a less extreme version of this driving-in-a-snowstorm experience, it's very relatable.
This book is a real standout.  Shelton's storytelling skills are top notch and I was glued to my reading seat as I followed Beth's story.  There's no doubt Beth is in for a long haul in Alaska, and I hope this series is in for a long haul as well.