2020 has been – challenging – but the upside for me was even more reading time, and I read so many books this year it was difficult to winnow my list to 10, so I added a couple extra categories.  There should be something for most readers on this list – maybe not the lover of hard boiled fiction – but I'm pretty sure that's not why you are visiting this website.  I'm sure there were some wonderful noir and hard boiled reads this year – they just aren't my cup of tea.  However, if you are a lover of the traditional detective novel, or of the historical detective novel, this was a fantastic year.
These are listed in alphabetical order, with extras to follow, so keep scrolling!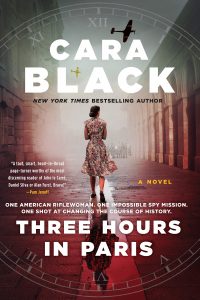 Cara Black's Three Hours in Paris is an incredible achievement. This ticking clock thriller feels like the book Cara Black has long wanted to write, it's so explosive, so taut, and so impossible to stop reading.  The propulsive narrative follows Kate Rees, a young American sent to assassinate Hitler when he visits Paris for three hours in 1940.  The set up introduces Kate as she's waiting with her sniper rifle for Hitler's appearance; then it goes back in time, very briefly, to establish Kate as a person. Black then turns her sights to her real objective: telling an hour by hour story of the hunted and the hunter.  As its 1940 it's not a spoiler to say Kate misses her target, though she does hit another one, and the Fuhrer wants the shooter found and dispatched. This unhappy task falls to Gunter Hoffman, who is given 36 hours to find her.
For a thriller to really work, the gears and inner workings of the plot shouldn't be too apparent.  They should just naturally fold into one another in a progression that seems absolutely inevitable.  This was definitely the case with this novel.  Kate thinks practically, fights like a man, and has the skillset of a hunter.  The plot never lets up.  The characters are made human to the reader, but the main thing is the hunt and the ability of the hunter to locate his prey. Read it.  There were so many unexpected twists and clever acts of thought and action on Kate's part I think I will be mulling it over for quite a while.  It's a fabulous change of pace for the talented Cara Black.
Ann Cleeves' 9th Vera Stanhope novel, The Darkest Evening, hits it out of the park. With now three strong series to her credit, one of the most delightful features the cranky Vera Stanhope, whose hopelessly messy and unstylish appearance conceals a sharp and perceptive mind.  She's Columbo in the British countryside, just a shade less congenial.  This installment finds Vera face to face with the fancier branch of her family, impoverished landholders who can't keep up the stately family home.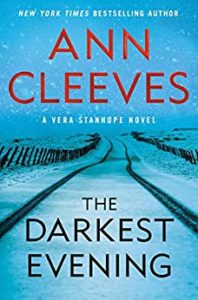 As the book opens Vera is driving through a terrible snowstorm and she comes across an abandoned car – with a baby in it.  She leaves a note, takes the baby, and heads to her ancestral home where she interrupts a Christmas party and is treated like the help by her distant cousins.  They take her and the baby in, though, as Vera, stuck for the duration of the storm, settles in to sort out the baby. Two girls who had been helping out at the party wait for their Dad to pick them up on his tractor during the storm, but he breaks into the kitchen and says he's found a body in the snow.  It turns out, of course, to be the baby's mother. And here is where the golden age mystery differs from the contemporary one.  Yes, the set up is traditional – Christmas house party – but the after effects and psychological impact of the crime are as important as the crime itself, and it's character development and the unpeeling of those characters by the canny Vera that lead to the ultimate solution. Cleeves frames the novel with one of my favorite poems, Robert Frost's evocative classic, Stopping by Woods on a Snowy Evening. While the book is atmospheric on its own, the Frost poem adds that extra sparkle and depth to the read that makes the book even more memorable.  To me, this is one of the reads of the year.
Carol Goodman's luscious prose doesn't mask her storytelling drive, and it's a haunting and unforgettable combination.  The Sea of Lost Girls is set at a girl's boarding school in Maine, centering on the family of Tess, Harmon and Rudy.  Tess and Harmon both work at the school; Rudy is Tess's son and Harmon's stepson, as well as a student at the school. The book kicks off with him texting his mother in the middle of the night, and she rushes off to find out what's wrong. As a reader, I was instantly drawn into the dynamic between Tess and her son, who has had some troubles but whom she loves fiercely.  Her greatest goal is that of any mother's: to protect him.  And, as it turns out, he needs it.  His girlfriend, Lila, whom he had been fighting with, turns up dead the next morning and suspicion falls on both Rudy and Harmon in turn.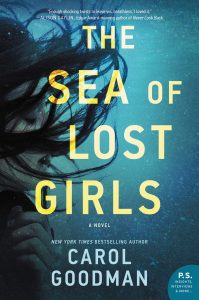 Tess is forced to re-examine her life and the events leading up to Lila's death as her husband and son are both taken to the police station as persons of interest.  So much of Tess's story is about shame – as her backstory is teased out, we learn of her very early relationship with an older man who virtually kept her prisoner.  She has obviously started over, but the scars remain.
Goodman has created a story reflective of our own times and the changes and lack of changes that still exist.  The idea of demeaning and shaming women, unfortunately, is still with us, but the way young women are starting to fight back and respond is illuminated in Goodman's story. Mystery novels are so often intelligent examinations of life as it is lived at the moment, and this book is an illustration of the ways an author can tell a story and write about the times she's living in simultaneously. The mystery element is also fabulous, and the ending has a wonderful twist, the kind that's a surprise but has been carefully set up by this intelligent author. There was much to think about when I finished, and much to enjoy as I sped through the pages of this wonderfully written and fully realized novel.
If Alice Henderson's The Solitude of Wolverines isn't the birth of a long running series, I would be stunned.  A definite relative of Nevada Barr's long running and beloved Anna Pidgeon series, Henderson has created an adventure suspense mystery with a foundation in the natural world.  While Anna Pigeon is a parks ranger, Alex Carter is a biologist who studies endangered species in their dwindling habitats.  Like Anna, however, Alex is definitely a bad ass. After a traumatic incident in the opening scene, set in Boston,  Alex gets a call that very night asking if she's willing to go to Montana to study wolverines.  She has recently separated from her boyfriend and hates the city – she snaps up the opportunity and heads to Montana the next morning.  She's to live in an abandoned ski lodge and work the land trust that it sits on to see if wolverines are present.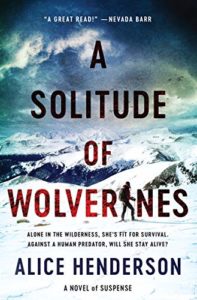 The tension in this novel, and I imagine in any future novels, comes from the hostility some feel for things like land trusts that prevent development or, as is common in Montana, cattle grazing.  The residents of tiny Montana town Alex is living in seem generally hostile and suspicious, and the only place Alex feels safe is out in the woods. A real strength of this book, aside from the character of Alex, are the specific details of how animals in the wild are tracked.
Henderson throws in a great deal of suspense and the element of Alex not being able to really trust anyone in town makes her solitary nature, ability to tinker with motors and all things mechanical, as well as her mother's teaching her from a young age how to survive in a wilderness situation, a rich protagonist. This is a wonderful, suspenseful novel with a fantastic main character and a fascinating background of endangered species preservation.
Anthony Horowitz is one of the smartest writers working right now, and this sequel to his (in my opinion) classic Magpie Murders is every bit as good as the first one. The main character in Moonflower Murders is editor Susan Ryeland, who has given up her successful career to head to Crete and help her partner run a small hotel there.  It's not going well.  The hotel is having trouble and it's a mountain of work, so when Pauline and Lawrence Treherne appear asking for Susan's help in locating their missing daughter back in England, she readily agrees, especially when they sweeten the pot by offering her £10,000.  She takes them up on it and checks into their hotel.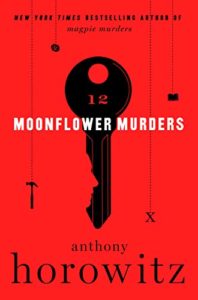 Why they offer Susan money is trickier – to explain, at any rate.  Susan had been the editor of the hugely successful author, Alan Conway, whose creation, Atticus Pünd, sounds very much like Hercule Poirot. The Trehernes think Susan can find their daughter because, as Alan's editor, she was most familiar with his work, and shortly before she disappeared, their daughter insisted that one of the Pünd books showed her the answer to a murder that took place in the hotel the Trehernes run, on their daughter's wedding day, eight years ago. Susan checks into their hotel and begins to familiarize herself with the death of Frank Parrish, who was brutally killed with a hammer in room 12 almost a decade earlier
While Horowitz brilliantly sets up the  mystery that Susan is investigating in the present, she finally must return to the book she edited all those years ago to see if she can discover what clue the missing woman found that seems to prove the accused killer is innocent.  So, in the middle of what is actually a quite compelling story, Horowitz inserts the entire book – Atticus Pünd takes the Case – and dares the reader to solve the case along with Susan. The clues are fiendishly clever and while I saw they were there as enumerated by Susan in her classical drawing room summing up with all suspects present, I didn't see them as I inhaled each of the stories. Throughout this updated version of a golden age novel there are clever nods to detective fiction, a genre Horowitz obviously loves and reveres.  He has added to its luster with his contributions, both Susan Ryeland stories being, to me, instant classics.  You'll want to re-read this one.
Nev March's charming Murder in Old Bombay is the righteous winner of the Minotaur/MWA First Crime novel prize.  Set in 1892 Bombay during the British Raj, this novel focuses on Captain Jim Agnihotri, who has left the military after a long stint in the hospital.  The book has an excellent opening line: "I turned thirty in hospital…with little to read but newspapers."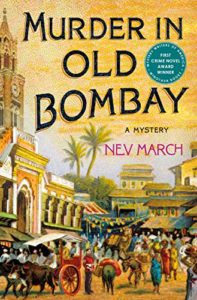 In said newspapers, Captain Jim reads the story of two Parsee women who plunged to their deaths from a University clock tower.  One was a young bride, one, her younger sister in law.  When Jim reads a plea in letter form in the newspaper from the young widower, he is sure that the details of the crime don't add up.  The husband pleads that this was not a suicide but the recently concluded trial leaves this stain and uncertainty on the family.
Jim is also a recent devotee of Sherlock Holmes, and feels his hero could have solved this crime with a more thorough vetting of both clues and circumstance.  He presents himself to the bereaved Framji family, and agrees to help them discover what happened to the two women. This has a very traditional set up – obviously, it's based on Sherlock Holmes – but for this talented writer, Holmes is more of a jumping off point for a beautifully told, exciting, adventure/romance with a well crafted mystery at its center. Inappropriate romance blooms between Jim and the remining Framji daughter, Diana, adding romance to the adventure portion of the book.
There are several things I truly loved about this wonderful book.  I loved the unapologetic plunge into time and place.  I loved the truly clever, slowly unfolding mystery.  In deference to Holmes there are some excellent disguises on Jim's part as well as some very tiny clues – like a bead – that turn out to be relevant.  And I loved the characters of both Jim and Diana.  I absolutely cannot wait for book two.
The second novel in Jess Montgomery's remarkable series set in a 1920's Ohio mining town is every bit as memorable and vivid as the first, The Widows, which was far and away one of the best books of 2019.  Montgomery brings to life the story of the first female sheriff, Lily Ross, in tiny Kinship, Ohio.  While the first novel concerned itself with the politics of mining, The Hollows is more of a straight mystery, which veers into the unfortunate territory of racism and because of the time period, an ever present and ingrained sexism.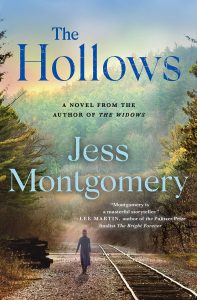 The book opens with the wandering of an old woman down some railroad tracks, where she ultimately falls to her death.  As Lily is called in to investigate, she of course wonders if the frail, shoeless old woman fell, or was pushed.  One of the strengths of both novels are the network of kin (her town is even called "Kinship")  and friends that Lily calls on and relies on to both help her get through the day taking care of her children – that's often her mother, raising her own late on life child – to taking care of prisoners at the jail, to figuring out the deep connections in the backwoods hollows that to any outsider would be impenetrable.
Blending the search for the old woman's starting point with a backtracking into her life that reveals a history of a woman's branch of the KKK, Montgomery skillfully balances emotion, politics, and history with a deep connection to the area she's writing about and a gorgeous prose style that make these books stand outs.  The mystery is good, but the characters are great, and they define the story. My best advice: dive into these wonderful novels.  They are an immersive and beautiful experience.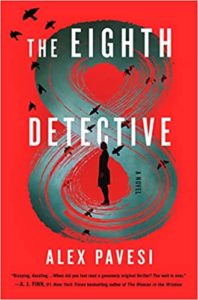 Alex Pavesi's concept in The Eighth Detective is entirely welcome and ingenious.  Pavesi's central character in the novel, Grant McCallister, lives a hermit's life on a remote island.  Twenty years ago, he'd written a book called The White Murders, published in the early 1940's.  The book in our hands is a series of short murder mystery stories, interspersed with McCallister's mathematical analysis of the murder mystery. There are a certain number of required elements and within this structure – and, as mystery readers everywhere already know – there are endless variations.
McCallister is being visited by an editor, Julia Hart, whose publisher is interested in reprinting The White Murders. To that end, she reads aloud each short mystery, and then she and Grant discuss the stories, including whatever slight discrepancies there might be in each one.
After each story, a new element of detective fiction is discussed: suspects, a detective, a killer or killers.  How these elements intersect provides the various, as McAllister calls them, permutations of detective fiction.  Each story provides a different example, some very clearly based on Agatha Christie's novels. Because Christie was responsible for creating many of the tropes of detective fiction – most famously: everyone is the killer, the narrator is the killer, and everyone is killed – these are some of the tropes chosen by Pavesi in his clever, bitter little stories. The book sets itself smack in the middle of the golden age of detective fiction – a time when Christie, Sayers and others were writing – and then self-consciously looks back at the 40's not from the present but instead from the late 1960's, the perceptions then are filtered once again by our own in the present day. Pavesi is placing us at one remove from the pleasure of pure narrative storytelling and inviting us, instead, to consider and analyze detective fiction.  I think his ultimate question is, what makes detective fiction so enjoyable?
The also book asks the reader if the detective novel has worn itself out.  I think we can answer a resounding "no", as long as books as clever and memorable as this one continue to be written. The permutations of suspects, detective and killer continue to fascinate us, as do the resolution and answers provided by the mystery novel.  The Eighth Detective does not disappoint, as it presents these elements as well as providing the reader with a more than delicious resolution.  This is the kind of book you may want to read again the minute you finish it.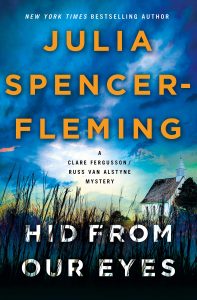 If you're a fan of Julia Spencer-Fleming's, you'll be delighted to know that Hid From Our Eyes picks up right where One Was a Soldier left off.  Since it's been awhile I'll recap: Episcopal priest Clare Fergusson and her husband Russ Van Alstyne have welcomed their first child (read the book to find out the child's name and sex).  Clare is in addiction recovery, and believably – for anyone familiar with addiction – she teeters from sober to wishing she wasn't.  That's the rich background.
Spencer-Fleming tends to write on an epic scale, and this book is no exception to that rule.  Filling her canvass with richly drawn and memorable characters, she also creates a wonderful mystery. There are three separate cases of dead girls abandoned on the highway with no apparent cause of death, and the deaths are decades apart.  The first one was in 1952; the next, 1972; and then there's a present day case. None of the cases were solved, and in the 1972 case, Russ was actually a suspect.  Spencer-Fleming takes her time connecting the cases, the victims, and the investigators, but she does connect them in an incredible fashion.
Spencer-Fleming is expert at setting the sword of Damocles above her characters and having them operate underneath it, finding solutions in messy, human ways that strike at the reader's heart.  I think that's one reason this series is beloved.  Another is the rich Adirondack setting, and still another is Spencer-Fleming's pure skill as a mystery writer.
Spencer-Fleming's essential optimism connects her to writers like Louise Penny and William Kent Krueger, who also deal with dark subjects but whose ultimate message is one of optimism.  There are few better ways to make a series beloved.  The other way, and it's a skill Spencer-Fleming also possesses in spades, is writing an ending that leaves the reader hanging.  You want more when you finish the book – you want to know what happens next.  This is a wonderful reunion with Clare and Russ.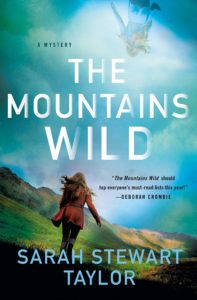 I was a huge fan of Sarah Stewart Taylor's Sweeney St. George series, published in the early 2000's.  Sweeney was an expert on gravestone iconography, and the books were beautifully written, thoughtful mysteries.  Stewart Taylor has been away from mystery fiction since 2006, and her return, with The Mountains Wild, feels more polished and more pointed in its narrative drive – it's a step up. It follows the story of Maggie D'Arcy, who, as an adult, is a homicide detective on Long Island, but who, as a 20 something, lost the cousin who was like a sister to her.  The cousin, Erin, had left the states for Ireland, and hasn't been heard from since 1993.  There are other young women who were killed (and discovered) in the same area, and Maggie and the rest of her family are pretty sure Erin is dead, but they'd like to know.
As the book opens, Maggie gets a call from her uncle (Erin's father) in the middle of the night, telling her an Irish Garda had called requesting a call back.  Maggie is the one to call and it turns out they've found something else of Erin's – that's all that's needed for Maggie to get on a plane and head to Ireland to find out as much as she can.
The book alternates timelines, mostly between the time of Erin's disappearance and Maggie's first search for her, with the present and her search for Erin with the new discoveries, but it also backtracks in time to the girls' childhood together. It also turns out that another young woman is missing, and the clock is ticking.  Stewart Taylor very effectively alternates between the solid police work Maggie is capable of in the present, to her previous, unformed 20 year old self, grieving for her mother, puzzled and saddened by her cousin's disappearance.
This is not only a wonderful mystery, it's a pretty excellent police procedural – even if Maggie is mostly at a remove from the proceedings – and it's a truly lovely character study of Maggie and Erin.  As the book concludes, with more finely drawn versions of both women, the result is both stunning and revelatory.  I truly hope it's not another long 14 years before we hear from this talented author again.
BEST TRIP TO PARIS: the Gamaches in Louise Penny's complex, beautifully written and felt All the Devils Are Here.  I loved that the story centered on the Gamache family, I loved seeing Reine Marie in her environment (the library), and I loved the explication of the father son relationship, both between Gamache and his biological son, Daniel, and his son of the heart, Jean Guy.  Another stunner from the talented Penny.
BEST USE OF LIPSTICK:  Ariel Lawhon's insanely entertaining and vivid telling of the story of resistance fighter and spy, Nancy Wake, in Code Name Helene.  While not a mystery, it's an incredible story.  Wake was an Australian who ended up in France and, married to a Frenchman who enlists, she gets a little restless and agrees to a courier job.  Before she knows it she's escorting refugees to the safety of Spain and living in the woods with other resistance fighters.  Her secret weapon: Elizabeth Arden red lipstick, which she said makes the enemy see the woman and not the warrior. It was a useful distraction. Read it. Inhale.  Admire.
BEST LOCKED ROOM:  James R. Benn's clever The Red Horse finds our beloved Billy Boyle getting some much needed recovery time at St. Alban's, along with Kaz, whose heart problem is becoming dire.  When Billy witnesses a "suicide" from the hospital's watch tower, he's pretty sure it's murder, and after a sleep cure he's on the case.  This is a terrific installment in a now classic series that provides both WWII detail as well as polished and clever traditional mysteries.
BEST TRUMP TAKEDOWN: Carl Hiassen's Squeeze Me, ostensibly about a Palm Beach's socialite's death by python but really, about so much more, as he turns his wickedly satiric eye to both Palm Beach Society and the Trump presidency.  Is Trump really called "Mastadon" by the Secret Service?  Does he actually have a guy who tests his tanning bed out before he gets in it?  Fun things to consider and as usual the plotting skills of Hiaasen are top notch.  This qualifies as a "series" entry because of the presence of Skink, the road-kill eating ex-governor of Florida.  To which I can only say "yay."
BEST EXPLANATION OF HALLOWEEN JACK O LANTERNS: Elly Griffiths, as usual, turns in a masterful entry in her beloved Ruth Galloway series, The Lantern Men. She skooches Ruth ahead a couple years. Ruth is now living and teaching in Cambridge with Frank, but she's summoned to a case by Nelson, who tells her a convicted murderer will tell him where the bodies are buried, but only if Ruth does the exhumation.  Ruth finds an extra body and the story, with threads in the past and the present, is Griffith's usual exceptional brew of folklore, character and a plot that moves like lightening.
BEST REASON TO BE A GOOD PERSON DEPT: The Geometry of Holding Hands is Alexander McCall Smith's gentle, barely a mystery, story of Isabel Dalhousie's life in Edinburgh.  Isabel is an heiress, happily married, who administers a trust that her niece benefits from.  In everything, she tries to do what's right, from stepping in at the end of a restaurant argument between people she doesn't know to agreeing to help decide the terms of a will for a stranger. McCall-Smith provides genuinely thoughtful observations on morality and behavior, and Isabel's gentle example might inspire you to try just a little bit harder in your own life.  A refreshment in a brutal year.
BEST EXPLICATION OF PRINCE PHILIP'S BACKSTORY:  Allison Montclair's delightful second installment of her Sparks and Bainbridge mysteries, A Royal Affair, finds the protagonists (who own a  marriage bureau in London in 1946) being asked to vet Prince Philip as a prospective groom for the young Princess Elizabeth.  The story that follows is an absorbing hoot, complete with Montclair's witty use of language and sure hand with narrative.  One of the happiest new series around.  I love these books.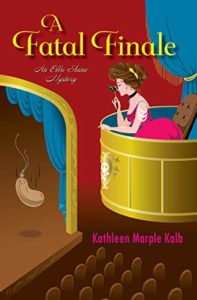 FAVORITE DEBUT:  Kathleen Marple Kalb's sure handed A Fatal Finale introduces trouser diva Ella Shane, an opera singer who sings men's roles, based out of New York in 1899. When the opening night of Romeo and Juliet goes horribly wrong – Juliet turns up dead – Ella and her complicated band of allies and friends solve the case.  Kalb has a real knack for combining a swiftly paced story, a bit of adventure, a bit of romance, and a good mystery.  This was a sparkly debut novel and I am already looking forward to more from this new talent.
FAVORITE COZIES:  While you can check out my Cozy Round Up for a longer list, these two books  really stood out.  Hannah Dennison's Death at High Tide finds the recently widowed Evie discovering, as her husband's will is read, that she's broke, but she does own a hotel on the Isles of Scilly.  She and her sister Margot head over to check it out, an exhausting process culminating in a lengthy and nauseating ferry ride, only to discover that the hotel is a bit ramshackle, and shortly after their arrival the manager is murdered.  Dennison then cleverly sets up what is basically a locked room mystery – the island the hotel stands on is only accessible at low tide – and she then creates a mysterious atmosphere, populated with several eccentric and fascinating suspects.  Utterly enjoyable.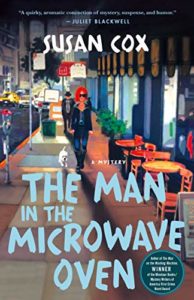 I also loved Susan Cox's The Man in the Microwave Oven, a totally original take on the cozy.  The heroine, Theo Bogart, is a poor little rich girl who has fled scandal at home in England and made a new, off the grid life for herself in San Francisco, where she owns a soap and candle shop.  The shop is mainly the vehicle for helping to create and define the village-like atmosphere of the San Francisco neighborhood where she lives, and when a nasty condo developer is found dead in her car one morning (by Theo) the detection begins.  The story includes rogue priests, Russian spies, a young man educating himself despite his father's negligence, Theo's coffee shop owning buddy and a plot that includes some hands found in the coffee shop's microwave.  This book was a total blast and I hope Susan Cox has a good long run with this series.
And friends and book club members have shared their favorite reads:
Patti Lang, Arizona: The Angel of the Crows, Katherine Addison; Three Hours in Paris, Cara Black; The Gold Pawn, L.A. Chandlar; Dead West, Matt Goldman; Absence of Mercy, S.M. Goodwin; The Janes, Louisa Luna; A Royal Affair, Allison Montclair; and Blame the Dead, Ed Ruggero.
Cathy Akers-Jordan, Davison: Next to Last Stand, Craig Johnson; Mindhunter: Inside the FBI's Elite Serial Crime Unit, John E. Douglas; A Case of Cat and Mouse, Sofie Kelly; All the Devils are Here, Louise Penny; Hawke's Target, Reavis Z. Wortham; The Last Mrs. Summers, Rhys Bowen; Riviera Gold, Laurie R. King; Murder on Pleasant Avenue, Victoria Thompson; Come Homicide or High Water, Denise Swanson; Murder in the Storybook Cottage, Ellery Adams; The Diva Spices it Up, Krista Davis.
Vicki Kondelik, Ann Arbor/Albion: Palace of Justice, Susanne Alleyn; Three Hours in Paris, Cara Black; The Long Call, Ann Cleeves; A Death of No Importance, Mariah Fredericks; The Stranger Diaries, Elly Griffiths; A Fatal Finale, Kathleen Marple Kalb; The King's Justice, Susan Elia MacNeal; The Right Sort of Man, Allison Montclair; A Trace of Deceit, Karen Odden; and All the Devils are Here, Louise Penny.
Tori and Nicolas Booker, Ann Arbor: Those Who Wish Me Dead, Michael Koryta.
Clarissa Codrington, Ypsilanti: Faithful Place, Tana French; The Diviners, Libba Bray;  Evicted, Matthew Desmond; The Secret Commonwealth, Philip Pullman; We're Going to Need More Wine, Gabrielle Union; The Vanishing Half, Brit Bennett; The Nightingale, Kristin Hannah and Caste, Isabel Wilkerson.
Roseann Vorce, Ann Arbor: Long Bright River, Liz Moore.
Lisa Arnsdorf, Ann Arbor:  A Brush with Shadows, Anna Lee Huber; Miracle Creek, Angie Kim – Lisa says: "I loved the dissection of what we go through for our kids"; The Smuggler's Secret (YA), The Lantern Men, and The Stone Circle, all by the gifted Elly Griffiths; The Pigeon Pie Mystery, Julia Stuart; My Sister, the Serial Killer, Oyinkan Braithwaite; The Stonecutter, Camilla Lackburg; The Silent Patient, Alex Michaelides.
Joyce Simonski, Canton: The Long Call, Ann Cleeves "has a way with character development."
Diane Gross, California: The Right Sort of Man, Allison Montclair.