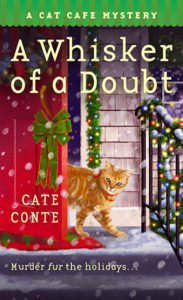 Author Cate Conte/Liz Mugavero joins us with this nostalgic look at Christmases of her childhood and Christmas as it appears in her Cat Cafe books.  Time to get in the holiday spirit…A Whisker of a Doubt will be published on December 1st.
Christmas, to many people, means the most wonderful time of the year. (Note: in my view Halloween takes that award, but I've always been a bit off-the-beaten-path…)
Regardless, I understand the appeal and I do love Christmas myself. Growing up, my family always made sure we had the best holiday season, full of traditions, family, and yes, gifts galore. I was very blessed.
So I was excited to set my most recent Cat Cafe mystery at Christmas time. It was a totally different set of traditions for me to explore. My own family is pretty small, so to be able to explore what life is like for a large family on a small island where pretty much every resident is considered extended family was a lot of fun.
For both me and Maddie, Christmas Eve is the best part of the holiday. It's the night of anticipation, when the gifts are all still wrapped and if you're lucky, a bit of snow is falling.
In Maddie's world—as long as there's no murder—Christmas Eve means Grandpa Leo's house has all the action, with all-day cooking and friends dropping by. Around five or so, the serious party gets started—official guests start showing up with food, drinks, and presents. Christmas music is playing and there are so many people coming in and out that it's hard to keep track. The food is plentiful. Cass Hendricks, Maddie's friend who owns a metaphysical bookstore and tea shop, plays singing bowls. Grandpa Leo is wearing a wacky Christmas outfit, usually involving red pants and an outlandish tie. JJ the cat has a Santa outfit on. And Leopard Man always makes an appearance with his usual outfit, perhaps dressed up with a red bow to celebrate the occasion.
In my world, Christmas Eve was a bit more low-key when I was growing up. On special Christmases, my uncle was home from Texas, which meant there were more people from my father's side of the family over. On most Christmases, it was usually my parents, my brother and my grandparents on my mother's side. My brother and I would play 45s with my grandfather (a special card game unique to a certain part of Massachusetts). Our dog, Benny, would be trying to steal appetizers. My mother would be cooking up a storm and my dad would keep the Christmas tunes coming.
As Italians, we did the whole fish thing for dinner. Homemade fudge was always on the menu for dessert, along with about five other things including an ice cream cake (don't ask me why) and pumpkin pie. As kids, we would watch How the Grinch Stole Christmas (the cartoon), as well as Frosty the Snowman and Rudolph. As we got older, we watched the Patrick Stewart version of A Christmas Carol and It's a Wonderful Life.
And we always did our presents on Christmas Eve. As kids, my parents would save the big presents for "Santa" to give us, but it was always tradition to open gifts after dinner. As I got older and started my own life, I carried that tradition away, even if it was just one present.
Christmas Day was still about family, but it had a different energy. It was slower, more relaxed, less exciting. More food, if that was possible, but the anticipation was over and we were already moving toward the end of the holiday that used to seem like it took so long to arrive.
Christmas night would be about catching up on any movie we hadn't gotten to watch the previous night.
Holidays are really different now. My grandparents and my dad are gone, and my mother, brother and I are scattered in different places. Things change—even traditions change—but I'll always have those early holiday memories to carry with me.
And chances are, if Maddie is doing something for the holidays that has a sentimental feel to it, there's a ring of Christmas truth to it.
********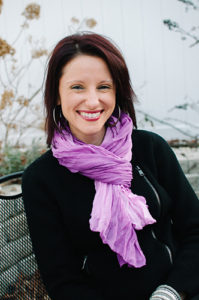 Liz Mugavero/Cate Conte is the bestselling author of three mystery series, two with Kensington Books and one with St. Martin's Press. As Liz Mugavero, she writes the Pawsitively Organic Mysteries, the first of which was an Agatha Award nominee for Best First Novel. As Cate Conte, she writes the Cat Cafe Mysteries and the new Full Moon Mysteries, featuring newbie witch Violet Mooney. She is a member of Sisters in Crime, Sisters in Crime New England and the Cat Writers Association.