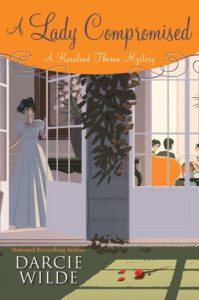 This novel is reviewed by our occasional and gifted reviewer, Vicki Kondelik.  It will be available November 24.
A Lady Compromised is the fourth book in the Regency mystery series by Darcie Wilde (a pseudonym for Sarah Zettel) featuring Rosalind Thorne, a gentlewoman living in reduced circumstances after a family scandal.  To make a living for herself, Rosalind helps society ladies solve their problems, which, in this book and the others in the series, include murder investigation.  At the beginning of this book, Rosalind travels to Cassell House, the country estate of Devon Winterbourne, who has recently, and unexpectedly, inherited the title of Duke of Casselmaine following the untimely deaths of his father and older brother.  Rosalind and Devon had been close to becoming engaged before Rosalind's father's disgrace, at a time when Devon was a second son, with no prospects of inheriting the dukedom.  Now his cousin, Rosalind's friend Louisa, is getting married, and Rosalind is looking forward to attending the wedding and possibly rekindling her romance with Devon.
At Cassell House, another friend of Louisa's, Helen Corbyn, asks for Rosalind's help, even though the two have never met before.  Helen's brother William, a traumatized veteran of the Napoleonic Wars in Spain, has died under mysterious circumstances.  His death was ruled an accident, but Devon, who saw the body, thinks he committed suicide, while Helen believes he was murdered.  She is afraid her betrothed, Peter, might be the one who murdered her brother.  Peter had been about to fight a duel with William, when Helen, desperately trying to prevent the duel, found William's body.  Peter will not tell her what the duel was supposed to be about, or anything about what happened.  Helen wants Rosalind to look into the circumstances of William's death in order to prove that her betrothed is not a murderer.
Rosalind is reluctant to take on the case at first, because she knows the society ladies of the neighborhood will gossip, and ruin the chances of her marrying Devon.  These ladies, especially their two leaders, the rivals Lady Pennyworth and Mrs. Vaughn, are a particulardly nasty lot.  Mrs. Vaughn wants to enlist Rosalind as an ally against Lady Pennyworth, but Rosalind soon discovers that the newly-rich Vaughn family is deeply involved in the case.  William Corbyn had been engaged to Mrs. Vaughn's daughter Cecilia, and Cecilia's disgraced brother, who was supposed to have gone to Ireland but didn't, was his second in the duel.  Soon Rosalind decides that learning the truth is more important than what the society ladies say about her, and she looks for William's murderer, even though she knows the truth might hurt Helen.
As it turns out, many of the guests at Cassell House had motives to kill William.  Peter, of course, is the prime suspect at first.  But there are others, including William's betrothed, Cecilia, two of her brothers, and  William's brother Marius, an engineer who is in charge of Devon's project to drain the fens near his home.  Marius Corbyn is a very unpleasant person who seems to hate everyone, and who stands to inherit from William.  Or is he too convenient a suspect?  Even Devon becomes a suspect at one point, and Helen also had a motive to kill her brother, since William had returned from the wars as a drunken and violent man, and Helen had been afraid of him.  As she investigates, Rosalind is caught up in a complex web of intrigue and deception.  Everyone seems to be hiding something from her.  Then there is an attempt on the life of one of the leading suspects, and Rosalind knows she needs to act quickly to find the killer.
Readers of the series will know that it includes a love triangle involving Rosalind, Devon, and Bow Street Runner Adam Harkness, who is just as much beneath Rosalind socially as Devon is above her.  Both men know about the other, and, unlike other heroines in the midst of a love triangle, Rosalind does not agonize over which man she will choose.  After seeing Devon's estate, she begins to doubt that she really wants to marry him.  Also, Devon's mother, a very religious and reclusive lady, clearly disapproves of her.  She does not have much love for her own son, either, and practically accuses Devon of killing his older brother.  As for Adam Harkness, we don't see as much of him as we do in the previous books, even though he plays a significant role towards the end.  Rosalind does make an important decision in this book, and it will be interesting to see how it plays out.  And, without giving too much away, the story takes a surprising turn at the end, which I did not see coming.  I am looking forward to seeing what the consequences for Rosalind will be.
Wilde is excellent at relating the details of life in Regency England, and in this book she delves into some aspects of Regency life we do not often see, including the draining of the fens, which Devon believes will improve the life of the poor people on his estate, and the conflict between gamekeepers and poachers.  The Vaughns' gamekeeper, a particularly nasty man, accuses the workers on the drainage project, many of whom are Irish, of poaching, and an ugly scene ensues.  This type of conflict often arose, but, as far as I know, you rarely see it in mysteries set during the time.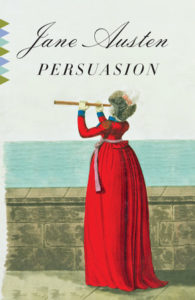 Rosalind is a great character, sharp-witted, intelligent, and independent-minded.  She has often been compared to Elizabeth Bennet, as is natural, because the series is clearly inspired by Jane Austen's novels, but I think a closer parallel would be to Anne Elliot in Persuasion.  Like Anne, Rosalind is the daughter of a baronet who has fallen on hard times, and she is given a chance to be reunited with her first love.  Rosalind, like Anne Elliot, is the person to whom everyone tells their problems.  She is a keen observer of character.  I don't think Wilde ever tells us exactly how old Rosalind is, but she appears to be in her mid- to late 20s, like Anne–exactly the age when an unmarried woman would start to be considered an old maid.  I also enjoy the secondary characters in the series, especially Rosalind's friend Alice, a gossip columnist and aspiring novelist, and Rosalind's maid Mrs. Kendricks, who has been loyal to her throughout her family's disgrace and afterwards.  Or is she?  A surprising development occurs involving Mrs. Kendricks, but I will not give it away.
Although it is the fourth volume in the series, A Lady Compromised can be read on its own, even though it helps to know the background of Rosalind's family history and the love triangle.  I highly recommend it.  Fans of C.S. Harris' Sebastian St. Cyr mysteries will especially enjoy it, even though Wilde's books are lighter in tone.  I am looking forward to Rosalind's further adventures.
************************************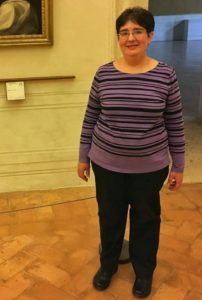 Vicki Kondelik is a cataloger at the University of Michigan's Graduate Library, and edits their book review blog, Lost in the Stacks.   She writes book reviews for the Historical Novel Society, and is currently writing a historical novel.  She has been an avid mystery reader for a long time.