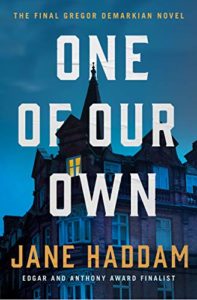 I had mixed feelings opening this book.  Jane Haddam died in 2019, after completing this one last book, and I was reluctant to start it.  I love this series and am sorry to see it end.  Jane Haddam was a combination of a traditional detective fiction writer and a contemporary social issue writer.  In her best books, the social issues didn't overwhelm the story – in her worst books, they did.  This book is a loving wrap up to her long, revered and beloved series, and if you are a fan of Gregor Demarkian I recommend it.
Like a good wrap up to a great TV series (Breaking Bad comes to mind), a satisfying series wrap up is really the greatest gift a writer can give to readers. Agatha Christie, who knew she had impending dementia, wrapped up her beloved characters in a very final way, but Haddam sets her Demarkian off on a new life path.  It's enough for this reader to hope he'll enjoy it.
This book opens on an icy winter day in Philadelphia as main series characters Gregor Demarkian (a former FBI agent, and now a police consultant), and his wife Bennis (a well known fantasy writer), head to their neighborhood Catholic church and attached school to pick up a foster child.  While they've never discussed children, this one, Javier, seems to have fallen into their laps.  Bennis begins an intense round of cooking as Javier settles in, with the help of their young neighbor, Tommy, whose stepfather went away to prison in the last book.
Gregor, meanwhile, is asked to consult on a case involving a woman who had fallen out of the back of a van, wrapped in a garbage bag, right in front of series stalwart Father Tibor and young Tommy as they walk home one night.  The woman, Marta, turns out to have been a life long resident of a building that has slowly changed from the Eastern European Catholic emigrees of her youth to a mostly Hispanic emigree population.  The super is always bugging her about moving from her large 3 bedroom to a smaller apartment so a bigger family can have hers.
She refuses to budge, has a restraining order against the super, and persistently takes her landlord to court.  Her landlord is a Donald Trump like figure who owns lots of buildings throughout the city and apparently has lots of shady financing keeping him afloat.  While this is a gentler outing from the usually fiery Haddam, she's still concerned with ICE agents and differing attitudes toward immigrants.  The subject matter is incredibly timely.
As always, a Haddam novel is full of complexity – of character, of plot, and of ideas.  After such a long and glorious run, however, there's also comfort here in these familiar characters and the familiar Armenian neighborhood where Gregor and Bennis have made their home.  The series ends on a New Year and on a new direction for Gregor and his family.  I had a tear in my eye but I also felt an immense gratitude for this long, wonderful, eccentric, and beautiful series of books.
Here's a link to a wonderful interview with Jane Haddam by Lynn Kaczmarek, long time editor/publisher of the much missed Mystery News.