"Cozies certainly provide solace from many of the dark edges of the actual world." — Edith Maxwell in Mystery Scene
I read a lot, and I read lots of cozies, partly thanks to my column in Mystery Scene.  There I am restricted to reviewing mass market paperback originals, and I am generously showered with advance reading copies.  I sort through them by reading the premise and a bit of the beginning.  If the writing doesn't hit me quite right, I skip that one, and check out another one.  And while I certainly read many, many cozies, I am in no way claiming to have read even a comprehensive number of the books in this sub genre published this year.  For that kind of scope, I highly recommend checking out Dru's Book Musings, which is a comprehensive review blog of all things cozy.  In addition, Dru has guest posts from authors and publishes a guide to what's coming out, sometimes weekly.
However, I can recommend 10 titles of books I did read and enjoy very much in the past year.  Many of these hard-working writers have several series and many of the series they are writing are long running as well as many books long.  If you are intrigued by a description here or simply want more, please go to Fantastic Fiction and check out a full list of their work as well as recommendations of other writers you might enjoy.  And one extra note, one of these books, Alex Erickson's Dial "M" for Maine Coon is only available through Barnes & Noble.  It's worth a hunt through their shelves (or click on this link).  For the rest, you can order them on our website.
So here is my alphabetical, opinionated, curated list of the best or most engaging or most original – or sometimes all three – cozies I read this year.  For a longer discussion on what compromises a cozy, check out my essay here.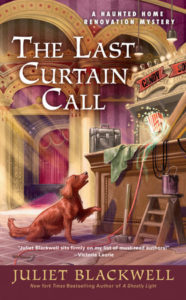 The Last Curtain Call, Juliet Blackwell (June) This is book eight in Blackwell's Haunted Home Renovation series, and it finds series heroine Mel Turner renovating her own house in San Francisco.  It's an historic gem and it comes with a ghostly flapper in the attic.  She's also helping to renovate an old theater which appears to be – haunted.  The threads from the past and the present tie together neatly, as does Mel's quest both to solve the mysteries she's presented with as well as her ongoing one to discover just why she does see ghosts.  Mel is a great, specific character, and Blackwell is a natural, easy storyteller.  The San Francisco setting doesn't hurt either.  The ghosts only require a tiny bit of suspended belief.
A Big Fat Greek Murder, Kate Collins (December) Athena Spencer is part of a big, bossy Greek family, and when her sister is suspected of killing the groom before a friend's family, the whole family is all in trying to clear her. Adding real spice to the book are blog entries by Goddess Anon – a.k.a. Athena – running as It's All Greek to Me.  While Athena peels away the threads of the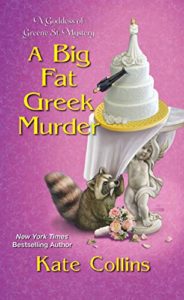 mystery along with an obvious future love interest, this specific detail of her also being a blogger really made the book a standout for me.  Even better, some of the other characters have figured out it's Athena and operate on a nudge and wink basis with her, but not in an obnoxious way. For Michiganders, added incentive: this is set on Michigan's west coast, in a town that sounds very similar to Saugatauk.
Death at High Tide, Hannah Dennison (September) I really, really loved this one.  Dennison is a master at narrative and pacing, but I was also drawn to the premise: two sisters head to a remote island to check out a hotel one of them seems to have inherited.  The setting is unusual – the Isles of Scilly off England's southern coast – and the hotel is remote enough to provide its own small coterie of interesting, unusually memorable characters, the most fascinating being the cranky hotel owner Jago.  He of course is quickly dispatched, and main character and recent widow Evie must discover the many reasons Jago was feared, resented and hated before she can solve the murder, as well as the mystery of why her beloved sister Margot is acting so distant.  This is the first in what I devoutly hope will be a long-lived series.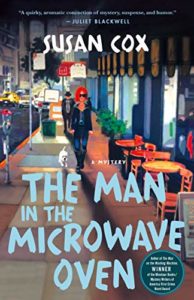 The Man in the Microwave Oven, Susan Cox (November) This one is a real standout.  This author is in her own, freak flag flying country, and it's a visit I recommend. Series heroine Theo Bogart has fled from a family tragedy in England.  In her new life as a small business owner in San Francisco, she's sort of under cover in that she's told none of her new friends who she really is.  At the moment she, as a member of the neighborhood association, is battling with an unpleasant lawyer who wants to put up a fancy new Condo Tower, which would destroy the character of her friendly, diverse neighborhood.  The lawyer, of course, is murdered and that's about the only predictable thing that happens in the joyful romp of a book which includes spies, Russian priests, an orphanage, a visit to a strip club (but a really nice one), a mysterious homeless man, and Theo's delightfully mysterious and regal grandfather.  There's also a matter of a couple of hands discovered in the microwave oven at her buddy Nat's coffee shop.  Nothing is expected, the resolution was great, and the writing sparkles.  This is book 2, the first book, The Man on the Washing Machine, was published in 2015, and was the winner of the St. Martin's Minotaur/Mystery Writers of America first novel prize.
Dial "M" for Maine Coon, Alex Erickson (August) This is the rare-ish cozy that tackles some heavier issues.  The main character, Liz, runs a pet rescue (and she's married to a vet). In this book she's dropping off a newly adopted Maine Coon cat when she discovered the adopter dead in his study.  He's African American, and Erickson takes on the issue of small town bigotry in this nicely told tale.  The man's wife had disappeared long ago, and he's never given up looking for her – or been cleared of suspicion that he may have killed her.  Liz is believably drawn into the case as the local private eye is training her daughter, and the two had been working to help the man find his wife.  Liz just joins in.  Very affecting.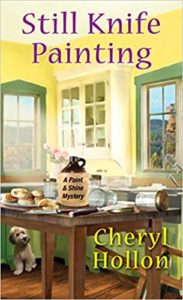 Still Knife Painting, Cheryl Hollon (June) Character, character, character.  Hollon has created a great one in Miranda Trent, who has come home to Appalachia to live in her uncle's house and start a new business, Paint & Shine.  She takes tourists on a nature hike, sets them up to create a plein air painting, and then takes the home for a home cooked meal, paired with moonshine.  It's a different premise for sure, and Hollon, a glass blower by passion (her other series is about a glass blower), is obviously comfortable with the visual arts.  What makes this a real standout is her character, Miranda Trent, who has such real, believable emotions and reactions that she's immediately endearing.  Even better, she utilizes her skill as an artist (i.e., a committed observer) to solve the crime.  This is a great series kick off for the talented Hollon.
Mousse and Murder, Elizabeth Logan (May) I loved the pace of this book, which was set in an Alaska diner. New owner Charlie Cooke has taken over from her mother, promptly has a fight with her chef – who then turns up dead, leaving Charlie to run everything on her own as well as try and solve the crime.  Fairly standard set up but the pacing is excellent and Logan has a real eye for small town life.  The Alaska setting is great too.  There's a nice mix of characters, and Logan makes the central character cooler and younger by having her interact with her neglected cat at home through an app on her phone.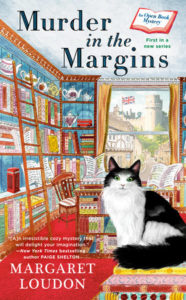 Murder in the Margins, Margaret Loudon (October) This was a totally delectable bon-bon for the Anglophile reader of cozies.  American Penelope Parrish is working as a writer in residence at a book shop in a small British village.  There's plenty of tea, there's a fȇte, there's a dead person in a wine cellar, and a cat, Mrs. Danvers, who helps solve the crime.  Penelope is kind of adorably awkward and insecure, even though she's written a bestseller, and the details of life in this little village as well as her crime solving abilities are completely and utterly charming.
Buried to the Brim, Jenn McKinley (January) Jenn McKinley is a total pro, which means she can tell an enjoyable story.  This was the first book I'd read in this six book series, but I had no trouble sorting my way through Scarlett Parker's UK hat shop, where she's challenged to create a hat for a corgi in a dog show.  Backstage at the gossipy, backbiting world of dog shows is a real blast in McKinlay's talented hands.  This hints it may be the last in this series, but I really hope that's not the case.
Thread and Dead, Elizabeth Penney (August) There are all kinds of cozies involving small businesses, but this is the first series I've read where the small business in question sells vintage aprons and other types of vintage linens – sheets, dishtowels, etc.  As described by Penney, the shop sounds not only mouthwatering but fairly realistic.  Iris and her Grammie, who brought her up, run the apron store in Blueberry Cove, Maine.  Penney skillfully blends the rhythms of small town life into her novel – there's a lobster festival going on, and as a business owner she's involved in some of the promotions and some of the events, most notably, a lobster bib contest.  While Iris is drawn into the mystery, it's pretty believable – she knows a lot of the people and there's no silly going into a dark house alone with no backup.  It's mostly solving relationship puzzles.   I totally enjoyed the fairly deep dive into vintage linens – the specifics made the book stand out.