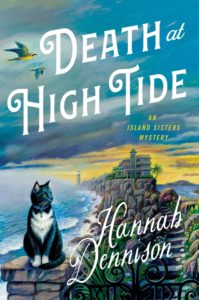 This is an utterly charming series debut.  Dennison has two other series, but I think this may be my favorite so far.  The story opens as recently widowed Evie sits in her lawyer's office and discovers that she's basically broke. Luckily, the lawyer's secretary discovers a secret letter from Evie's dead husband, telling her that she now owns a hotel thanks to an unpaid debt.   Her sister, Margot, who has flown in from LA to be with her in England, heads back to Evie's now up-for-sale house where she hatches a plan.  For a little restful getaway, they will visit the hotel in question.
The hotel is located on one of the Isles of Scilly, a chain of small islands off the southern coast of England. After a flight and a nauseating and lengthy ferry ride, the two women at last arrive in Scilly, and look for the last leg of their journey, a short boat ride to Tregarrick, where the hotel is located. A fog lands them in town until the next morning when it lifts and the tide permits their journey.
The hotel, when they finally get to it, is a bit of a wreck.  It's a beautiful art deco building but the inside is all sadly authentic 70's, down to the brown shag carpet.  Margot, the LA sister, is dismayed by the lack of amenities or even room service, but the grieving Evie finds the island strangely comforting despite a hoard of swirling undercurrents.
As Evie sets out to discover the people named in the note deeding her the island, she meets the main actor in the drama: the cranky hotel owner Jago, as well as his slightly estranged son; his artist wife; a visiting artist; Lily, who inhabits one of hotel's suites with her cat; and a couple of employees who appear to have mysterious pasts of different kinds. Jago of course ends up dead after, in true Murder She Wrote style, it's made clear the many reasons that everyone on the island has a reason to either fear or detest him.
Dennison really knows how to tell a story, unspooling character, tension, and crimes with great deftness.  I loved the two sisters – they are keeping things from each other, unpeeled in this story – and I really loved the atmospheric setting.  There's even a lovely map provided.  The nods to the golden age are many, but one of my favorites was the fact that the hotel suites are named for golden age authors like Christie, Allingham and Marsh, and there's apparently a collection of first editions of their books in the hotel library.
This book really moved, as the other thing Dennison seems to be a master at is pacing.  The mix of everything was absolute perfection, and there are so many threads for her to pull in future books.  Come for the unusual setting, stay for the story.