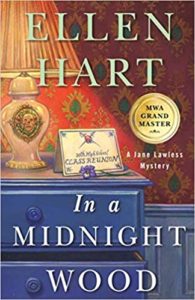 Ellen Hart knocks another one out of the park.  I continue with my mantra: if you love traditional detective fiction, few writers are doing it better than Ellen Hart at the moment.  The air is sucked out of the room by some of the writers of traditional fiction set in England (Ann Cleeves, Deborah Crombie) or Canada (Louise Penny), but make no mistake, Ellen Hart is treading the same ground.  She's just doing it in Minnesota instead of London or Montreal.  As much as I love Cleeves, Crombie and Penny, I love Hart every bit as much, and with 27 books in her Jane Lawless series (and counting) there's plenty to embrace.
Jane Lawless, for the uninitiated, is a gay restaurant owner in Minneapolis, lives alone with her dogs, and has had various relationships through the series, none of them ending particularly well.  She has a comic foil, the flamboyant Cordelia Thorn, who balances Jane's sensible practicality with theatrical flair and drama.  In this book, Jane and Cordelia have travelled to the small Minnesota town of Castle Lake, where they are taking part in a fundraising auction.
They are staying with their friend Emma Granholm who is planning her class reunion, a situation ripe with possibility as far as dragging skeletons out of any long ago closets are concerned.  When the body of a missing local man is discovered under a grave that's being disinterred, all the skeletons begin to come home to roost.
Like every good writer of traditional mystery fiction, Hart provides the reader with a large and distinct cast.  While of course they provide the suspects for the crime, they are also all fully realized humans who make the atmosphere in any Hart novel a rich and dense one, this one being no exception. Because Jane is out of town and out of her element (she does have a P.I. license) she's functioning in this novel in her new iteration, that of a true crime podcaster.  It's a perfect in, allowing her to believably interview suspects and eventually get to the heart of the matter.
Unlike the other authors I've mentioned, Hart's main character is an amateur, not a policewoman/man.  That may be what has slightly marginalized these books as not worthy of serious attention, but Hart has given Jane a P.I. license and the introduction of the podcasting element is a smart one.  Nothing is trendier at the moment than true crime podcasts.  And the writing couldn't be more brilliant.
Hart's plots are complex, her characters are interesting and complicated, and Jane is incredibly relatable and appealing.  I guess there are two schools of thought as far as Cordelia goes, but I think she's hilarious, and Jane's deadpan response to some of her behaviors just makes them all the funnier.  This was an excellent story on top of everything else.  While I wasn't totally surprised by the perpetrator, part of the reason for that is Hart's careful set up of events, and part of it is the fact that Hart also writes suspense novels.  Sometimes how a crime was committed is as important as whodunnit, which is a suspense/psychological element.
Pick this one up or pick up the first novel in the series (Hallowed Murder, 1989), and read your whole delicious way through.  Hart grows as a writer as the series progresses, so it's a wonderful journey all around.