This book will be published September 1.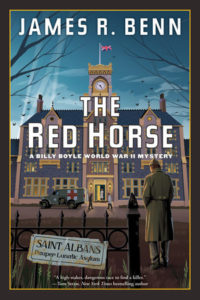 James R. Benn continues to explore all the nooks and crannies of the mystery genre, keeping things fresh even in book 15 of this long lived and now beloved series.  Main series character Billy Boyle started as a beat cop in Boston, learning the "job" from his father and uncles, who get him a (supposedly) soft wartime post with "Uncle Ike".  As any reader of this series knows, Billy becomes an investigator, finding the smaller crimes within the larger confines of WWII.  Sometimes the war is front and center but Benn is always a meticulously detailed pure mystery writer, making his books a real pleasure to read.
Billy and his buddy Kaz have been through a lot in the previous 14 books, and after an especially brutal outing in the last book (When Hell Struck Twelve), they find themselves at St. Albans, a home for recuperating soldiers and officers who have suffered the more horrifying aspects of war. Billy, who is seriously traumatized – and who can't keep his hand from shaking when he least wants or needs it to – is suffering the psychological probing by his Dr. Robinson somewhat unwillingly.
Kaz, who has suffered from a heart problem throughout the series, is now more or less bedridden with no solution to his ailment in sight.  In addition, the two men have women inside of Nazi Germany they are desperate to free – Billy's girlfriend and Kaz's sister.  But mostly, the closed setting of the hospital gives Benn an opportunity to take on a locked room mystery.
As the book opens one of the patients plunges to his death off the clock tower on the property, an apparent suicide, but Billy is sure he saw someone with the man just before he fell.  Because he's a patient any investigating he has to do must be done on the sly, but as a couple more bodies pile up, Billy's expertise as a detective is more or less requested by the powers that be at the hospital.
Not much of his investigation can happen, though, before he begins to recover, something his doctor effects by giving him an injection and letting him sleep for a couple of days.  Billy does emerge from his "sleep cure" much more like his old self and he can get to work, utilizing the skills of some of his fellow patients, to sort things out.
Meanwhile, he also discovers that there's a doctor who will actually operate on Kaz's heart.  In the 40's it was thought that the heart was too delicate to be operated on, but what Kaz needs is what is the now fairly standard valve replacement.  There's a struggle to get Kaz the surgery and Billy worries about Kaz's declining health along with everything else.
As always, Benn brings an historian's perspective to his novel, grounding the story and making the mystery part of it all the more vivid and memorable.   What makes these books so wonderful though, are the characters and the relationships they have with one another.  That's why I was in tears at the end.  If someone hands me a book combining history, character, a great story and a little bit of true emotion to wrap things up – well, that's a book I can't pass up.  This is another superb entry in a spectacular series.