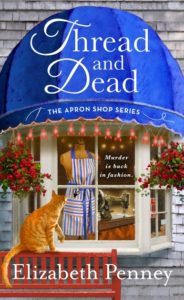 There are all kinds of cozies involving small businesses, but this is the first series I've read where the small business in question sells vintage aprons and other types of vintage linens – sheets, dishtowels, etc.  As described by Penney, the shop sounds not only mouthwatering but fairly realistic.  Iris and her Grammie, who brought her up, run the apron store in Blueberry Cove, Maine (maybe it's near the more famous Cabot Cove?) and she's surrounded with a great mix of friends and a great setting.
Blueberry Cove is both a resort town and a fishing village, so lobster figures prominently in many of the scenes.  The book opens as Iris heads to one of the more well-known mansions in town, now slightly decayed, to look over some vintage linens.  She gets much more than she bargained for.
The owner of the house – and the linens – is one Eleanor Brady, who greets Iris and leads her to the attic and linen closet where Iris finds a mouthwatering array of vintage European sheets.  She also opens a trunk and removes an astonishing array of couture clothing, manufactured by none other than Chanel.  She begs Iris to try and sell the clothes for her and, liking Eleanor, Iris agrees.
Eleanor has rented some of her bedrooms to some visiting academics who are cultivating seaweed in the cove, and everyone's path intersects later at a function where the seaweed, used in various kinds of food (even sliders) is featured.  The Professor in charge of the operation turns out to know one of Iris' besties, Sophie, from college and grad school and the two are delighted to meet again, especially as Sophie appears to be on the rocks with her boyfriend.
One of the students turns up dead the next morning, drawing Iris into the mystery as she was the one to discover the body.  Eleanor's mystery turns out to be the Chanel garments, owned by her mother, who worked as a nursemaid for Eleanor's family.  The mystery is how a nursemaid ended up with a trunk full of Chanel.
Penney skillfully blends the rhythms of small town life into her novel – there's a lobster festival going on, and as a business owner she's involved in some of the promotions and some of the events, most notably, a lobster bib contest.  While Iris is drawn into the mystery, it's pretty believable – she knows a lot of the people and there's no silly going into a dark house alone with no backup.  It's mostly solving relationship puzzles.
Penney also includes some pretty interesting details about seaweed cultivation (sounds like we may all be eating it in the future) and vintage sheets (valuable, who knew?) and the emigration path of Eleanor's mother.  What I love about cozies is that all of these elements – including here a strong group of women friends, the downtown business culture, various romances and the mysterious plot itself – are all blended together in a way that pulls a reader through the story, teaches you a bit, illuminates some characters and the setting, all in a brisk 288 pages.
Iris and her Grammie are great tent-pole characters, and the apron shop, and Maine, are a wonderful background.  I totally enjoyed the fairly deep dive into the vintage linens and the seaweed. The specifics made the book stand out.  This was a completely enjoyable read.