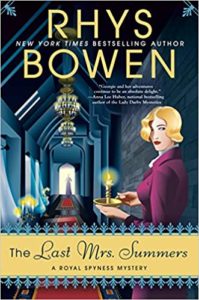 Every year, for many years now, I've set aside a day.  If I'm lucky, and there are no distractions, it's a whole delicious day devoted to Rhys Bowen.  This year that day came August 4, when I cracked open the new Lady Georgie mystery, The Last Mrs. Summers, Rhys Bowen's take on the classic Rebecca.
Georgie is a newlywed with her own house to run – Queenie making scones in the kitchen and starting (hardly any) fires – and life with Darcy to enjoy.  Unfortunately, in the first chapter Darcy is off on assignment and when the lonely Georgie goes up to town her friends and even her grandfather are all busy.  Dejected, she heads back home, only to run into her buddy Belinda, who has just inherited a place in Cornwall.  She and Georgie decide to head to Cornwall to check it out together in quick order.
Even though Belinda had spent summers in Cornwall with her grandmother, the two women have a tricky time finding the remote fishing cottage she's inherited, one that's poorly equipped for any kind of comfort.  The basement bathroom without a door sends them into town the next day looking for better accommodations.
That's where they run into Rose, childhood playmate of Georgie's, now married to another childhood friend, Tony, and living in one of the poshest mansions in town.  She begs them to stay with her, which is awkward because Tony and Belinda had an affair before his first marriage, but Rose is insistent.
The two women turn up at the house to be greeted by the most efficient and creepiest housekeeper of all time, Mrs. Mannering.  Readers of Rebecca will see her likeness to the creepy Mrs. Danvers in pretty quick order.  Things at Rose's house seem off in lots of ways.  Rose's mother was a cook and the servants have trouble treating her respectfully, and Belinda is frankly puzzled that the dashing Tony has married the dowdy Rose.
When Tony turns up dead and Belinda is accused of the murder, the mystery becomes far more tricky.  Because Bowen is such a master of her craft, she can write a truly tricky mystery despite supplying the reader with very few suspects, as well as having the template of Rebecca guiding the proceedings.  A lesser writer could not pull it off.
I will say your enjoyment of the novel will be helped if you are also a fan of Rebecca, but the story, the characters, and the Cornwall setting are treasure enough for any reader.  This year's Rhys Bowen day was not spent in vain.  But now, I have to wait another full year for the next Rhys Bowen day….