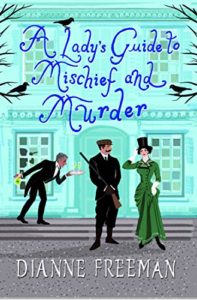 This delightful series continues to enchant.  The first book introduced the widowed Frances, Lady Harleigh, rich and on the loose in 1890's London for the first time.  By this third installment, she's engaged, is busy with her daughter, Rose, and is supervising the wedding plans for her sister Lily, who is inconveniently pregnant.
Frances is nothing if not practical, and she and her fiancée George quickly arrange for Lily to be married from George's family seat while George's brother is abroad. The wedding party is smallish, but for a house party – and a pool of murder suspects – plenty big enough.  Combining the classic British house party whodunnit with a lighter, funnier version of an historical cozy, Freeman is a deft hand with both narrative and character, and she keeps things percolating.
As the house party arrives there are a series of accidents and the death of an unfortunate footman (I will say Freeman seems to have it in for footmen), and as the threats accelerate and move from outside to inside the house, Frances and George are desperate to figure out what's happening and who is responsible.
They are also juggling a house party of Lily's bristly future sisters in law, Frances' judge-y mother, and a smattering of friends, all of which make both investigating and carrying on a romance more than challenging.  Frances, in classic amateur fashion, investigates without seeming to do so, and she's ably assisted by George, who has some kind of shadowy arrangement with the crown and is a legitimate investigator with ties to the police.
The characters reveal themselves throughout the story and there's a really classic scene involving a maze, an archery contest and a very misplaced arrow.  I love the humor in these books.  It's never mean, it's just kind of light and joyful, like the books themselves.  As Frances becomes a more established and confident British matron, I'm sure the series will continue to evolve.
Like Tasha Alexander's Lady Emily series, I haven't felt that any tension was diminished by having Frances and George get together so early in the series.  They definitely form a partnership that's stronger as a sum of its parts.  The book winds up with another classic scene – a wedding.  This series couldn't be a more delightful addition to your late summer reading pile.