This novel will be released on July 14.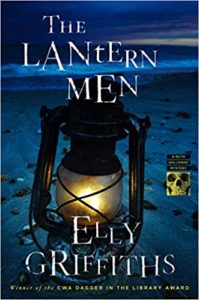 It's rare for a writer to sustain interest and excitement through a long series.  Elly Griffith's Ruth Galloway series, now twelve books strong, has had a few entries not quite as great as some of the very best ones, but this one is one of the best ones.  There might be a couple reasons – one, Griffiths has now refreshed herself with a very different series (the Magic Men books). For another, she's taken this book and skooched Ruth two years ahead in time from the last book and much has happened.  It's only unsettling for a moment – you'll catch on – especially as all the changes are pretty briskly introduced in the first chapter.
For one thing, Ruth has left the Saltmarsh, and now teaches at Cambridge. She's living with Frank, who has really hung in there for her.  For another, Nelson's police squad is changing and evolving, with many of the officers we've come to know as readers moving on to promotions and their own units.  His son, George, is now a rowdy two year old.  And that's just the background for a really interesting crime story.
I usually intensely dislike when a story backtracks from a killer who is already in prison, but in Griffith's capable hands, it didn't bother me for a moment.  Ivor March has been put in prison for the murder of one woman, but Nelson is certain he's guilty of killing at least two more, and he wants a resolution.  March agrees, from prison, to tell Nelson where the other two bodies are, but only if he gets to meet Ruth, and she does the exhumation.
One of the big reasons these books are so magical is Ruth herself.  She's the woman we can all relate to – a little anxious, a little socially awkward, trying her best to be a good parent – but she's still accomplished and good at what she does.  In this book she begins to have panic attacks.  She can go to a prison, dig up bodies, and attend an inquest, but she also feels the mental results of that activity.
So when Ruth finds not just another two bodies where March told her they would be, but an extra one, the stakes are suddenly much higher.  There's two families to inform, and a third body whose identity in unknown and must be discovered.  When another woman is killed in very much the same manner the detective squad is flummoxed.  March, after all, is in prison. There seems to have been a "community" around Ivor March – admiring women, other male artists (Ivor is a painter) – and it's to that community that the detectives turn their efforts.
Griffiths is seamless at providing the reader with a suspenseful novel that's also an excellent traditional detective novel.  That's rare – I can count on one hand the writers who are good at that kind of thing – Michael Connelly, Robert Crais, and Lee Child spring to mind.  All revere the form as much as Griffiths does.  She's just approaching it from a different point of view, but her point of view is every bit as indelible, riveting, and unforgettable.  In Ruth Galloway, Elly Griffiths has created a character as beloved as Harry Bosch, Elvis Cole or Jack Reacher, but Ruth is one of us.  She's one of the tribe of real, believable women.  She is a classic mystery creation.
This tricky mystery resolves itself in an extremely suspenseful fashion and all the different threads – both plot and character wise – are drawn together in a lovely whole.   I finished it all too quickly and now have the selfish reader's lament: when's the next fix?