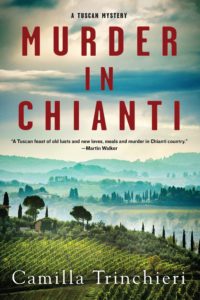 This novel will be published July 7, 2020.
This languorous, gently beautiful novel set in gorgeous Tuscany could not be more delectable.  Retired NYPD detective Nico Doyle has relocated to Tuscany after the death of his wife, Rita, a native Italian.  He has family ties in the form of his wife's sister, Tilde, and her family.  Out for his morning run as the book opens, he discovers two things: a dog, and a dead body.  He more or less adopts the dog – whom he christens One Wag – and hastily attempts to hand the murder off to the local police.
But the police, in the form of Salvatore Perillo and his green assistant Daniele, want Nico's help.  He is far more experienced in murder investigations than they are.  As the man's face has been blown off by a shotgun, it's hard to identify him, but from his clothes – gold sneakers and an expensive watch – they are all sure he is American.
Tracking down his identity takes up a good part of the novel, but a good part of the joy of this novel, much like Martin Walker's delightful Bruno, Chief of Police, series, comes from the food and the wine consumed by the characters.  It's also a journey of sorts for Nico, still grieving for his wife, and trying to find where he fits in his new village.  Both the dog and the murder give him an excellent entry.
Nico also helps out at Tilde's restaurant – sometimes cooking a dish, sometimes helping with serving during the busy dinner times at the height of the tourist season.  One Wag proves to be an excellent envoy as well, as everyone already seems to know him, and in Italy, apparently, dogs are allowed in restaurants and shops.
Nico and Salvatore become friends and over some dinners and bottles of wine they begin to figure out a solution.  The man appears to have some dark things in his past and part of the mystery involves why he showed up in Tuscany at all.
The story takes it's time getting to a resolution, but long before then, you probably will have adapted to the gentle rhythm of Trinchieri's storytelling and given in to the beauty of Tuscany.  You may also be craving a glass of Chianti to accompany your reading journey.  This is a wonderful bit of armchair travel.