As we're all stuck at home, a little (or a lot) of comfort reading is in order.  Not a re-reader?  I've included some newer books, and hopefully there are some authors here that are new to you as a reader.  A great resource, should you want to read whole series in order (and why not?), is Fantastic Fiction.  There you can find authors with their series listed in chronological order.  If you want to delve deeper, check out Stop, You're Killing Me, and drill down to finding a series by occupation, location, time period or character name.  See what awards your favorite writers have won.  These two sites are essential to any reader.
I'm leaving out golden age books – because yes, I've re-read some books by Christie, Marsh Sayers, Allingham, Tey and Wentworth countless times and they have given me so many happy reading hours through the years, but they are, hopefully, obvious. (The things Agatha Christie has pulled me through are many.  Middle school for a start).
But there are newer writers in the mystery universe…you can probably find these on your kindle if not from your local bookstore at the moment.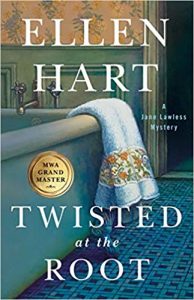 Ellen Hart's Jane Lawless series…thoughtful AND funny.  These books follow gay restaurant owner Jane Lawless and her sidekick, the flamboyant actress Cordelia Thorne, as they investigate crimes in their orbit and set things to rights.  Great Minneapolis/St. Paul setting, terrific characters, tight plotting…
Minneapolis/St. Paul is full of wonderful writers and one of them is David Housewright.  I love his series featuring wealthy P.I. Rushmore McKenzie, who can do the right thing just because.  This is one of the most enjoyable private eye series since Robert Parker's eponymous Spenser.  Well worth reading in order.  The first couple books are knockouts of precise narrative and great storytelling.
For clever, witty, intelligent reading, look no further than Anthony Horowitz (Magpie Murders), Christopher Fowler (Bryant & May series), and Alan Bradley's Flavia deLuce series.
A newer writer I am smitten with, and who has a new book out this coming week, is Mariah Fredericks.  Her now 3 book series featuring immigrant maid Jane Prescott is vivid, lively, impossible to put down, thoughtful, and a true example of take no prisoners storytelling.  Start with A Death of No Importance.   Also her blog is great fun – you can access it through her website.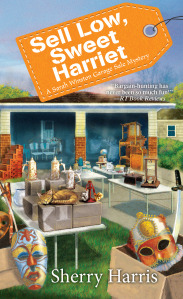 Cozies are also a great escape, and there are SO many.  I am a huge fan of Denise Swanson's Scumble River series, following the ups and downs of school psychologist Skye Dennison; Elaine Viets' slightly subversive Shop Til You Drop series; the fun of Vivien Chien's Cleveland set Noodle Shop mysteries, with her cool main character, Lana Lee; Vicki Delany's Year Round Christmas mysteries as well as her Sherlock Holmes bookshop series; and the fun of garage sales with Sherry Harris's ex military spouse Sarah Winston.  That's just the tip of the iceberg.  If you like cozies, check out Fantastic Fiction and follow the authors mentioned, scroll to the bottom, and find others in the same vein.
I've also enjoyed books about WWII recently – finding a great variety of tone and difference in approach.  It's a huge topic, so it makes sense there a huge number of ways to approach it.  Just coming out is Cara Black's Three Hours in Paris, a ticking clock thriller about a resistance fighter after a failed attempt at assassinating Hitler; Susan Elia MacNeal's wildly enjoyable Maggie Hope series, featuring an American who becomes a spy for Britain after working as Churchill's secretary; James Benn's more serious, beautifully plotted and gripping series featuring American ex-cop Billy Boyle, who happens to be Eisenhower's nephew, and who ends up as a spy for the Allies; and Maureen Jennings' nascent series about a female P.I. in wartime Toronto.   There are also a couple stand alones I recently inhaled – Lauren Willig, Beatriz Williams and Karen White's Al the Ways We Said Goodbye, threading war stories from different eras through the Paris Ritz; and Ariel Lawhon's recently released Code Name Helene, based on real life resistance fighter Nancy Wake.  Lawhon's book certainly proves fact is stranger than fiction.
Different time periods, but always delectable, are Tasha Alexander's Victorian set Lady Emily series and Rhys Bowen's Lady Georgie and Molly Murphy books.  I have some favorites in each series for sure but definitely read them in order.  Lady Emily is swoon worthy, as is Rhys Bowen's hilarious, brave, and intrepid Lady Georgie.  A newer historical series (book two comes out this summer) is Allison Montclair's Sparks & Bainbridge series, set in post WWII London (think Call the Midwife, but funny).  The first book, The Right Sort of Man, was one of my 2019 favorites.
There's the always inhalable Harlan Coben, one of whose better books, The Boy from the Woods, is a newish release.  He is a plot machine without parallel.  I also often turn to Steve Hamilton, William Kent Krueger and Robert Crais, who have given readers the gift of long, re-readable series with great central characters.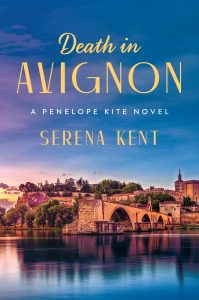 And as a final amuse bouche, I recently discovered Serena Kent, whose now two-book series is set in Provence.  These could not be more delicious and brought to mind Michael Bond's delightful and much missed Msr. Pamplemousse series.
And if none of those suggestions can get your comfort reading on….the ultimate comfort read (in my humble opinion) is Dorothy Gilman's inimitable, unlikely spy, Mrs. Pollifax.  Some of the details are dated as the world has changed but Mrs. Pollifax never disappoints.
Get reading, people!
Comfort reads – low stress: Ellery Adams   Donna Andrews   Lorna Barrett   Sarah Caudwell   Joanne Dobson   Amanda Flower   Dianne Freeman   G.M. Malliet  Margaret Maron   Charlotte MacLeod   Sharyn McCrumb   Jen McKinlay
Comfort reads – slight edge: Colin Cotterill   Deborah Crombie    Elly Griffiths  Jane Haddam    Naomi Hirahara    Laura Lippman   Michael Palmer  Louise Penny  Julia Spencer-Fleming
Comfort reads – more edge: James Lee Burke   Lee Child   Ann Cleeves   Michael Connelly   Dennis Lehane