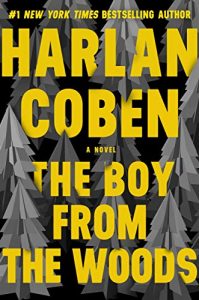 Harlan Coben's The Boy from the Woods is one of his fresher – and angrier – books in awhile.  He's using lawyer Hester Crimstein as his main character (mostly), and as readers, we get some of the fierce Hester's backstory, as she listens to her grandson when he tells her he's worried about the disappearance of a bullied girl in his class.
There's also the titular character, the "boy from the woods," aka Wilde, a man who was discovered as a 6 or 8 year old in the woods, apparently having survived living on his own for quite a while.  He learned English from breaking into abandoned homes and watching television but as a grown man, he's still most comfortable alone in the woods.
On top of that is the typical crackerjack Coben plot machine, and really, there's no one better at telling a compelling story than Harlan Coben.  He has elements he loves to rely on and successfully revisits them, but his ability to put together a plot that packs both suspense and emotion into one power driven read is unmatched.  He's one of the narrative geniuses of our time.
This was a rare book that, for Coben, had a political edge as he takes on a Trump like figure and exposes the cracks behind the glossy façade.   That's the true mystery/suspense part of the story.  The emotional heart lies with Wilde, Hester, and the horror of the daily bullying endured by the missing girl.  Coben is also practically unmatched (perhaps Megan Abbott would be closest, though she has a darker take) at vivisecting the world of high school social mores.
This was a fabulous, unputdownable, as well as memorable, read.