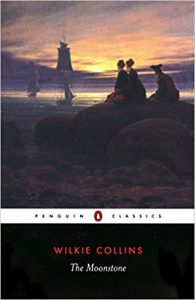 For our March book club, we'll read Wilkie Collin's 1871 classic, The Moonstone.  We are meeting on Thursday, March 26, 6 p.m. at Seva, which is at Westgate shopping center.  This book is Victorian so the writing is more flowery and detailed than you might be used to but the story it fantastic and the basis for so many other detective stories throughout history.  From a review on NPR by Chitra Divakaruni in 2013:
"I was struck by how masterfully Collins pulls together the different strands of a complicated plot. T.S. Eliot called The Moonstone "the first, the longest, and the best of the modern English detective novel." I could see why. Reading the book was a little like seeing the Wright brothers maneuvering their first aircraft, except there was no awkward bucking, no crashes.
Many conventions of the detective novel that we take for granted — a mysterious crime that is systematically unraveled through a process of inquiry, a detective with unusual powers of analysis, the surprise when the criminal turns out to be someone unexpected — are being used by Collins for the first time.
The plot with its hairpin twists held my interest and invited me to happily suspend disbelief, but it did not overwhelm the characters. The heroine, Rachel Verinder, complicated and stubborn, is unlike the "legless angels" popular in Victorian literature. The dilemmas she faces remain significant today: Should we marry where our passions lead us, or choose a life partner whose values are compatible with ours? If the person we love turns out to be a criminal, should we turn him in or allow someone else to be blamed?"
You can purchase a copy on our store page.