Ever since Nancy Drew met Ned Nickerson, love stories have been a part of crime fiction.  Maybe not the main player, but some books have relationships that help define them.  Here are some of my favorites.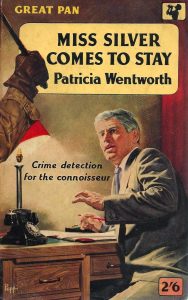 In the golden age, Patricia Wentworth stands out, as she always foregrounded romance as part of her stories.  Unlike some of the other authors I'll mention, she wrote a series, but the romantic characters didn't recur or involve the main characters, with one exception: Miss Silver Comes to Stay (1948), where Rietta Cray and Randal March, a former pupil of Miss Silver's and now a Chief Constable, find slightly late in life love.  March is a re-occurring character, and he and Rietta appear in other books, complete with a family to Miss Silver's doting delight.  Love in a Wentworth novel is quiet, intense and somehow dignified.
Another favorite golden age couple is of course Ngaio Marsh's Rory Alleyn and Agatha Troy, a Chief Inspector who meets a successful artist and whose coupling is prickly but inevitable.  They meet in Artists in Crime (1938) and agree to marry in Death in a White Tie (also 1938, a very good year for Marsh).  These are two of my favorites in the series and part of the reason is Troy and Alleyn's budding relationship.  Troy is somewhat put off by Alleyn's profession but comes to be a valuable sounding board for him.  Marsh has an astonishing array of passionate, artistic, opinionated, strong women in her books, and Agatha Troy is the apex.  She doesn't give into Alleyn, and he doesn't expect her to.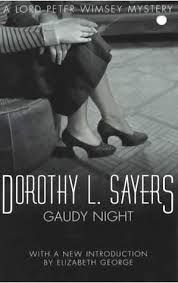 And it's hard not to mention Dorothy L. Sayers Lord Peter and his Harriet in the same breath, as their relationship, quite similar to Alleyn's and Troy's, blooms and completes itself with Sayer's masterpiece, Gaudy Night (1935) and the more sweetly toned Busman's Honeymoon (1937).  Harriet is a writer of detective stories and is somewhat ashamed of her profession, as was scholar Sayers, though a practical discussion of academia versus commercial success is explored in Gaudy Night.  I think Sayers was on the fence, just like Harriet.  She and Lord Peter are an almost perfect couple.
A bit past the golden age, in what I think of as a "bridge" period, there's Patricia Moyes' delightful Emmy and Henry Tibbets.  Henry is a Scotland Yard Inspector, and true to the time, Emmy is a housewife, but I kind of doubt Henry would have solved any case without the advice of the practical Emmy.  Some in this series are far better than others, but Johnny Underground (1965) where Emmy digs into her past despite Henry's misgivings, is a real standout. While the books are varying, Henry and Emmy's relationship never varies: it's always strong and stable.
Sneaking in an historical series, I and every other lover of historical fiction was captivated by Tasha Alexander's first outing, And Only to Deceive (2005), where Lady Emily falls in love with her dead husband, after the fact.  She also meets her future and swoon worthy husband to be, Colin.  This series drips with romance but it's somehow sweet and balanced by the smart crime stories Alexander lays on top of the relationships.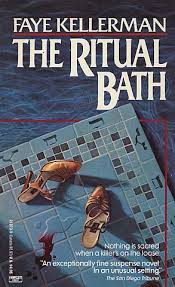 In the more contemporary present, two of my favorite series are written by American women, and both feature characters who are the yin and yang of one another, and whose relationships seem impossible.  Faye Kellerman had me hooked with her stunning debut, The Ritual Bath (1986), where cop Peter Decker meets Jewish orthodox widow Rina Lazarus when he investigates a rape at the mikvah.  While Kellerman, like her husband, Jonathan, can sometimes be brutally graphic, the characters make her books so worthwhile.  How a secluded orthodox woman comes together with a very worldly policeman is a fabulous story that plays itself out through the first four or five books, all of which I inhaled.  I learned about Jewish culture, I got a good mystery, and I met characters I've never forgotten.
That series to me is equaled by the relationship of Rev. Clare Fergusson and Police Chief Russ Van Alstyne in Miller's Kill, New York.  Their obstacle is not faith and culture as in Kellerman's books, but the fact the Russ, in the first several books, is married.  It allows Clare and Russ to engage in many discussions where faith and logic play opposing and surprising roles.  One of my favorite mysteries of all time is Spencer-Fleming's remarkable debut, In the Bleak Midwinter (2002), which showcased Spencer-Fleming's skill at place, at story, and most of all, with characters.  At one of our book signings with Julia, a member of the audience could bear it no longer, and shouted out "When are they going to get it on?"  Mystery characters are real, people!
And who can forget…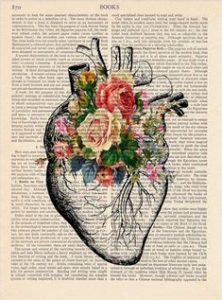 Denise Swanson's Wally & Skye
Robert B. Parker's Spenser & Susan
Laura Lippman's Tess & Crow
Louise Penny's Gamache & Reine Marie
Simeon's Maigret & Madame Maigret
Deborah Crombie's Gemma & Duncan
Love rules!