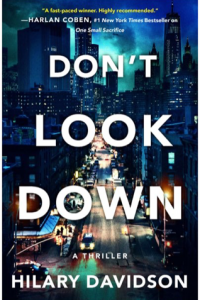 This tightly woven thriller-slash-police procedural is set in New York City, and like that city, the pace does not let up, from first page to last.  It opens with Jo Greaver, a young cosmetics magnate, on her way to meet her blackmailer, toting a huge bag of cash.  To the reader it's not clear why she's being blackmailed or who is doing the blackmailing, but it's very clear something is very wrong and that very definitely something will go wrong.
It does, and it's a cascade of wrong things, things that string poor Jo up tighter and tighter.  There's a shootout at the blackmail meetup, leaving Jo injured.  She attempts to get through her day pretending she's fine but the pain finally kicks in.  There's a dead, or at least seriously injured person, at the blackmail meetup.  And the police have a bag load of evidence tagging Jo as the murderer.
This novel is told through Jo's lens, but also through the lenses of Detectives Sheryn Sterling and her injured partner, Rafael Mendoza.  Sterling and Mendoza are very good detectives and as they unravel the occurrences in the tiny apartment where Jo left her money, they begin to doubt their initial conclusions.
This is a rare thriller in that, along with telling a story, the reader is also given insight into the situations of the characters.  Jo is being blackmailed, yes, but why is she being blackmailed?  The reason leads to a rift between her and her boyfriend and the reason is also painfully powerful.  It's hard to judge Jo the more you discover what she's gone through.
To a lesser extent, Sharyn's situation is also a part of the story.  An African American woman, she isn't encountering discrimination on the job (as has been the case in so many female led police novels through the years), but out in the world, something brought into sharp focus when her son is arrested at a demonstration.  It colors her thinking in the best of ways: it makes her more empathetic.
The dynamic between these two women powers the novel as much as the plot, which is a beautifully constructed mechanism of well-tuned gears.  This book was very difficult to put down, but it was also difficult to stop thinking about it after I finished reading it.  If you're a fan of smart thrillers, pick this one up.