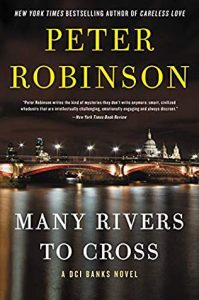 This melancholy, thoughtful novel finds Inspector Banks struggling with some of the knottier issues confronting the world at the moment – immigration, drug use and human trafficking.  Mystery novelists are often among the first to write about "issues," wrapping them in stories that make the reader think. Robinson is embracing this macro view of the universe, while applying a writer's micro view – the humans who populate the drama.
There are two main story threads in this book.  One involves a young Arab boy found dead, stuffed in a garbage bin.  The police are having a hard time locating any ties for him, and of course he turns out to be a refugee, with a particularly heartbreaking backstory.
Robinson is also continuing the story of Zelda, who lives with Annie Cabot's father, Raymond, and who has a heartbreaking backstory of her own. As a young girl, Zelda had been abducted from the Russian orphanage where she lived and forced into a nightmarish life of prostitution.  She is also what is known as a "super recognizer" – she never forgets a face, and in that capacity, she's contracted to help British intelligence.  But being a super recognizer, she's recognized a terrible face from her past, and is out for vengeance.  She doesn't trust the police – not even Alan, who she considers a friend – and turns to no one for help, taking matters into her own hands.
As the police work proceeds that slowly uncovers the story of the dead boy and who the culprit in his murder might be, we as readers also follow Zelda on her journey of vengeance and awful memories.  Banks uncovers connections within his city of Eastvale that begin to make the murky case of the dead boy clearer.
Inspector Banks novels are straight up police procedurals, but they are infused with the human beings who populate the stories.  Robinson is one of the more gifted writers at depicting the human heart – and psyche – and what makes people do what they do.  As his career has progressed, he has gone from being a more traditional writer of British mysteries to a writer concerned with the happenings in the world at large.  This does not always make for an easy read, and it is putting Robinson more firmly in the ranks of pure noir writers.  The world is his beat, it's bleak, and his stories reflect this.
Lovers of Inspector Banks will be happy to know he still loves music and good wine, and the book is infused with some of the music Banks listens to to relax, and as he thinks listening to a Beatles song in a pub, experiencing "pure joy."  It's good to live in a world where pure joy also exists.  It's needed, to confront the darkness that Banks encounters in his work.  This is a deliberate and intelligent book.