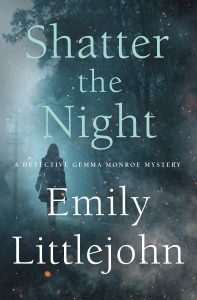 I am smitten with this series, now four books in.  Slight spoiler:  Detective Gemma Monroe is planning her wedding to Brody, father of baby Grace.  This is more or less background, however, as Gemma deals with a car bombing that takes place in the first chapter.  Set during Halloween, this novel is atmospheric and embraces the fear inherent in Halloween, rather than the cute ghostie trick or treating aspect of this now huge holiday.  Littlejohn goes back to the root: scary things that go bump in the night.  In this case, literally, an explosion.
Gemma's small Colorado town is filled with family history as well as kin connections.  In this, this series has much in common with Margaret Maron's Deborah Knott series, it's just the northern version.  Gemma was raised by her grandparents after the death of her parents, and they are now ageing – her grandmother has dementia – and the caretaking has flipped.  The man who is killed was a close friend of Gemma's grandfather.
Littlejohn then knits more threads into her narrative.  There's a new theater in town, rehabbed by the mayor and her husband with her money and they are opening, quite naturally for a mystery novel, with a production of Macbeth.  The theater is being plagued by small but horrible acts of vandalism that threaten to hold up opening night – though the director claims that will happen over his dead body.  Gemma is investigating these crimes and is unsure if they are tied to the larger ones taking place.
After the car bombing, there's another horrific murder, and the whys of what is happening puzzle the detectives, but legwork on the art of an eager intern (actually named Jimmy, which will make virtually any reader of a certain age reference Jimmy Olsen of Superman fame) points them in the right direction.  The background of the case is horrifying, as horrifying as the events in the present.
Littlejohn is wonderful at atmosphere and her prose is often so gorgeous I find myself dogearing pages as I read, to note quotes for later.  With Gemma, she's created a solid central character – a decent human being who is struggling with family issues, caring for a newborn, and young enough to be figuring out where she fits in the universe.  She is also a great storyteller, terrific at pacing and character development.  These books are often practically a one sit read for me.
The resolution to this book was heartbreaking as well as solidly foregrounded.  I appreciated everything about it and could not recommend this series more highly, though you should do yourself the reading favor of starting with the first one, Inherit the Bones.  I promise you'll be hooked.
This book should appeal to fans of Margaret Maron, Julia Spencer-Fleming, Julia Keller, Ellen Hart, and Jane Haddam.