This review comes to us courtesy of long time Aunt Agatha's book club member and friend, Vicki Kondelik.  This novel will be published on December 31, 2019 and is available for pre-order.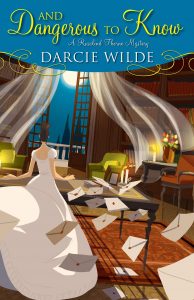 And Dangerous to Know is the third in a series by Darcie Wilde (a pseudonym for Sarah Zettel) set in Regency England and featuring Rosalind Thorne, a gentlewoman living in reduced circumstances after her father abandoned his family because he was heavily in debt.  I have not read the previous two, but this book made me want to go back and read them.  It stands on its own very well, and I was able to gather all the information I needed about Rosalind's background.
Rosalind was born into high society, but her father's disgrace left her with no money and ruined the family's reputation, so in order to survive, and maintain at least something of the standard of living to which she is accustomed, she works as an unofficial inquiry agent to gentlewomen who have need of her services.  Her social standing allows her access to the parlors and ballrooms of Regency London, and people of high society will tell her things they won't tell the police.
Rosalind has two love interests throughout the series.  Devon Winterbourne, her first love, was the second son of a duke, and at the time of her family's prosperity, they thought a second son, even of a duke, was not good enough for her.  Now Devon's older brother has died and Devon has succeeded to the dukedom, and he still loves Rosalind.  While she still has feelings for him, she realizes that, if she becomes a duchess, she will have to cut off all ties to her disgraced family.  At the same time, Rosalind is attracted to Adam Harkness, a member of the Bow Street Runners – the police force of Regency London – whom she had met while working on a previous case.  Adam is below her on the social scale, just as Devon is above her.  Wilde does an excellent job at maintaining the romantic tension, but perhaps in the next book Rosalind will have to make a choice between the two men.
In this novel, Lady Melbourne calls on Rosalind to find a packet of letters about Lord Byron that have gone missing from her desk.  Lady Melbourne's daughter-in-law, the notorious Lady Caroline Lamb, has carried on an affair with Byron, and, to separate the lovers, Lady Melbourne has married off her own niece to Byron.  But Lady Caroline wanted to continue the affair after Byron's marriage and, supposedly, has gone mad after his rejection of her.  But is she as mad as people claim?  Meanwhile, Lady Melbourne's life has been almost as scandalous as her daughter-in-law's.  Rumor has it that one of her sons was fathered by the Prince Regent, and she herself is said to have had an affair with Byron, just as she was scheming to marry him to her niece.  But there are hints that the missing letters contain an even darker secret: that Byron fathered a child by his own half-sister.  Lady Melbourne is afraid the letters will be published or used for blackmail, and she wants Rosalind to return them to her as soon as possible.  Because she doesn't want anyone to know about the existence of the letters, Lady Melbourne pretends she has hired Rosalind as a private secretary to explain her presence in the house.
But there is something very important that Lady Melbourne hasn't told Rosalind, as she soon discovers: a dead body has recently been found in the courtyard of Melbourne House.  Adam Harkness was called on to examine the body and he asks Rosalind to help him solve the murder, while at the same time conducting her investigation for Lady Melbourne.  Rosalind finds out that the dead woman was a nurse to the Melbourne family, and she may have been the one who stole the letters or, at least, known who did.  Rosalind finds herself caught in a web of intrigue and lies, and doesn't know whom to trust.  Lady Melbourne and her daughter-in-law hate each other, and each tries to cast suspicion on the other.  Lady Caroline's husband, Lady Melbourne's son, seems to be a mild-mannered, complacent husband.  Or is he?  Then there is Lord Byron's friend Davies, an unsavory character to whom Byron owes money, and who originally discovered the letters were missing.  He seems to know Rosalind's true purpose at Melbourne House.  Did he steal the letters himself, in order to blackmail Byron?  And what of the doctor, who seems to have had romantic feelings for the dead woman, or Lady Melbourne's maid, who knows more about the theft and the murder than would appear at first?  The plot takes many twists and turns, which seem to lead to one suspect at first, then to another.  Wilde kept me guessing, and I did not figure out who the murderer was until the end, even though I probably should have guessed sooner.
Wilde does an excellent job conveying the details of life, manners, and society in Regency England.  Rosalind has been brought up to follow the rules of society, and she usually does, except she will occasionally bend them when it suits her investigations.  For example, she will allow herself to be seen in a public place with a gentleman unrelated to her family when he can give her information.  Rosalind is highly intelligent and a keen observer, which of course contributes to her success as an investigator.  Her two love interests are also well-drawn characters.  I enjoyed the secondary characters who appear to be regulars in the series, especially Rosalind's childhood friend Alice, who is in similar reduced circumstances and works as a gossip columnist.  She lives with her brother George,  a journalist.  Their connections to the press often provide Rosalind with information for her cases.  In this book, Alice wants to become a novelist, with the same publisher who published Lady Caroline Lamb's novel, and George doesn't approve.  Wilde clearly intends her novels to appeal to fans of Jane Austen, and she succeeds.  This is a series I definitely mean to keep reading.
***************************************************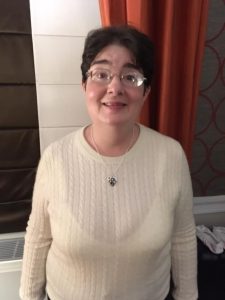 Vicki Kondelik is a cataloger at the University of Michigan's Graduate Library, and edits their book review blog, Lost in the Stacks.   She writes book reviews for the Historical Novel Society, and is currently writing a historical novel.  She has been an avid mystery reader for a long time.