I couldn't keep it to 10 this year – can I ever?  My taste does tend toward the traditional and historical fiction side of things, so that's mostly reflected here.  And a note: Kent Krueger's This Tender Land, while not strictly a mystery, can definitely be enjoyed by his mystery loving fans.  Quite simply, it's the best book of 2019 of any variety, and I hope everyone reads it.  I am looking to read it again myself.
There was lots to love this year!  Some long-awaited returns (S.J. Rozan), some debuts (Melanie Golding, Allison Montclair, Jess Montgomery), some trying a different format or series (Ann Cleeves, Elly Griffiths), and of course some solid entries in already great series (Benn, Bowen, Jones, Massey, Shaber). Lots of great, passionate, spectacular writing.  I love being a mystery reader!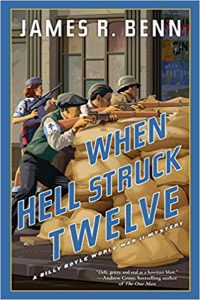 James R. Benn, When Hell Struck Twelve. What's not to love about a chase novel ending in occupied Paris?  And actually…ending in the liberation of Paris.  The best historical fiction places the reader back in time, and James Benn, now 14 books into a classic series, has taken his spy Billy Boyle from raw recruit to experienced operative.  Benn's depth of knowledge is vast, but he never overwhelms the reader with too much detail. The pulsing pace of his stories makes it hard to stop turning pages.  I felt I actually was in occupied Paris.  Benn, with a few vivid cameos, illustrates history with real people, including, in this book, Ernest Hemingway. (You may think about Hemingway in a very different way).  I like the immediacy Benn brings to his novels, and his illumination of parts of history you may be unaware of.  This is a stunning and unforgettable read.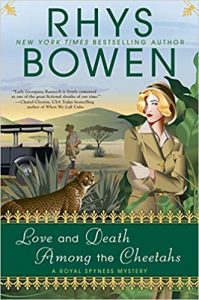 Rhys Bowen, Love and Death Among the Cheetahs. Rhys Bowen is often the winner of my own personal "most fun between the covers" award, and this year's Lady Georgie entry is so much fun it should almost be illegal.  Georgie and Darcy end up spending most of their honeymoon in Africa, to Georgie's disappointment, and on a spy mission no less.  Georgie also has a request from the Queen to watch out for evidence of Mrs. Simpson.  This novel is mostly set in the decadent "Happy Valley", an enclave of Brits in colonial 1930's Kenya. Bowen's writing is especially fine tuned as far as class distinctions, and she is one of the wittiest writers in contemporary mystery fiction.  This book ends slightly ambiguously (yet satisfyingly so) and takes the puzzle to the very last page.   Bravo.
Ann Cleeves, The Long Call. A new and strong direction for Ann Cleeves, who gives us the story of Mathew Venn, a detective in a small British city in Devon. Matthew is complex – he's gay, he's a bit OCD, and he's married to the messy, creative Jonathan, who runs the local arts and social center.  When one of the disabled adults who spent time at the center is killed,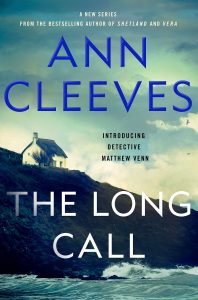 it fuels the kind of intelligent and complex police procedural of which Ann Cleeves is a master.  With the character of Matthew, she's also given the reader a fascinating person to get to know and explore, hopefully in many more novels.  This has all the Cleeves' hallmarks – beautiful writing, intelligent plotting, thoughtful social explication, and wonderfully memorable characters.  Great debut to a new series.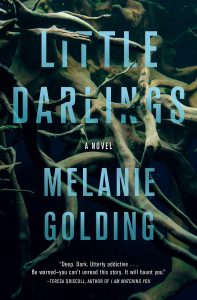 Melanie Golding, Little Darlings. I read this book early in the year and knew right away it was a favorite.  I could not put it down.  It's the story of Lauren, who gives birth to twins, but then is so exhausted and strung out she becomes paranoid.  She's sure someone is out to get them, and she's pretty sure it's a hag from a fairy tale who wants to take the babies away and make them changelings.  Each chapter has an epigraph from a fairy tale or bit of folklore, and Golding skillfully ties this aspect of her novel to Lauren's growing post-partum panic.  And from the reader's eye view, you are challenged to parse what's happening – is Lauren crazy?  Is her husband a jerk?  IS something – or someone – out to get her?  This has one of the more haunting resolutions since Rosemary's Baby.  I don't usually fall for this kind of book but this is a real knockout.
Elly Griffiths, The Stranger Diaries. I love Ruth Galloway as much as the next person, but it's great fun to see the talented Elly Griffiths branching out.  From Margaret Agnew's review on our website: "This novel brings us a modern-day gothic horror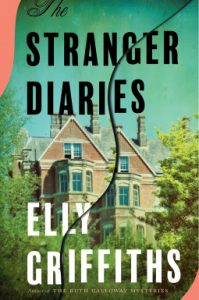 story while keeping solidly grounded in tradition. Instead of a castle or drafty mansion, there is an old school with secrets. Instead of a threatening lord of the manor, characters are menaced by fellow teachers and students. There is a ghost story in the background of the novel, and a mystery concerning the true identity of someone long dead. Delightfully, the novel's three heroines are not quite so traditional."  As always, Griffiths delivers strong female characters, in this case, three of them.  There is so much to love an unpack in this book.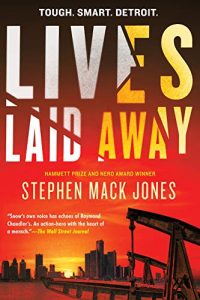 Stephen Mack Jones, Lives Laid Away. I loved Jones' Detroit centric debut, August Snow, and I liked this one even better.  It feels like Jones settled into his storytelling rhythm, he's shared August Snow's origin story with the reader, and he gets right in to a beautifully paced, intense private eye novel.  Jones is expert in creating a world – in this case, a more or less back channel world of a community working together to fight "the man" – which isn't a corny saying but a necessity.  August works loosely with a rogue FBI agent, a donut shop owner, and a priest, among others, to keep his community safe and the cops and ICE agents in his neighborhood on the up and up.  Like all simple sounding tasks, it's of course a complex one. Because of the inclusion of August's strong community this is not a dark novel, but a strangely optimistic one, despite the dark topics Jones covers.  I can't wait for book three.
William Kent Krueger, This Tender Land. Lots of people have already told me how much they loved this book and that they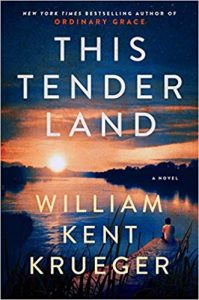 want to read it again.  I don't blame them. Set in 1930's Minnesota, it's the story of Odie, his brother Albert, and their friend Mose, who doesn't speak. All of them are young and living in an "Indian" boarding school. At the time (and up through the early 70's) native children were taken from their homes and put in these harsh schools where they were allowed little to no contact with their families and were forbidden – even punished – if they spoke their native language. The story is epic in scale. The brothers – and Mose – are on the cusp of adulthood, being between 12 and 15 – and the adventures that come their way in this novel, which takes place at the height of the depression – are adult ones. When they tell folks they encounter on their journey they are on their own and are orphans, it's accepted with a shrug. The river is full of twists and turns and takes the boys and Emmy through some of the iconic settings of the 30's – a religious revival tent, Hoovervilles, riding the rails, and to a farm where they work by day and where they are locked up by night. The story takes its own sinuous and compelling path, with the boy's quest for identity and a home at the forefront of all their minds. The spirit of this novel – the threads of love and kinship that bind this little troupe to one another and to the earth (or "This Tender Land") – is a compelling and moving one.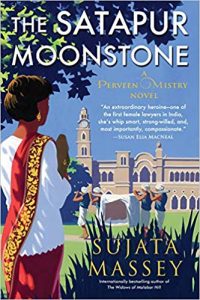 Sujata Massey, The Satapur Moonstone. The Satapur Moonstone is the second in Massey's series featuring female lawyer Perveen Mistry.  She works for her father's firm in Bombay in the 1920's, and she's an unusual example of early feminism.  Because of her gender, she can't argue cases in court, but Massey is ingenious in finding ways that Perveen's gender works to her advantage rather than her disadvantage. This second novel is an adventure story with all that implies – a journey through the jungle in a palanquin, monkeys, a tiger, several maharajahs (dead and alive), a moonstone necklace, and a palace full of maharinis attempting to decide what's best for a young maharajah who is too young to assume power. In the first novel, Perveen's origin was all, slowly and masterfully revealed.  In this novel, the sinewy, delicious, tricky story is all, as Perveen uncovers motivations and hatreds and unexpected goodness as well.  The characters are just as firmly etched and brought to life on the page as they were in the first novel. It's fun to see Perveen using her mind as she solves this puzzle.  You seriously will not want to stop reading.
Jess Montgomery, The Widows.  This is one of the most original and heartbreaking reads of 2019.  Set in 1920's Ohio in two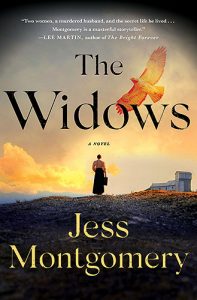 fictional mining towns, the story centers on Marvena, whose husband was killed in a mine collapse, and Lily, whose sheriff husband is murdered in the first chapter.  Lily is appointed sheriff in his stead.  The story is one of a growing friendship between Lily and Marvena, despite their differences, the network of women who hold the community together, and the heartbreaking and brutal conditions of the mines.  This is also the story of a battle, hard fought, with many casualties: the battle for worker's rights. There's a scene toward the end of the book of a mine rescue that is simply the most memorable of any scene I read all year.  Beautifully written, intelligently crafted, and driven by these two incredibly strong women characters, so real they could step right off the page –  this is one of the reads of the year. And a side note, Marvena and Lily have some basis in real people – be sure not to skip the afterword.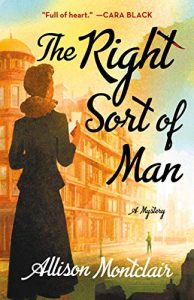 Allison Montclair, The Right Sort of Man. This is one of the most intelligent and funny first novels I've read in a long while.  Set in immediate post WW II London – any fan of Call the Midwife will be familiar with the setting – it's a period of time still governed by rationing and coupons, and people who have suffered some war trauma, be it loss, living through the Blitz, or actually fighting in the war. Our two central characters are Iris Sparks and Gwen Bainbridge.  Iris has a secret history of resistance fighting and espionage; Gwen, an almost titled member of the upper classes, has lost her husband and is raising her son at her mother-in-law's after a stint in a mental asylum. Both of them put their smarts and practicality to work to found the Right Sort marriage bureau (apparently an actual phenomenon immediately post war), using their different skills to create a strong partnership.  After meeting a client they go through their card files separately to come up with a match.  After meeting with a Miss Tillie La Salle, they match her with an appropriate man and send off the necessary letters of introduction. Sadly, Tillie is killed and her potential date is arrested, but Iris and Gwen are sure he is innocent and spring into action.  There are several things that set this novel apart.  One is simply the intelligence of the prose and the fast flying wit of the dialogue.  One is the pleasantly complicated caper-ish plot, which involves black market stockings and forgeries.  Most remarkably, Montclair deftly folds into her clever plot some real depth of emotion and feeling.  Iris and Gwen slowly learn to reveal their secrets to one another; their love lives and losses are examined; and all of it is carried off with a humor and wit that is pretty rare.  There's a couple of side bar characters – Sally, Des and Archie – who are full blown wonders. There was not a moment when I was reading this delightful novel that I was not completely entertained.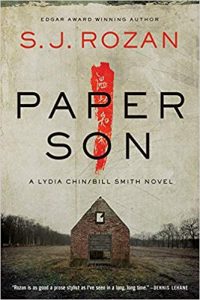 S.J. Rozan, Paper Son. Eight long years and a change of publisher later, Lydia Chin and her partner Bill Smith have returned. Rozan's series is one of the best private eye series around, with the fresh take of shifting narrators between books. One book will be Lydia's, one Bill's. This one is Lydia's. She's summoned to Mississippi to get a never met cousin out of jail for murdering his father. Lydia's scary (and entertaining mother) is sure her cousin Jefferson cannot be guilty, because he's family. Lydia has no such shared assumption when she gets to town and discovers that her cousin has broken out of jail and can't be found. All private eye novels mostly involve the private eye driving around and asking questions, and first, figuring out what questions need to be asked. As Lydia and Bill are very much out of their element the questions that need to be figured out are difficult ones. Really good private eye writers make the questions, the questioners, and the search an interesting one. Rozan is a really good private eye writer. As Lydia untangles her family threads, explaining to Bill why the Mississippi branch is named "Tam" rather than "Chin" (you'll need to read the book, as it explains the title), the story circles back to what is ultimately the strongest element in Rozan's best books: family. The whole novel features the combined skill sets in Rozan's extensive toolbox: a fast moving narrative, memorable characters, and a setting that's almost equally as important as plot. This is a more than welcome return to print of one of the greatest private eye writers on the planet.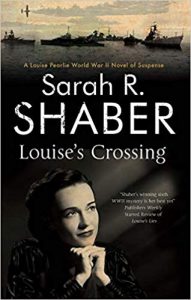 Sarah Shaber, Louise's Crossing. This is the seventh Louise Pearlie mystery – the first one for me, and I have to say I am now a fan.  I was able to pick up the character threads easily and was quickly absorbed in the story of Louise Pearlie, OSS agent, crossing a wartime ocean in winter to take up an assignment in London.  Shaber is a brisk storyteller and I was immediately drawn into Louise's goodbye to her U.S, wartime office, to her boarding house friends, and even her packing for a winter voyage. By the end of chapter two she has her orders and is already on-board ship. The ship Louise boards – the Amelia Earhart – is taking much needed supplies overseas and the "casual passengers" of which Louise is one, are more or less of an afterthought. I've never been a big fan of the shipboard mystery or novel, but I liked this one, for lots of reasons.  One was the way Shaber was able to skillfully illustrate life on a wartime ship, with all its discomforts.  At the same time, the passengers to a man want to help the war effort in any way possible and understand the importance of their cargo.  They are willing to endure their discomfort. As the ship crosses the ocean, they encounter the kinds of attacks you might expect from the Germans – air and sea – and there's even a moment of otherworldly beauty in the far north.  There's also, of course, a gale, but Shaber keeps her story moving – I was totally absorbed in Louise's passage across the ocean – and then she throws in a death. As Louise is a trained OSS agent, she can't let a death pass unexamined, and she's sure it's a murder, though the captain tells her to lay off.  Like every detective ever, she does not. Unlike other wartime mysteries I have read, the death of the one person is relative to the ship's wartime importance and the war in general.  It was a very realistic balance. I was impressed by Shaber's skill in telling a memorable story, but also in her ability to create a character I liked so much.  I'm delighted there are six books I haven't read.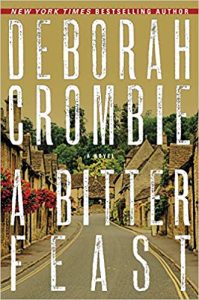 Also notable: Deborah Crombie's delectable A Bitter Feast; Ellen Hart's Twisted at the Root; Maureen Jenning's Heat Wave; Hank Phillippi Ryan's The Murder List;  Vicki Delany's Silent Night, Deadly Night;  Louise Penny's A Better Man; Annelise Ryan's Needled to Death; Diane Freeman's A Lady's Guide to Gossip and Murder; Lauren Willig's The Summer Country; Susanna Calkins' Murder Knocks Twice  and Kylie Logan's The Scent of Murder.