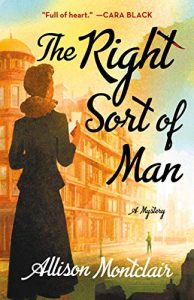 This is one of the most intelligent and funny first novels I've read in a long while.  Set in immediate post WW II London – any fan of Call the Midwife will be familiar with the setting – it's a period of time still governed by rationing and coupons, and people who have suffered some war trauma, be it loss, living through the Blitz, or actually fighting in the war.
Our two central characters are Iris Sparks and Gwen Bainbridge.  Iris has a secret history of resistance fighting and espionage, none of which she can talk about; Gwen, an almost titled member of the upper classes, has lost her husband and is raising her son at her mother-in-law's after a stint in a mental asylum.  She refuses to talk about it.
Both of them put their smarts and practicality to work to found the Right Sort marriage bureau (apparently an actual phenomenon immediately post war), using their different skills to create a strong partnership.  After meeting a client they go through their card files separately to come up with a match.  After meeting with a Miss Tillie La Salle, they match her with an appropriate man and send off the necessary letters of introduction.
Sadly, Tillie is killed and her potential date is arrested, but Iris and Gwen are sure he is innocent and spring into action.  Gwen's mother in law is horrified, but she'd be more horrified if she'd known that Gwen not only visits the man in prison, but she and Iris go undercover to Tillie's funeral and meet her friends who are not only working class but criminal class.
While this is not an unfamiliar set up for this type of historical cozy, there are several things that set this novel apart.  One is simply the intelligence of the prose and the fast flying wit of the dialogue.  One is the pleasantly complicated caper-ish plot, which involves black market stockings and forgeries.  The tone is similar to those wonderful Ealing comedies of the 50's – most especially it reminded me of The Lavender Hill Mob (1951).
Remarkably, Montclair deftly folds into her clever plot some real depth of emotion and feeling.  Iris and Gwen slowly learn to reveal their secrets to one another; their love lives and losses are examined; and all of it is carried off with a humor and wit that is pretty rare.  There's a couple of side bar characters – Sally, Des and Archie – who are full blown wonders.
Mostly there are Iris and Gwen, who between them have all the necessary skills to run a first class detective agency, including knife throwing and lock picking.  There was not a moment when I was reading this delightful novel that I was not completely entertained.  I'm already looking forward to book two.