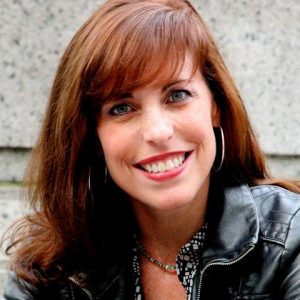 L.A. Chandlar is the national best-selling author of the Art Deco Mystery Series: The Silver Gun (2017), The Gold Pawn (2018), and The Pearl Dagger (2019). She also wrote the nonfiction book, Brass: Fight to Keep Creativity Alive (2015). She grew up in Michigan.  Fans of the Phyrne Fisher books or Rhys Bowen's Lady Georgie books would enjoy these reads.
Carin Michaels, a freelance journalist and playwright, interviewed L.A Chandlar during her book tour stop in Ann Arbor.
Michaels: I met you on May 18, 2019 at an interactive workshop that you held for writers called Keep Creativity Alive at a Michigan Sisters in Crime conference. This local chapter of writers is great because it promotes professional development of women crime writers.
You come to Michigan often. Can you tell the readers about your connection to the state?
Chandlar: I grew up in Michigan in a suburb of Metro Detroit, but my family is from Detroit. Then I went to the University of Michigan for my undergraduate degree. I had a double major in public relations and in English literature. I ended up working first with General Motors and then with my husband's touring band, promoting it all over the United States. I met him at the University of Michigan at South Quad dorm.
In 2001, my husband got a job offer in New York City as an executive director of an arts organization. We wanted to try living in a big city, and we ended up loving it, living there for the last 18 years.
Michaels: And you began your writing career in New York?
Chandlar: Interesting story about how it started. We planned to move to New York on 9/11 and that obviously didn't happen. We ended up moving two weeks later when the movers could get our stuff into the city.
My Art Deco series was inspired when I moved to New York, because it felt like the 1930s in the city was a similar time to the aftermath of 9/11. I liked the idea that beauty can come from ashes.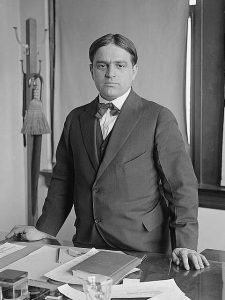 The city was obviously hurting. But the people were so warm. They had a spirit of solidarity, and meanwhile, I picked up biography about Fiorello LaGuardia. I've always liked to read history.
Michaels: Your Art Deco series has him as a featured character, which is very true to life.
Chandlar: He was a three-term mayor in the 1930s, and he took over right when prohibition ended during the depression; right when everything was corrupt and crazy.
I just love him. He says a lot about our political climate today because he was considered a double minority. He was half Jewish, half Italian. He was a fighter pilot in WWI and in Congress. He was first generation immigrant. The public didn't think he'd win, as the underdog, but he did.
I was floored by his spirit. He was funny and fighting for the little guy. He really was considered the people's mayor, and Lane, my protagonist is his aide.
Michaels: Can you give the reader a synopsis of your series to pique their interest?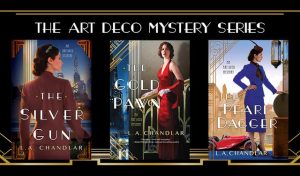 Chandlar: The three-part series is set in New York City, starting in 1936, the midst of the Great Depression, and the Big Apple is defiantly striving toward renewal with art, architecture and economic progress under Fiorello. But those in City Hall know that tumultuous times can inspire both optimism and deadly danger, hence, this milieu inspires my mysteries.
Michaels: You're able to write about real people and events to educate your readers about that period of time but use a fictitious plot to create indelible mysteries.
Chandlar: There are other historical people I use, like Police Commissioner Lewis Valentine, and the crime syndicates are very real, but I fictionalize their stories because I don't want to get in trouble with them.
I have another nice historical teaser in my next book, four, I've been working on. It's an example of where I get my real-life inspiration. Fiorella would go back to governmental institutions to make sure everything was running smoothly. This is a true story. He heard that there were shifty things going on in a Harlem Prison, so he shows up there. He finds out, sure enough, that the inmates were running stuff like the kitchen. The guards were taking naps.
And a reporter went with him. He also discovered that there were two kids hidden in the prison because they were eyewitnesses to a murder. Their bail was set at an astronomical amount, like $15,000, something ridiculous that could never be paid, and they were being protected.
Michaels: How did you find this out?
Chandlar: I found a bunch of old history books that are gems that were written in the 1930s. and I read them. Specifically, for this reference, New York: City of Cities (1937) by Hulbert Footner.
Fiorella took the kids out and got them to Children's Society, so that scene is in my next book. I write it to the letter of how it happened. The fiction part is what murder the kids saw or solved, since there aren't any notes on it. That is my plot. I use real-life circumstances to inspire a mystery.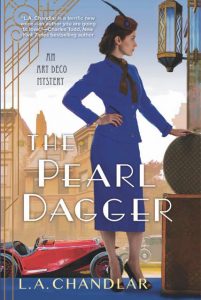 Another fantastic real-life cameo in my third book, The Pearl Dagger, is one of my personal heroes, Jane Bolin. She was the first African American female judge in the courts, ever, and Fiorello was the one that appointed her in 1939. She was the only black female judge for 20 years, and he made that happen. That's how enterprising it was then.
Also, I like to add real-life instances of Fiorello's social life. In The Gold Pawn, my second book, Albert Einstein and Bob Hope were actually at his Thanksgiving dinner, but they weren't superstars then.
Michaels: Why art deco? The idea of beauty from ashes implies creation. Is there a relationship there, or did I just forge that connection?
Chandlar: I made the connection because I think the Art Deco era was two decades sandwiched in between the ironclad bookends of the two World Wars, and in the middle of those two decades is the depression, prohibition.
It was a period of renewal. New York City got the Empire State Building, Rockefeller Center and the Chrysler Building during this period.
Michaels: What would you say to my statement that you write realistic historical mysteries?
Chandlar: Yes, but I want to expand on that thought. When someone thinks about the 1930s, usually only the depression comes to mind, but there was so much more going on then. One of my readers asked me, 'How do you give the Depression such texture?'
It made me think about how I honor this history so the reader can experience it. I do interview people from that time and share their stories. For instance, the butler Mr. Kirkland grows beans on his city rooftop.
Michaels: Oh! I love that character.
Chandlar: I do too. He's one of my favorites. That's my grandfather.
Michaels: Each of your characters trajectories has their own arc, and that creates a page turner. Let us discuss the fact that you write historical, first-person, point-of-view fiction that appeals to all ages. Your female protagonist is named Lane Sanders, inspired by Sanders Chocolate.
Chandlar: Yes, my favorite – Michigan's best.
Michaels: I think your writing is attractive because you have a very strong, active voice, and Lane's the mayor "right-hand-man," albeit a woman.
Chandlar: Also, I think a lot of Gen Y and Z-er's want the kind of job that Lane has, to make a difference. She makes a difference.
Michaels: Going back to one of your themes – out of ashes comes great art, I think the younger generation can identify with Lane and her sidekick, Roarke, a resourceful investigative reporter. They validate their yearnings. They're doing good things.
Chandler: I think you're right. It makes sense to me. That's why I love younger people.
Michaels: But you love history too, and that's why your stories work. If you think about it, it's like having a teacher that makes history come alive. For instance, in your second book, half of it is set in Michigan. We learn about Matilda Dodge Wilson, who built Meadowbrook Hall.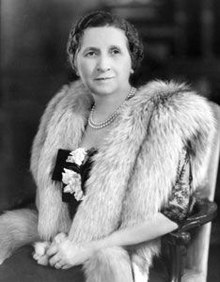 Chandlar: Matilda was an amazing woman. She was part of the Dodge family, and then both Dodge Brothers died, so she inherited, along with her sister-in-law, their fortune. The lawyers told her to sell their property immediately, but she was super savvy. She was a numbers person and ran a bank for a while. It was ridiculous how much money she made by charting her own course. She was so wise. Then she married Alfred Wilson, who was an industrialist, and together they built Meadowbrook Hall for her two Dodge children, and they also adopted two children.
Michaels: You're just a studier of history, and I get to learn about these topics.
Chandlar: I'm still doing research for my fourth book that will come out hopefully in 2020 on the 90th anniversary of the Chrysler Building. There was an infamous club up there that was called the Cloud Club, on one of the high floors, 67th floor, I recall, and it was where the businessmen would hold court. No women were allowed.
Michaels: What do you mean "hold court"?
Chandlar: Networking, making deals, drinking, but no women.
Michaels: Does Lane go there?
Chandlar: Of course she does. She's finds inspiration from a memoir she is reading, Out of Africa by Karen Blixen; she was a strong woman, who went into men's territory, all the time.
Michaels: Speaking of books to movies, this series would be a great Netflix or Amazon Prime television series. Look how "The Marvelous Mrs. Maisel" caught on, even though it's the end of the 1950s, not the 1930's. Have you been approached?
Chandlar: I haven't yet, but it would be ideal, because there's so many character arcs; and also, in the middle and end of every book, there is a culmination scene.
Michaels: Here's a good question: who would play Fiorello?
Chandlar: Readers ask me that all the time. I don't know; some said Tom Bosley, but he is no longer with us. Do you remember him from the television series, Happy Days?
Michaels: Yes. What about Danny DeVito?
Chandlar: Oh, yeah definitely, and he's short.
Michaels: Then the next question would be: who would play Lane?
Chandlar: There's a lot of great actresses out there today, but I thought Emma Stone.
Michaels: You always have discussion questions and a bibliography in the back of your books. Why? It's fiction, even though it's historical.
Chandlar: I like to read good reference material to support my novels, so I thought it would be nice for the readers too.
Michaels: I referenced your bibliography and learned things. For instance, the architect of Grand Central Station also completed Michigan Central Station, the largest gateway for travelers at that time.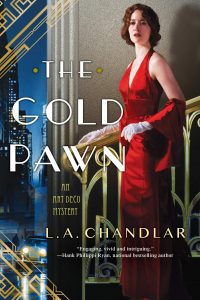 Chandlar: Yes, Michigan Central is in my second book, The Gold Pawn, since she travels from NYC to Detroit. Did we tell the readers that half the book is set in Michigan?
Michaels: Yes, and like Lane, you're always come back in Michigan. You just arrived here after being in Indianapolis, where you did a book signing and held a workshop.
What are you going to share with readers on this book tour about your new book, The Pearl Dagger, to pique their interest?
Chandlar: In The Pearl Dagger, rumblings of a violent syndicate spreads like wildfire through Europe, another true story, and Lane sets sail for London—the city where her parents began the undercover work that led to their tragic undoing. Lane discovers that her inherited dazzling pearl dagger may wield the ultimate clue to guide her hunt for justice on two sides of the ocean.
Michaels: When will Lane come back to Michigan?
Chandlar: She has a house in Michigan, so she will always come back. I will end my series in Michigan. It will be called Whiskeytown, because Detroit was responsible for over 75% of the nation's illegal alcohol from the Purple Gang.
Michaels: Can we come up with a phrase for your type of writing, because it more than historical fiction? How about experiential historical fiction?
Chandlar: You can make one up. It is 'experiential.' I always try to make the reader feel like they're there.
Michaels: I go back to saying, 'I want the author to teach me something I don't already know.' Also Lane grapples with themes that we as women have to deal with today. I turn the page, because I am intrigued as well as hopeful. You carry history in each chapter through your character's action. I don't want to exclude men, and you have a lot of them in your books. It started with Fiorello.
Chandlar: Yes, love it! Lane is an independent woman in the 1930s and many of those scenes are the same thing that women are dealing with today.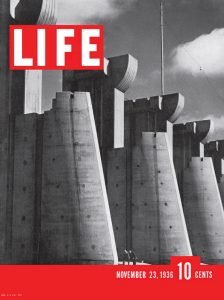 It's always easily dismissed women then, but they were also highly regarded. I got the first magazine cover of Life Magazine, November 1936, and it features a photo of the Fort Peck Dam in Montana, by a female photojournalist, Margaret Bourke-White, and she even attended University of Michigan for some time.
Michaels: You're giving life to history.
Chandlar: Trying. It has to be fictitious because a lot of those points in history we don't really know. I reinvent people so I can put you in that place as if you were there.
*********************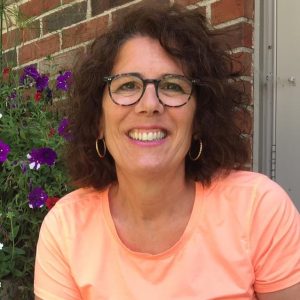 Carin Michaels is a former federal investigator working on her first thriller.  She is also a freelance journalist who has written for Gannett Newspapers, MLive Media Group, Third Street Publications and Crazy Wisdom Journal.  She is also a playwright and has had productions in New York, Chicago and L.A.