Meet D.M. Pulley at the downtown library on Saturday, October 19 at 2 p.m.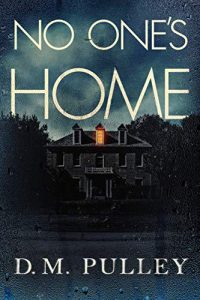 This is an honest to god ghost story, inspired by Shirley Jackson's classic The Haunting of Hill House.  It's guaranteed to give you the shivers.  Threading together the stories of several – very tragic –families who have shared the same house from 1922 to the present, the connections move into sharper focus as the book unfolds.
The story opens with the Spielman family, who are making a move from Boston to the wealthy Cleveland suburb of Shaker Heights, where they are amazed by the amount of house they can get for their money.  While Rawlingswood seems impressive, it's also a graffiti covered wreck, with stripped pipes and broken windows.  The graffiti is more than disturbing, calling the house a "murder house" and referencing dead girls. As Myron and Margot check the place out, Myron gets more and more excited, and Margot, more and more worried.  Despite her objections they buy the house and begin to renovate it immediately, where all kinds of things go wrong, spooking the contractors, who eventually refuse to go up into the attic at all.
But the family does eventually move in, and Myron, Margot and teenaged Hunter begin their new lives completely alienated from one another.  Myron is gone to work; Margot stays home giving online yoga classes; and Hunter is completely lonely, communicating only via computer with his friends back home in Boston.
Meanwhile, the other family stories begin to take shape.  The original owners suffered through the crash in 1929 and lost everything; the next owners had a severely disabled, autistic son after years of trying, and it breaks up their marriage; and the next family, who have two foster children, lock the kids in their rooms at night.  The connective thread is tragedy in various forms, and a mysterious ghost in the attic that seems to watch over the house and cause all kinds of trouble for the living tenants.
The atmosphere is creepily gothic and the ghosts take on as much of a persona as the living characters the author writes about.  I thought she moved clearly between storylines, and the tying up at the end was quite well done.  She sets her story very specifically in Shaker Heights, providing some historical background that not only ties into the story she's telling but into actual history.  This was a fast paced and enjoyable read – perfect for autumn and Halloween if you're searching for a good ghost story.