At a book club recently, one of the members asked what were my favorite police novels?  The obvious answer, Michael Connelly, sprang up, but the writers who drew me in to this particular sub genre were women.  One of the true pioneers in this sub genre, Lillian O'Donnell, is one of my favorite writers.  My late father in law introduced me to her in the 80's and I've gobbled up everything I could find by this talented and to me, ground breaking  writer.
Lillian O'Donnell started her career as an actress, but when her husband asked that she not be on the road so often, she decided to try writing.  She wrote and sold her first mystery in 1959, but it wasn't until 1972 that she created the character of policewoman Norah Mulcahaney.  The Norah Mulcahaney books stretch from 1972-1998, finding Norah starting her career, climbing the ranks, marrying, becoming a widow, and along the way battling the sexism inherent in a very male environment.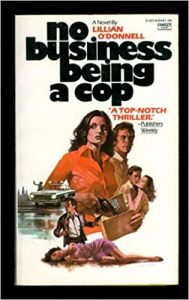 I love the whole series but I think my favorite is No Business Being a Cop (1979), when Norah is investigating the deaths of four fellow policewomen, and narrowly escapes death herself as a male colleague has decided woman have no place on the force.  While 1979 doesn't seem like that long ago, the sexism O'Donnell writes about feels very different from a contemporary workplace.  However, her fellow writers write about female characters still encountering this workplace diminishment, right up through Carrie Smith's recent Claire Codella series.
While O'Donnell's series flourished until the late 90's, the 80's, in terms of American crime fiction, were dominated by female private eyes created by writers like Marcia Muller, Sara Paretsky, Sue Grafton and Linda Barnes.  These strong women didn't want or need the confinement of working within a police department.  They were gloriously on their own.
O'Donnell paved the way for this specific sub genre, however, and these books were written in the same time period as the female private eyes were grabbing the attention.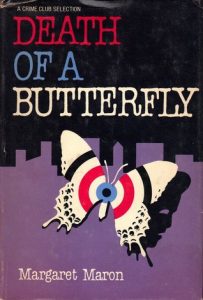 Margaret Maron's series about the uptight Sigrid Harald (spanning 1981-2017) contains some of my favorite mysteries of all time.  When Maron is at her best she is absolute perfection, and this swath of Sigrid's life where she finds and loses love never forgets that there's also a clever story to be told.  These echo O'Donnell but Sigrid is a different cat altogether from Norah.  If you seek perfection, don't miss Death of a Butterfly (1984) or Corpus Christmas (1989).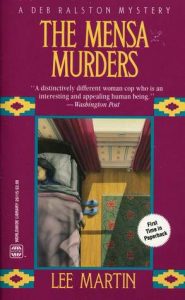 Lee Martin (a pen name for writer Anne Wingate) wrote a wonderful series about female Texas cop Deb Ralston (1984-1990), who is juggling a busy family life alongside being a cop.  These brisk, complex, well told stories are addictive.  I think my favorite is The Mensa Murders (1990) where Deb investigates a series of crimes tied somehow to a local mensa group.
Of course there's Michael Connelly, still going strong 21 books into his now classic Harry Bosch series.  If you're a mystery reader, serious or casual, you've probably read at least one of these books, but I recommend reading the whole series in order to see how the mind of smart loner Harry Bosch solves crimes.  A stand out for me is The Last Coyote (1995) which along with The Concrete Blonde (1994) ties into the story of his mother's murder.  Crisp, haunting, and well told.  Connelly has joined the female fray, introducing cop Renee Ballard with The Late Show (2017).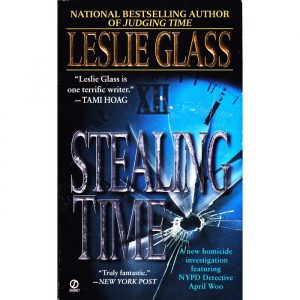 Another favorite of mine is Leslie Glass, whose April Woo series spans 1993-2005.  April, a Chinese cop with a domineering mother (a stand out character through the series), dates an Hispanic cop.  She's often pulled between the traditional Chinese culture her mother wants her to embrace and the Western culture she's grown up in, as a native New Yorker.  These are tight, well paced thrillers, and a favorite for me is Stealing Time (1999) which deals with the different levels of cultural involvement and pulling away among April's own circle and in the killing of a Chinese woman whose husband wants to control the investigation.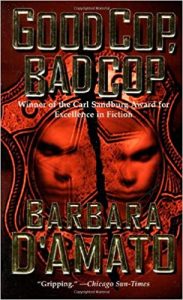 Then there's Barbara D'Amato who fits in both categories.  She has a series featuring reporter (as D'Amato herself was) Cat Marsala, but she has 5 wonderful police novels spanning from 1996-2004.  She has a very specific Chicago location and her love of research shows and illuminates the books.  My favorite is Good Cop, Bad Cop (1998), which has a neat structure of a good brother and a bad one and how their paths intersect, using a famous Chicago police scandal as a backdrop.  All of D'Amato's well structured, well written and fast moving books are a never-miss as far as I'm concerned.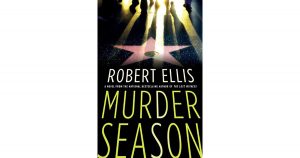 Robert Ellis also writes a wonderful female cop in his Lena Gamble, with a three book series (2007-2011).  My favorite is the almost poetic Murder Season where Lena is called up in the middle of the night to look into a case of an accused and acquitted killer who has been found dead.  The writing in this novel is outstanding as are Ellis' story telling chops.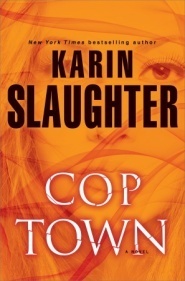 Karin Slaughter's violent books are more than redeemed by great writing and incredible characters and storytelling.   She has two great series  – one featuring medical examiner Sara Linton, and cop Will Trent, both fascinatingly damaged characters.  But the real stand out for me is Cop Town (2014), for which Slaughter was deservedly nominated for an Edgar.  In it she highlights the sexism as female cops entered the Atlanta police force in 1974.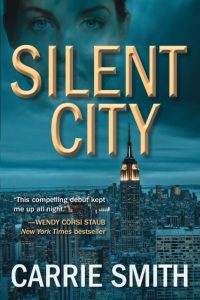 A recent passion of mine is Carrie Smith, whose three book series about female cop Claire Codella who is returning to work after a bout with cancer, and encounters all kinds of different levels of sexism and envy (she broke a big case before her illness).  The three novels each focus on a different issue: Silent City (2015) on education; Forgotten City (2016) on Alzheimer's; and Unholy City (2017) on religion.  Unholy City is also a neat locked room mystery.  These are terrific, vivid reads.
Read a little bit more about Lillian O'Donnell here