Review by Mike Simowski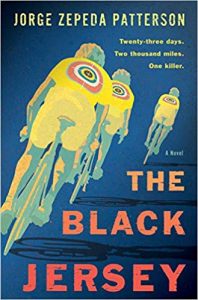 In the colorful setting of the Tour de France (the world's greatest bicycle race), murder and mayhem ensue in this unique and compelling thriller. Marc Moreau is a professional cyclist and one of the best in the world. But on his top-notch team, he is relegated to supporting his best friend who has won the Tour several times and is gunning for another against stiff competition. In this highly competitive atmosphere, accidents, crashes and other incidents occur at a rate that is both suspicious and alarming. Marc, a former military policeman, agrees to assist the French police in an undercover manner on the investigation, while still competing in the high-pressure 2,000-mile race.
The suspects are numerous, including fellow racers (possibly members of his own team), officials, coaches, mechanics and others associated with the Tour. Who can be trusted and how does Marc's personal ambition (both for himself and his team) perhaps cloud his investigation efforts?
Zepeda Patterson does a masterful job of graphically illustrating the intense world of bicycle racing. In an unusual setting for a mystery, he skillfully provides the necessary technical information about the sport in way that in fact propels the narrative forward while ratcheting up the tension in a seamless and entertaining fashion.
There are two story lines here:  the continued tragic mishaps and Marc's personal maelstrom of ambition, loyalty and sense of justice. He indeed has some critical decisions to make…
A highly enthralling mystery where the reader is very effectively transported to an unfamiliar and exciting universe is always welcome. The Black Jersey is a fast-paced ride which informs, thrills and entertains. It guarantees that you will never watch a bicycle race in the same way ever again.
******************
Mike Simowski lives in Canton, Michigan. He is a retired administrator of services to older people and is a very avid and long-time mystery reader, as well as a long time member of Aunt Agatha's book club.