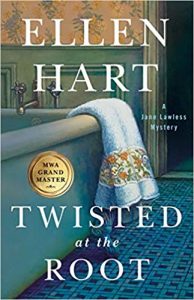 The 26th novel in the Jane Lawless series is as good, as crisp, as memorable, as the first in the series. Jane, the calm center of every storm in her life, agrees to investigate a closed case (the alleged perpetrator is in prison) when her father, lawyer Raymond Lawless, asks. The case involves the murder of one partner by another – the partner was an obvious choice as the killer and was duly convicted. But.
Everyone Jane talks to – including her old friend, the flamboyant Cordelia – affirms the man's goodness, and their disbelief that he could harm anyone. Many threads swirl around the case, which at first looked like a suicide. Ellen Hart, in her masterly way, uses these many threads to paint her complex portrait of a crime.
There's Marlo and her trophy husband, George, who are living in her dead father's apartment. Marlo has no interest in this painful case being reopened. There's Eli, John Henry, and Kit Chenoweth, owners of the gallery where the dead man purchased much of his art collection. The three are connected in strange and intimate ways.
And at Cordelia's crazy New Year's Eve party, Peter, Jane's brother, turns up, seeming lost and unaccountably hostile to both his sister and his father. Hart has used a long lens in setting up Peter's situation – he's a documentary film maker living in London with his wife and child. She's also used a long lens in setting up Jane's situation with her on again, off again girlfriend Julia, who is not beloved by everyone in Jane's life and who is suffering from a devastating illness.
As in any good mystery, Jane's personal life, while important, is on the back burner as the story unfolds. What's so good about Ellen Hart's writing? For one thing, she's great with character. She paints indelible and believable portraits quickly. She's great with plots, using tricky twists as well as character illumination to tell her stories. And she has a great deal of plain old humanity helping to showcase her writing. I'm not a fan of noir, and Hart is not a noir writer. She does write frequently about dark subjects and twisted motivations, but she's not a dark writer. Jane's humanity and the array of characters and situations that surround Jane are not dark. She's a believable, flawed human being, who is also a little bit of a super woman. She solves crimes, she runs a successful restaurant, she's best friends with the high maintenance Cordelia, and she juggles her own love life. If you pause to think about it, she could be intimidating. But as you read, she seems agreeably friendly and relatable, and as prone to making mistakes as anyone else.
The ultimate test, of course, for any reader, is an enjoyable and memorable read, and Hart delivers this with every book. A few of her Jane Lawless books remain some of my very favorite traditional mysteries. She really hit a high spot around 2002 with Immaculate Midnight, and this sweep continued though 2006's Night Vision. All of her books are good but the titles she wrote during this time period are really peak. Look no further if you treasure a well written mystery story illustrated through wonderful character development. Jane Lawless is truly a classic detective for the ages.