In 1962, a woman named Phyllis James sat down and wrote Cover Her Face, the first Adam Dalgleish mystery.  Two years later, in 1964, Ruth Rendell wrote her first Reg Wexford mystery, From Doon with Death.  These two women pulled the golden age format created by Agatha Christie and Dorothy L. Sayers into the present, and as they wrote, they deepened the form psychologically, writing darker, more intense and longer books as their careers progressed.  They were the godmothers of what I think of as the contemporary noir police novel, and writers like Jill McGowan, Colin Dexter, Ian Rankin, Val McDermid, Peter Robinson, Elizabeth George and many others have carried it forward.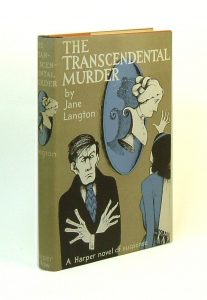 In the United States in 1964, another two women set to work on a quieter but no less profound revolution.  In 1964, Jane Langton wrote her first Homer Kelly novel, The Transcendental Murders, and in that same year Amanda Cross wrote her first Kate Fansler novel, In the Last Analysis.  While it would still be a couple years before Charlotte MacLeod got to Peter Shandy, she was writing stand alone novels that shared many elements with these two other groundbreaking writers. MacLeod's Mystery of the White Knight also came out in 1964.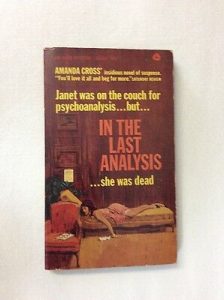 Langton and Cross shared not a female protagonist, but a love and reverence for scholarship and academia.  The Massachussetts based Homer Kelly books feature an Emerson scholar who is also an ex-homicide detective.  Amanda Cross went the whole feminist route (sometimes to the detriment of her books, in my opinion), her Kate Fansler being, like Cross herself, a professor.
While all of these authors follow the traditional golden age format – a central detective, a crime that is fairly laid out with clues and suspects, and a traditional summation at the end, often with all suspects gathered just as Poirot would have done – they are bringing different elements to the table.  Rendell and James took this formula in one direction; American women took it in another.
They began to bring regional flair to their novels.  All of these women set their books in very specific, often lovingly detailed, locations.  Not St. Mary Meade, but the American equivalent of the contemporary village.  There's often quirkiness to the sleuths.  Miss Marple counted on being overlooked but she didn't fly her passions on her sleeve as these women's characters do, in what I would argue is a very American way.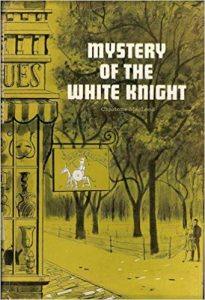 Charlotte MacLeod, in my opinion, shaped what is now the modern cozy mystery even more than Langton and Cross. Mystery of the White Knight features a young woman taking over her aunt's Colorado antique shop while her aunt leaves on a buying trip.  So there's one key cozy element: the specific shop (or hobby).  There's a tall, handsome neighbor; there's a mysterious object; and there's a mysterious stranger.  These are all key elements in the American cozy universe.
It's brought to delicious fruition with her first Peter Shandy novel, Rest You Merry, published in 1978.  While Langton and Cross were in the middle of solid careers, they were joined by Elizabeth Peters, whose Vicky Bliss and Jacqueline Kirby books came out in the early 70's.  Peters ended up solidly setting up the historical cozy universe – another discussion – but she was also hugely influential, with authors like Lauren Willig and Tasha Alexander genuflecting to her today.  But it's in Rest You Merry that MacLeod finds her groove.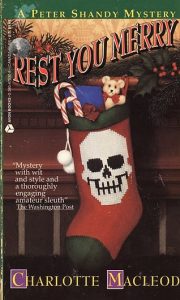 Peter Shandy, a slightly eccentric professor who studies agriculture at tiny Balaclava College, leaves town during Christmas (after garishly be-decking his house, to the intense annoyance of his neighbors), only to return home to find a dead woman in his living room.  There are two bodies in this novel, both of whom almost appear to have died from natural causes.  Cozy element: no blood and gore.
There's a comfortable domestic scene that every reader understands.  As MacLeod skillfully dissects neighborhood politics, any reader will feel a familiarity with what she's describing.  Cozy element: familiar environment. There's a love interest, in the arrival of librarian Helen, and indeed Peter and Helen marry, sleuthing together for the rest of the series.  Cozy element: romance.
There's the fact that Peter, an amateur if there ever was one, is nevertheless asked by his boss to find out what happened.  He's surrounded by bumbling cops and security guards.  Cozy element: omniscient amateur.  Peter of course solves the case through dedicated detection, using his particular skill set (science).  This should be a required cozy element as far as I'm concerned, and in the hands of someone as skilled as MacLeod, who makes it look easy, it is.  Even Helen's librarianship is part of the denouement.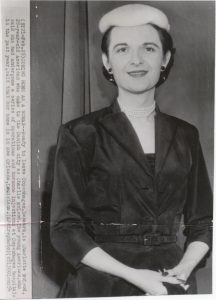 MacLeod's humor and way with characters set her books at the top of the pile, but this newish, American formula is rock solid and is in heavy use today, as the cozy universe is well populated with bookstore owners, glass blowers, cooks, restaurant owners, wedding planners, bed and breakfast owners and shop keepers of all varieties.
MacLeod had a career that spanned into the late 90s when her voice was, sadly, stilled by Alzheimer's.  But what a legacy.  Here's a short list of some of my favorites in the cozy universe.
Sick of Shadows, Sharyn McCrumb (1984).  Though McCrumb morphed into a writer about Appalachian culture (and I can't deny that She Walks These Hills is a great book), and she now denies that she's even a mystery writer, her Elizabeth McPhearson series is top notch.  Funny, tight, well plotted – these books just can't be beat.  Elizabeth is an anthropologist and an anglophile (big time, check out one of my faves in the series, The Windsor Knot).
Audition for Murder,  P.M. Carlson (1985).  Carlson sticks to the scholarly universe and takes her Maggie Ryan through college and grad school to full employment, giving the reader a bird's eye view of late 70's academia as well as the chaos of starting a family and living with young children. The whole series is wonderful.
The Thin Woman, Dorothy Cannell (1984).  Cannell, a Brit living in the US, takes her main character to the UK where a full on fairytale takes place.  Nancy Atherton's Aunt Dimity books share the same universe, Atherton's usually without even a corpse.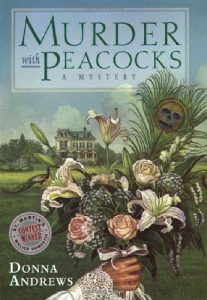 Murder with Peacocks, Donna Andrews (1999).   Donna Andrews' series about metal worker Meg Lanslow, who is surrounded by a giant and eccentric southern family, really hits it out of the park in this first, award winning book, where Meg coordinates several weddings, including her mother's.  Hilarious, but loving as far as her characters are concerned.  Andrews is the real deal.
Murder of a Small Town Honey, Denise Swanson (2000).  This long series, launched in 2000, features school psychologist Skye Denison, which, as it happens, was Swanson's career as well.  The specificity of the details of Skye's profession along with Swanson's humor and tight plotting make this series a stand out.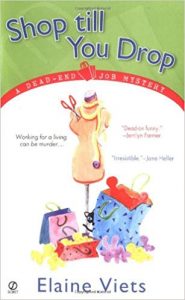 Shop Till You Drop, Elaine Viets (2003).  This wickedly funny and subversive series follows Helen Hawthore through a series of dead end jobs as she hides out from her dead beat ex husband, in an effort not to pay him alimony.  While these are funny, well written books with great characters, Viets is also making a point about the hard work involved trying to exist on minimum wage.
State of the Onion, Julie Hyzy (2008).  I was/am a giant fan of this funny, well plotted and imagined series about the White House Chef, and saddened when it ended, but this is a great example of contemporary cozy writing at its finest.
Written Off, E.J, Copperman (a.k.a. Jeffrey Cohen), 2016.  This is only a two book series with the high concept of a cozy writer at a book signing who meets – her own series character.  Only a writer as smart and funny as Copperman could pull this off.  He has a love for traditional deductive reasoning and he always makes me laugh.
In writing my cozy column for Mystery Scene I've been introduced to a whole slew of new to me cozies.  This year I've especially enjoyed Amanda Flower's Toxic Toffee; Vivien Chien's Murder Lo Mein; Vicki Delany's year round Christmas books; Diane Kelly's K-9 books; Ellie Alexander's bakeshop mysteries and so many more.  Every month is a discovery.  In cozies written today, the feminism is already assumed, which is certainly progress.  Read on, fair readers.