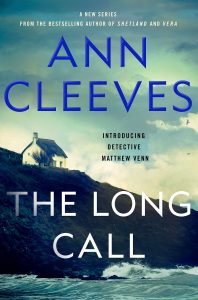 Ann Cleeves wrapped up her stellar Shetland series and has turned her hand and eye to Devon, a British resort area where of course she finds out what's lurking under the surface. She introduces the reader to detective Matthew Venn, who has a complex backstory that would seem to lend itself to further discovery in more books down the road.
Matthew is a bit OCD, reminding me slightly of Margaret Maron's great creation, Sigrid Harald. He was raised by parents who were members of a Christian cult and when he renounced their faith he was banned from their lives. He's married to the lively, artistic and sometimes messy Jonathan, who runs the local center for art and disabled adults. The odd combination of artistic pursuit and mental health and disabled adult care seems to work well and the center is a lively place, important to many families in town.
When one of the men who was helped there – he had turned up drunk and homeless – is mysteriously murdered on a secluded headland, all hell, quite literally, breaks loose as Matthew and his crew begin to unravel the strands of the murder.
While this is the first in a series Cleeves is far from a first time author, and she's more than comfortable with narrative and character development and the slow burn as the officers uncover relevant facts. When two of the disabled adults in care at the center are kidnaped, it adds even more impetus to solving the murder as Matthew is certain all of the incidents are connected.
There's really nothing I love more than a police procedural, preferably a British one, and this fits comfortable alongside other favorite authors of mine like Deborah Crombie, Peter Robinson, Jill McGowan and Ian Rankin. Cleeves sets Matthew up with colleagues that give some contrast – single mother Jen, who has fled an abusive husband, and privileged insider Ross, who Matthew chides for being lazy and ignoring detail. Both prove invaluable and the three make a good, balanced team.
While the crime itself is not spectacular, when the eventual motivations and culprits are exposed, the solution and motivations couldn't be more creepily timely. The answers may make you squirm a bit, but not the way you would if you read something exceptionally gory or horrifying. You squirm because the perceptive, intelligent Cleeves has drilled down to a place of corruption, power and wrong turns taken by various characters to create a real truth inside her fictional world. This is a wonderful start to what I hope will be another long lived series from this very talented author.