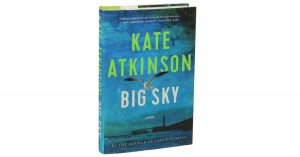 It's been a long wait for the new Jackson Brodie novel. Kate Atkinson was writing Life After Life and other literary hits. But her unlucky-in-love, tough-but-soft-hearted P.I. is back. This time Jackson's 13-year-old son Nathan is staying with him on Yorkshire's east coast while his mother Julia, Jackson's former flame, acts in a TV crime series. Jackson's daughter Marlee is now a law graduate and about to be a bride. Jackson does "dog work for solicitors—debt tracing, surveillance, and so on." He also documents adulterous couples.
In Big Sky, the fifth Brodie novel, Jackson encounters a bunch of middle-aged golfers, three of whom are in a covert business together. These prosperous men needle their sort-of friend, Vince, a drudge who's been dumped by his employer and his wife.
Steve's a lawyer. Andy owns Exotic Travel and the Seashell B and B. Former amateur boxer Tommy has a hauling firm. Their fake employment-recruiting business brings in the lucre: Steve Skypes with young women from foreign countries, lures them with air tickets, and has Andy convey them to a sinister former nursing home to be drugged and trafficked.
Tommy's glamorous second wife Crystal enjoys the nice things he earns, and mothers their little daughter Candy as well as Tommy's thoughtful teenage son Harry. (In a major sub-plot, Harry works on the pier at Transylvania World, and at the Palace Theatre.) Crystal is tamping down her nightmare past. At age 12 she went from foster care to the clutches of a child-trafficking ring known as "the magic circle." Its clients seemed to be protected by wealth and position. Two ringleaders, prominent in seaside-holiday businesses, met up with justice a decade ago.
But two female detective constables have come to the area to look again at the crimes. One of them is Reggie Chase, once a plucky orphan who saved Jackson's life. The women are off on a round of interviews. (In an interesting bit of timing, Big Sky came out a week and a half before Jeffrey Epstein was arrested, based on new attention to his very light sentence for crimes against young girls, and his connection to the wealthy and powerful.)
Then Vince's not-yet-divorced wife is found dead, her skull smashed by a putter. And Crystal hires Jackson to learn who's been following her. Jackson, who feels compelled to make things right, is drawn into their unsettled lives.
Big Sky has all the Atkinson hallmarks: the layering of information; the quirkily-detailed thoughts from many characters' points of view; the audacious use of coincidence; the themes of shifting identities and trying to outrun what's unbearable or to make up for past miseries; the subplots coming together at the end—all done in a mix of comedy and tragedy. It also shares with previous books a question, "What does justice have to do with the law?"
Her series is also known for its BBC version, called Case Histories after the first book, though narratives and settings have been rejiggered to fit a television arc.
In Big Sky, people fall into calamity. Going over the edge is a motif. Harry's mum had died falling from a cliff. "It was an accident (Crystal hoped), but you never knew in this life when you might slip and lose your footing and find yourself going over the edge." Jackson first meets the despondent Vince on a cliff edge. They both fall, but survive.
On first reading Big Sky, the earlier books appealed to me more than this cast of characters and its setting of seacoast resorts and tacky amusements. Jackson's character builds up through the series, starting with his woeful adolescence in Case Histories—a mother who dies of cancer, a randomly-murdered sister, a brother who hangs himself. The first four books show Jackson's failed marriages, his affair with Julia, and his complicated relationship with Louise Monroe of the Lothian and Borders Police.
There are triumphs and redemptions mixed with the calamities; and it helps to read the books in order. (Big Sky refers back to When Will There Be Good News?, where Reggie's Dickensian predicament as a teenager makes her one of Atkinson's most compelling characters.) The first two books are my favorites—I especially liked Jackson's thoughts of living in France, where people will pronounce his name "zhaksong;" and the exasperating houseguest in One Good Turn.
Big Sky grew on me with a second reading. "It was a good day, Jackson thought, when you saved someone's life. Even better when you didn't lose your own."  –Nancy Shaw
**********************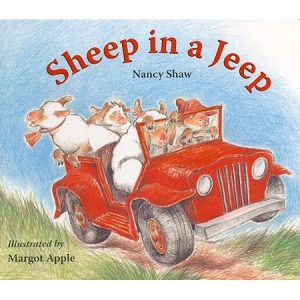 Nancy Shaw is the author of ten picture books, including the Sheep in a Jeep series, and an avid mystery reader. She lives in Ann Arbor, MI.