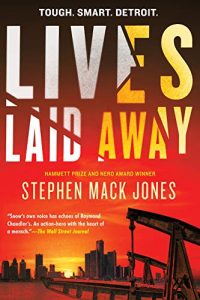 This book came out around the time we closed the store and I didn't read it at the time, being deep into comfort re-reading of Agatha Christie and Patricia Wentworth.  However I thought the first book, August Snow, was wonderful and a great and much needed injection of diversity and vitality to the private eye genre.  This second book is even better, more intense and focused.  I recently interviewed Stephen who mentioned Robert B. Parker as an influence, and I can sure see it in this tight, funny, fast moving story.
The books are set in the Mexicantown area of Detroit, which ex-cop August Snow is rehabbing one house at a time, settling scores and dispensing justice as needed.  In this novel, it's ICE that's on his radar, especially as he notices their black SUVs cruising his little block.
Jones is expert in creating a world – in this case, a more or less back channel world of a community working together to fight "the man" – which isn't a corny saying but a necessity.  August works loosely with a rogue FBI agent, a donut shop owner, and a priest, among others, to keep his community safe and the cops and ICE agents in his neighborhood on the up and up.  Like all simple sounding tasks, it's of course a complex one.
When a girl dressed as Marie Antoinette plunges off a bridge and dies – considered a suicide – August gets outraged when he finds out she's a young Latina who was raped before she died.  He's sure her death is no suicide.  He shows her picture to a community activist friend who identifies her and white knight August is on the loose, filled with righteous anger.
These novels have a loose tone justified by a tight story structure and a great array of rich and luscious characters.  The loose tone comes from the world weariness, tempered by an amount of hope and humor that inhabits August, and I'm assuming, the author himself.  There's a good amount of humor within the quick paced action scenes, and like Jones' idol, Parker, there's also some cooking.  While August doesn't look into an (almost) empty fridge and produce a miracle as Spenser frequently does, he does enjoy cooking and he makes the experience mouthwatering for the reader.
After you read this novel you might want to head to your own fridge for a cold brewski.  While the topic Jones is addressing is a serious one, he's also telling a great and involving story.  This young series is a real stand out and if you enjoy private eye novels – or books set in Michigan with a plethora of Detroit references and locations – don't hesitate to dive in.  These books are the real deal.