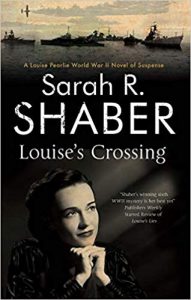 This is the seventh Louise Pearlie mystery – the first one for me, and I have to say I am now a fan.  I was able to pick up the character threads easily and was quickly absorbed in the story of Louise Pearlie, OSS agent, crossing a wartime ocean in winter to take up an assignment in London.  Shaber is a brisk storyteller and I was immediately drawn in to Louise's goodbye to her U.S, wartime office, to her boarding house friends, and even her packing for a winter voyage. By the end of chapter two she has her orders and is already on board ship.
Home for Louise for the next 3 to 4 weeks to what was known as a "Liberty" ship – an idea adapted from the British to quickly produce needed cargo ships.  They had a life expectancy of only 5 years (and only 4 survive toady).The ship Louise boards – the Amelia Earhart – is taking much needed supplies overseas and the "casual passengers" of which Louise is one, are more or less of an afterthought.
Making the ship more homey is the cheerful stewardess Grace, who gives Louise the bad news that only the dining room is heated – the cabins are not.  This is especially bad news for Louise as she's packed her heavier winter items in a trunk that's unreachable in the ship's cargo hold.
I've never been a big fan of the ship board mystery or novel, but I liked this one, for lots of reasons.  One was the way Shaber was able to skillfully illustrate life on a wartime ship, with all its discomforts.  At the same time, the passengers to a man want to help the war effort in any way possible, and understand the importance of their cargo.  They are willing to endure their discomfort.
As the ship crosses the ocean they encounter the kinds of attacks you might expect from the Germans – air and sea – and there's even a moment of otherworldly beauty in the far north.  There's also, of course, a gale, but Shaber keeps her story moving – I was totally absorbed in Louise's passage across the ocean – and then she throws in a death.
As Louise is a trained OSS agent, she can't let a death pass unexamined, and she's sure it's a murder, though the captain tells her to lay off.  Like every detective ever, she does not, gathering bits of evidence and alibis where she can. Unlike other wartime mysteries I have read, the death of the one person is relative to the ship's wartime importance and the war in general.  It was a very realistic balance.
As Louise begins to tie threads together, and the narrative is neatly wrapped up at the end of the voyage, I was impressed by Shaber's skill in telling a memorable story, but also in her ability to create a character I liked so much.  I'm delighted there are six books I haven't read.