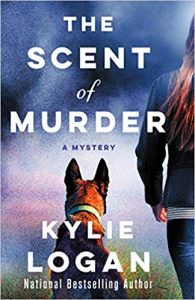 Kylie Logan, author of numerous cozies in paperback original form, has hit the big time via a Minotaur hardcover with her latest book, The Scent of Murder.  Jazz is a school administrator who also works with cadaver dogs.  As the book opens, she's taking her dog through his paces in an abandoned building, hoping he'll find the tooth she hid on another floor.
As she steps back to let the dog work, the dog alerts in the "wrong" place – or is it?  When Jazz investigates, she find, so her horror, the body of a young woman, and worse, she's a former student at the high school where Jazz works.  While Jazz had known her as a studious and creative young woman, the corpse is full goth – white makeup, black eyeshadow, black clothes, tats, piercings.  She's puzzled about how this has happened in the few short years since the girl graduated from high school.
Complicating matters, for Jazz at any rate, is the fact that her ex-boyfriend is the first cop on the scene.  She's more than prickly with him and they part on a terse note.  As this is the set up to a series, there's a lot that Logan establishes here.  Jazz's mother is a recent widow; her father, like her brothers, was a firefighter who died in the line of duty.
Jazz has lost her own dog and had been working with a friend's the night she discovers the body – luckily for Jazz the friend's mother gets sick and he leaves the dog with her while he goes to Florida to attend to his mother.  While Jazz feels her life is in an uproar, she feels one thing she can do is try and find out what happened to Florie, the dead girl.
The more she looks into Florie's life the more surprises she uncovers, most of them not so great.  She was broke.  She was a blackmailer.  She was a great photographer.  She had a complicated and unhappy family situation.  All of Jazz's discoveries make Florie both more human for the reader and more invested in the ultimate outcome of Jazz's investigation.
Also front and center is Jazz's hometown of Cleveland, vividly and lovingly portrayed by native Logan, who depicts the vital art scene, micro breweries, scrappy weather and ethnic neighborhoods with precision.  And Jazz is a great character.  In her 30's, she knows who she is but at the same time is still finding he way.  I'm willing, on the basis of this excellent first novel, to stick around and see what develops.