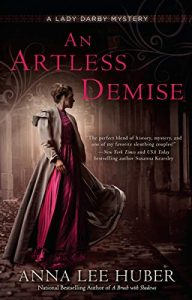 The seventh in Huber's enjoyable Lady Darby series, this novel finds the lovely and talented Kiera happily married to investigator Sebastian Gage and pregnant with her first child. At this point, the talented Huber is a nice cross between the romance of Tasha Alexander and the social commentary that Anne Perry focuses on in her novels. In 1830's London, there's plenty of social injustice to go around, though that is far from Huber's main theme.
I've always loved the premise of these novels. Kiera is a painter who was forced, under her first husband's tutelage, to create precise anatomical drawings from corpses he obtained probably through illegal means. At the time, the idea of an autopsy or of learning from a human body was considered something of a scandal. When Kiera's first husband dies, she's forced to retreat to her sister's home in Scotland because her work for her husband has made her notorious.
It gives Kiera a fabulous backstory – her first husband's treatment of her is always at the back of her mind, and her lack of acceptance by conventional members of the "ton" make every social occasion a minefield. Luckily, her present husband, Gage, is a model of kindness and they are a wonderful detecting pair.
In this novel, Huber draws on the actual Burke and Hare, notorious for murdering people and selling the corpses to medical schools or doctors. The term "Burking" comes from this nefarious Edinburgh criminal, and when a young boy is discovered dead not long before the discovery of an Earl's son, both of them appearing to be "burked," the entire city is on edge and Kiera's past is raked up once again. She works as a portrait painter, and her commissions begin to be cancelled.
Nicely balancing the details of Kiera's and Gage's solidly upper middle-class life as well as their respective relationships with their maid and manservant, the story follows the pair as they try and solve an unfortunate string of murders of young men. They are desperate to figure out the connection between them, though it's ultimately clear they have not actually been "burked".
Surrounding the story – I think the Victorians would have called it a "miasma" – are the squalid conditions of the London poor and the many, many children who are put to work on the streets, begging, stealing or much worse. The dead boy is one of these sad tales and the discovery of the details of his life leads Kiera to some personal insights regarding those closest to her, by dint of affection or relation.
There's a real heart to these books and a true sense of humanity that lights up Huber's well told stories. While Lady Darby may feel at the end of this novel that some of her emotional issues have been resolved, Huber lays the ground for her next adventure and I for one cannot wait to read it.