This is a banner week for us as we add two new reviewers!  The second is our daughter Margaret. who unsurprisingly is a big mystery fan, and one of her favorites is Elly Griffiths.  Welcome, Margaret!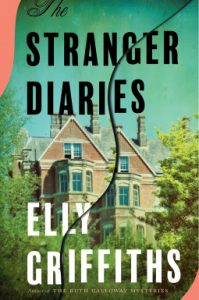 Elly Griffiths, author of two mystery series, takes a stab at stand alone fiction with The Stranger Diaries. This novel brings us a modern-day gothic horror story while keeping solidly grounded in tradition. Instead of a castle or drafty mansion, there is an old school with secrets. Instead of a threatening lord of the manor, characters are menaced by fellow teachers and students. There is a ghost story in the background of the novel, and a mystery concerning the true identity of someone long dead. Delightfully, the novel's three heroines are not quite so traditional.
Clare Cassidy is a single mother who brought her daughter, Georgia, to a small town to help them both restart after Clare's separation from her husband. Georgia's father. She teaches English, and is working on writing an academic book throughout about a fictional author and gothic story that ties into the rest of the plot. It's her best friend who is killed very early on in the story (in fact the murder victim is never alive on page, being developed only through Clare's memory of Ella and the other character's perceptions of her).
After her section, we get some of the same events retreaded by DS Harbinder Kaur, a generally bad ass detective with ties to the small town herself, and Georgia, whose insights as a student and teenager offer a different sort of perspective than her fellow narrators. Each of the three has a strong voice – strong enough that Harbinder's assessment of Clare, who seems endearing in her own section, calls the reader's own view of Clare into question with her instant dislike.
The plot follows the investigation of Ella's murder from these three perspectives, while sprinkling in threads about older mysteries in the school itself, key mistakes made in the character's pasts, and a light exploration of supernatural elements. In the end, while the mystery itself is fun and well told, it is these characters and their relationship to each other that shine the most. The prevailing sense of paranoia and dread is a close second, and it fully secures the book's place as an updated and well done gothic story.
The killer is perhaps the least interesting part of the whole book – but everything else about it made that fact very forgivable. One of the side characters, white witch and writing teacher Bryony Hughes, tells writers they have "stylistic tics." Harbinder might not be impressed with this comment, but it's quite true – and The Stranger Diaries has all of the best of Elly Griffith's "stylistic tics." Her unique writing style, strong characterization, and the ability to create a prevailing atmosphere make this a book not to be missed. – Margaret Agnew
_____________________________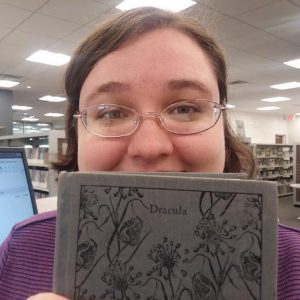 Margaret Agnew grew up in Ann Arbor, Michigan, and attended Ripon College in Wisconsin and Indiana University where she earned a Masters of Library Science Degree.  She enjoys reading mysteries by Louise Penny, Elly Griffiths and Agatha Christie.  She is a librarian in St. Louis, Missouri, where she lives with two cool roommates and her cat, Desdemona.