An overview of First in Series books: find them for sale in our online store.
We're offering these first in series titles for a couple reasons – one, some are hard to find and mystery readers like to read a series in order!  And secondly, while many of you may be familiar with these series, you may have only read the later books.  These are all incredible starts to great characters and stories.  Reading through all of them will give you a great overview of contemporary mystery fiction, in all its many threads – private eye, police, cozy, British procedural, historical.  Setting has proven to be key for the modern mystery as has a broader array of character types, ranging from Tony Hillerman's iconic Joe Leaphorn to James Lee Burke's P.I. Dave Robichaux to Laura Lippman's kick-ass Tess Monaghan to Dorthy Gilman's sweet old lady CIA agent Mrs. Pollifax.  If you had walked in to our store, we would have recommended these titles to you depending on your interest.  One of our all time bestsellers was Deborah Crombie's spectacular debut, A Share in Death.  We hope you'll dig in!  Here's a list, and you can find them for sale on the online store page.

And Only to Deceive, Tasha Alexander.  Alexander's debut introduces classics loving, Victorian Lady Emily, who falls in love with her dead husband as she investigates his death.
Murder with Peacocks, Donna Andrews.  Andrews' rollicking introduction of iron worker Meg Lanslow, who somehow is involved in several weddings at once, including her mother's.  Classic screwball comedy in book form.
Murphy's Law, Rhys Bowen.  Bowen's feisty Molly Murphy makes her way from Ireland through Ellis Island in 1900 New York, with all the trials and tribulations that involves.  An insanely readable series.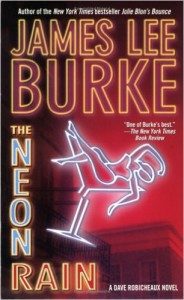 The Neon Rain, James Lee Burke.  The hugely influential Burke certainly has helped shape and make way for writers like William Kent Krueger, Steve Hamilton and many more with his indelible Dave Robichaux and the pulsing, threatening New Orleans where he makes his living. The prose is exquisite.  I'm annoyed by people who say writers transcend genre (because why would you want to?) but if anyone does, it's Burke.  A genuine American literary treasure – find out why.
The Killing Floor, Lee Child. Introduction of Jack Reacher – the man who carries only a toothbrush in his pocket, hops on a bus, and gets off when it seems right.  He can take down five guys on his own and has other superman qualities, which are matched by Child's clockwork plots and insanely great action sequences.
Raven Black, Ann Cleeves.  Who knew the Shetland Islands were so deadly?  Join Cleeves' cop Tony Perez on a completely fascinating ride that takes you to a very different place.  Excellent procedural, excellent characters, excellent stories.
The Black Echo, Michael Connelly.  One of the greatest writers of police procedurals, Connelly comes by it legitimately as he began his career as a crime reporter for the L.A. Times.  Meet Det. Harry Bosch on his first case.  You'll want to read them all.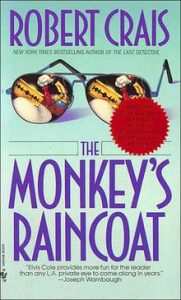 The Monkey's Raincoat, Robert Crais.  This first Elvis Cole/Joe Pike novel is a bit joke-ier than the ones that follow (the Robert B. Parker influence is obvious), but this classic P.I. story of a hunt for a missing husband and son really shouldn't be missed.
A Share in Death, Deborah Crombie.  Crombie establishes her chops in this first outing as a top flight writer of British police novels, introducing Duncan Kincaid and Gemma James as they investigate a dead hotel guest found in a whirlpool bath.  This was one of our best selling titles of all time.
A Great Deliverance, Elizabeth George.  The year we opened, people kept talking and asking about Elizabeth George.  It was a quiet first winter and I was hooked as I read my way through the available Inspector Lynley novels.  Set in London, the aristocratic Lynley is counter balanced by his scruffy sidekick, Barbara Havers.  These are addictive and George hooks you from chapter one.
The Unexpected Mrs. Pollifax, Dorothy Gilman.  Yum.  Mrs. P. wanders into CIA headquarters – she's somewhat at a cross roads after being widowed – and offers up her services.  The most unexpected spy in all of mysterious history, these are non stop fun.
A is for Alibi, Sue Grafton.  Sue Grafton and Sara Paretsky started a quiet revolution, introducing female private eyes.  The inimitable Kinsey Milhone, cutting her hair with nail scissors, wrapping packages with no tape, wearing the black dress she keeps balled up in the back of her car, rockets to life in this first outing as she finds the real killer for a wife recently released from jail.
The Killings at Badger's Drift, Caroline Graham.  Many of you know Inspector Barnaby from the TV series Midsomer Murders, but as in all things, the book is better and this is straight up one of the smartest plotted books I've ever read.
Cocaine Blues, Kerry Greenwood.  Encounter Miss Phyrne Fisher on the hilarious page, as Greenwood brings the 1920's Australian detective to life.  Any Phyrne is good, all of the time.

The Crossing Places, Elly Griffiths.  The introduction of real-woman Dr. Ruth Galloway, an archaeologist who lives along on the edge of the marsh, has a cat, and could care less how she looks.  Her brain does the talking and in this evocative first novel she's believably consulted by the police.  Griffith's voice is fresh and funny and not to be missed.
A Cold Day in Paradise, Steve Hamilton.  A signature book & author for us, set in tiny Paradise, Michigan in the Upper Penninsula.  Reluctant P.I. Alex McKnight is a former cop with a bullet lodged near his heart, and in between investigating crimes runs his father's resort cabins and drinks lots of beer at the bar up the street. The setting, whether or not you are from Michigan, is always spectacular, as is Hamilton's pithy, often funny prose.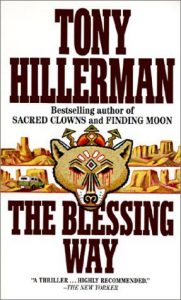 The Blessing Way, Tony Hillerman.  A groundbreaker, introducing Navaho Police Lt. Joe Leaphorn, whose first case involves possible witchcraft when a body is discovered in a canyon.  Get into the rhythm of the storytelling and you'll never look up from the page.
Cover Her Face, P.D. James,  P.D. James is a bridge between the golden age of the past and the contemporary, darker version of the mystery novel.  Some of her later books are longer and deeper but this concise and bitingly brutal novel set in the hot confines of a country house is hard to forget.  Introduction of her poet detective, Adam Dalgliesh.
Iron Lake, William Kent Krueger.  Another signature book & author for us, this introduces Cork O'Connor, half Irish, half Native American, who investigates crimes in unforgettable fashion on Minesota's Iron Range.  Setting, character, prose and plot are always exquisite.
A Call for the Dead, John Le Carre.  There's no more respected writer of espionage fiction, and this novel, which introduces George Smiley, as he investigates the suicide of a colleague, explains why.  If you want to understand the cold war, there's really no better source, and you'll be reaching that understanding while reading Le Carre's gorgeous prose.
A Drink Before the War, Dennis Lehane.  To my mind one of the greatest private eye series ever written, this kicks off the Patrick Kenzie series.  In this first outing, set in an atmospheric Boston, Patrick and his partner are on the hunt for a missing cleaning lady who allegedly stole statehouse documents.  Once I started reading this series I could not stop.
Baltimore Blues, Laura Lippman.  Following in the hallowed footsteps of Sue Grafton and Sara Parestsky, Laura Lippman introduced former reporter turned P.I. Tess Monaghan with this book.  Baltimore is a character as much as Tess.  While Lippman has gone on to write profound and wonderful standalone novels, this series is still a kick-ass treat.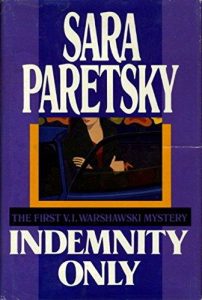 Indemnity Only, Sara Parestsky.  The first V.I. Warshawski novel introduces V.I. and her beloved Chicago, with Paretsky's stated intent to take a male dominated sub genre and put a woman at the center of the action.  Feisty, smart, fearless V.I. takes it all on in iconic fashion.  This book is part of the reason I wanted to open a mystery bookstore.
The Godwulf Manuscript, Robert B. Parker.  While some elements of this crisp, funny novel are now dated (the 1972 clothes and attitudes), Spenser is still the iconic 20th century private eye, sensitive but tough, whipping up a good meal, drinking a good IPA and in general keeping things in Boston functional.  One of the most delightful series ever written and spawning a hard of imitators, from Harlan Coben to Robert Crais to Dennis Lehane.  Also, there's Hawk, one of the greatest sidekicks in mystery fiction (though he doesn't appear in the first novel).

Still Life, Louise Penny.  I still remember first reading this novel, and reading it slowly to savor every word.  This first outing introduces Inspector Gamache ( a close relative of Inspector Maigret, I think) and the charming village of Three Pines, as Gamache solves the case of a beloved citizen killed with a bow and arrow.  This is a traditional mystery with a thoughtful and profound twist.  Gorgeous prose is a bonus.
Gallows View, Peter Robinson.  This novel introduces Inspector Banks, who makes his home in Yorkshire and loves jazz and good wine.  Robinson weaves together three plot lines as his intelligent, well plotted mystery takes shape.  The picture of the UK, of Banks as a person, and the sensitive exploration of character are all classic.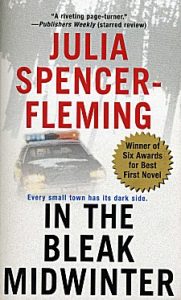 In the Bleak Midwinter, Julia Spencer-Fleming.  One of my all time favorite debut novels, Episcopal priest Claire Fegusson meets police chief Russ Van Alstyne over the case of a baby left on the church steps.  The struggle between faith and logic, the lively story telling, and the evocative upstate New York setting all make this series a addictive standout.