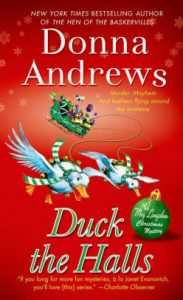 Duck the Halls, Donna Andrews (2013). Skunks loose in the choir loft a few days before Christmas, a missing boa constrictor – do I need to say more?  Donna Andrews at her witty best, which is saying a LOT.
The 12 Clues of Christmas, Rhys Bowen (2012).  The body count is high as Lady Georgie hosts a holiday party in tiny Tiddleton-under-Lovey. While Bowen herself denies any resemblance to And Then There Were None, there are really far fewer people in Tiddleton by the end of the book than there were at the beginning – and the deaths are so creative! Delightfully, Bowen includes a guide of English Christmas traditions at the end.
Who Killed the Curate? Joan Coggin (1944).  Always a favorite of mine, Christmas or no, hilariously fey Lady Loops marries a vicar, to everyone's surprise, and manages to solve the curate's death and be an unexpectedly excellent vicar's wife at the same time.  Dry British humor on full display.
Hercule Poirot's Christmas, Agatha Christie (1938).  Duh!  Who wouldn't include this one? The family patriarch is killed on Christmas Eve and luckily Poirot is staying in the village.  As yummy a Poirot novel as can be imagined.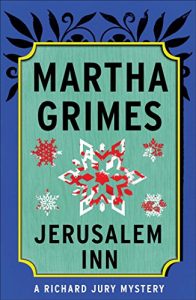 Jerusalem Inn, Martha Grimes (1984).  While I stopped looking forward to Martha Grimes novels awhile ago, at her peak – with her first 10 or so books – she was one of the best.  In this installment, Inspector Jury finds a dead woman in the snow, and finds ties to a run down pub as well as a fancy house party.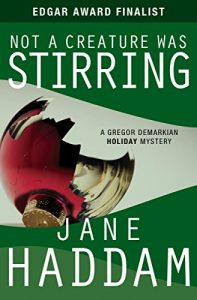 Not a Creature was Stirring, Jane Haddam (1990).  Haddam's first Gregor Demarkian novel and one of her best.  In this one former FBI agent Gregor meets his future wife Bennis as he tries to figure out who keeps knocking off her family members in the family's isolated mansion.  Nice combination of smarts and plot.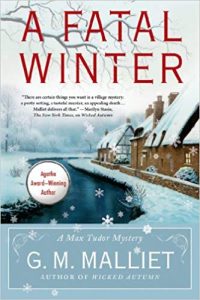 A Fatal Winter, G.M. Malliet (2012).  Malliet's vicar Max Tudor is asked to a Christmas party by Lord Footrustle (need I say more?  One of the best ever names in mystery fiction).  Lord F. is dispatched as are several more of his guests, and former MI5 agent Max is on the case.  The novel is bookended by Max's growing romance with the lovely Awena, and ends at a village Christmas party.
Corpus Christmas, Margaret Maron (1989).  Margaret Maron has written many wonderful novels and a few that are perfect, and this is one of them.  Her straight laced Detective, NYPD Lt. Sigrid Harald, investigates a murder at the Erich Bruel house, a museum in Gramercy Park.  One of the best plotters in the biz, this book is no exception and the whole novel is like the lovely tone of a crystal bell, sharp and perfect.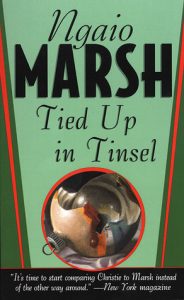 Tied up in Tinsel, Ngaio Marsh (1972).  A favorite Marsh title, Inspector Alleyn's artist wife Troy is on her own as she paints a famous retired actor at his far flung castle.  Rude pranks and a murder get Inspector Alleyn on the case, with Troy's letters to Alleyn providing the crucial clue. Typical Marsh: sharp social observation, tight plot, lovely prose, and wonderful characters.
Murder at the Old Vicarage, Jill McGown (1988).  McGown takes Christie's Murder at the Vicarage and puts her own spin on it, as her series hero Chief Inspector Lloyd finds that domestic vicarage murder involves much more than he had imagined.  Even worse, the village is shut off by snow.  This is far less cozy than Christie, but equally compelling.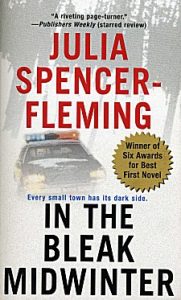 In the Bleak Midwinter, Julia Spencer Fleming (2002).  One of the best debut novels ever.  Rev. Claire Fergusson meets police Chief Russ Van Alstyne when she discovers a baby on the steps of her Episcopal church. The setting – Miller's Kill, New York, the chemistry between Claire and Russ as they argue faith and logic, the terrific plot, and the immense amount of heart that powers this story make it a classic.