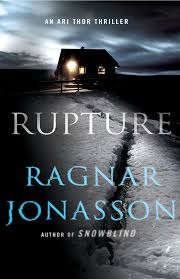 While this series started to come out in Jonasson's native Iceland in 2015, the books have only now started to make their way stateside, via the UK.  Rupture, which Jonasson wrote in 2016, will be published here in January. It's the third in his "Dark Iceland" series which began with the sensational Snowblind. Let me tell you, whatever publishing path this author took to get here is definitely worth the wait, as he is a phenomenal writer.
While I would classify this series as a "traditional detective" series, mostly because of the plot structure, it also has the feel of a contemporary noir.  Jonasson embraces both of these strong  threads in mysteries equally, and with equal aplomb.  His main character is Ari Thor, who began the series as a new detective in tiny Siglufjorour.
In the first novel, he was gripped by claustrophobia – Siglufjorour, in northern Iceland, is ringed by mountains, and experiences roughly 8 ½ months of winter.  In the course of the novels Ari Thor has adjusted to his new home and  he experiences a different kind of claustrophobia in this novel, one brought on by a quarantine.  Because of a rapidly spreading disease every shop and business is closed and no one is out on the streets.
Thanks to the enforced isolation Ari Thor begins to look into a long ago case of a suspected suicide by poison in the incredibly remote fjord encampment – it can't be called a village – of Hedinsfjorour.  In 1955, two couples decided to strike out there, and a baby was even born, but one of the women was undone by the darkness and isolation and drank rat poison.
The first rupture.  The second involves a man whose wife was brutally assaulted in their home and died two years later, never coming out of a coma.  Third rupture.  Robert and Sunna, who share a home with Sunna's baby, are sure someone is watching them, and then their baby is kidnapped.  Fourth rupture: recovered addict Snorri heads to a meeting in hopes of a much desired recording contract and is run over and killed.
I think what sets a truly excellent writer above a writer who is merely (though I don't think it's a small feat) telling a compelling story, is the addition of a theme.  This novel takes a look at what an individual breaking point might involve.  Jonasson is so excellent because on top of this story structure and thoughtful theme, he also writes true detective novels in the most traditional sense.  In golden age style, the cases often involve very few suspects, and it's only a turn of focus and perception that brings clarity and a solution.
The writing is also knockout, as Jonasson really creates an atmosphere of dark, cold, and endless snowfall, completing the whole package and making him a real standout, an author well worth reading.  If you're a fan of Ann Cleeves' bleak but excellent Shetland series, you'll love this series as well.