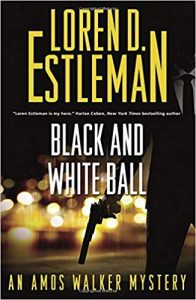 Black and White Ball, Loren D. Estleman, Deep into a now 80 book and counting career, and 27 in to his iconic Amos Walker series, what is Loren Estleman going to come up with that might be new? You might be surprised. In this novel Walker crosses paths with one of Estleman's other characters, Peter Macklin, who hires Walker to look after his ex-wife. The meet up of these two classic characters delivers true energy and snap to this tight, well written novel. Paced perfectly, set in a gritty yet realistic Detroit, and sporting the truly lovely prose and incredible dialogue that are an Estleman trademark, this is a great addition to a classic series by the greatest private eye writer at work at the moment.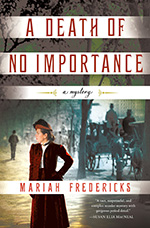 A Death of No Importance, Mariah Fredericks, This kick ass book features ladies' maid Jane Prescott, who happens to be working for the newly wealthy and somewhat clueless Benchley family in 1910 New York City, when a murder explodes the family's world. Jane is telling the story, and it's clear she's looking back in time as she remembers the incidents that so shaped the lives of the Benchley family. While Jane works for one of the wealthiest families in New York, she's also friends with an anarchist named Anna who brings her a different view of the world and when the murder occurs, a different view of the importance of the dead person. Jane balances her loyalty and affection for the family she's serving while hearing Anna's voice in her head. Fredericks, a brisk and lively story teller, takes the reader on a careening ride through the various echelons of 1910 New York society, helping the reader to be invested in Jane from page one. I found this novel extremely difficult to put down and satisfying after I'd finished reading it. This is a wonderful first foray into historical mystery fiction for Ms. Fredericks. I can't wait to read more.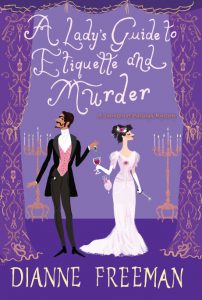 A Lady's Guide to Etiquette and Murder, Dianne Freeman. There's such a fine line between pure fluff and something a bit more skillfully substantial, and Dianne Freeman nimbly navigates this line to deliver a book that's both insanely enjoyable and has a little more to offer in the way of characters, setting and plot. This delicious first novel follows the trials and tribulations of one Frances, Lady Harleigh, in 1899 Britain, whose cheating husband married her for her money and who is conveniently dead. The book kicks off with Lady Harleigh buying her own house in London and almost simultaneously discovering that her younger sister is being shipped over for the London debutante "season". Unfortunately, the police appear to be looking into the death of the late Lord Harleigh – they no longer think his death occurred from natural causes – and Frances is a suspect. As Frances gets her mojo on to start looking into the death of her husband, a footman is murdered in her back garden. While the whole mystery part proceeds as one might expect – though entertainingly so – what's strongest about this novel are the mix of characters, Freeman's natural and light way with a story, and the social strata that she so deftly portrays. This is a wonderful first outing, don't miss it.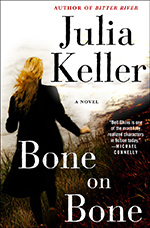 Bone on Bone, Julia Keller. Bell Elkins is one of the greater creations in recent mystery fiction. A feisty, smart, no hold barred prosecuting attorney in tiny Acker's Gap, West Virginia, each book is infused with both the love of the land and the tragedy of it, a shadow that's deepened and grown darker through the course of the series. In Bone on Bone, Keller has shaken up Bell's life completely. As the book opens, not only is Bell is no longer the county prosecutor, she's finishing up a three year prison stint. Mentioned as an aside (this could be a spoiler, but it's in the first chapter), is the fact that her sister Shirley has died. As this gifted author peels away the layers of her story, sometimes going back in time, Bell's situation becomes heartbreakingly clear. The central story of the book is not Bell's, however, it's instead the story of Ellie, Brett and Tyler. Ellie and Brett are the parents dealing with the devestating journey of having a heroin addict for a son. The path each of them takes is often unexpected – most chilling, however, is Ellie's determination to rid herself of her son once and for all, by shooting him.
While I guess this book isn't technically a noir novel, the situations the characters face couldn't be more dire. Unlike many contemporary novels that call themselves noir, a term I find somewhat artificial, Keller's writing is so honed to the issues facing our culture that she's both contemporary and, because of her skill as a writer and her genius with character, timeless. Because Keller's other talent is her pure mystery writing skill, she's able to offer twists and turns and a surprising ending, one that even has some portions that are actually hopeful. Every word this woman writes is worth reading.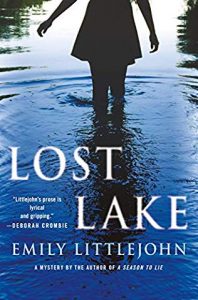 Lost Lake, Emily Littlejohn. Three books into her series about Detective Gemma Monroe, I am already so smitten that this series belongs alongside favorite series of mine by Sarah Stewart Taylor, Elly Griffiths, Ellen Hart and Julia Spencer-Fleming. All of these writers – including Littlejohn – create a rich setting, and populate their unique settings or occupations with even richer characters and stories. All of them feature extremely strong women as their core characters. The book focuses on two story threads. One involves a woman who has disappeared while out camping with her friends on the shore of the remote Lost Lake; and the other, a dead museum director, is found strangled in her office the night after a gala. This is a pretty traditional set up and Littlejohn is extremely deft at working within the confines of genre protocol.
In all three of Littlejohn's novels the prose itself is lovely, crisp, evocative, and memorable. In the first two there was an element of a case in the past that's almost mythic and this novel is no different, as the "Girls of Lost Lake" are referenced. They were a group of young girls who all died tragically in the Lake many years in the past. In the first two books, the mythic parts of the stories were a larger element and my only caveat with this excellent novel was that the "Lost Lake Girls" weren't a bigger element in this story. That said, I've read few better plotted mysteries this year, and I loved the look at the many suspects Gemma and her partner track down. I could not stop reading.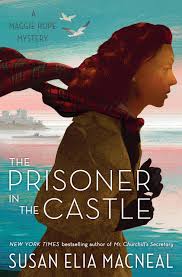 The Prisoner in the Castle, Susan Elia MacNeal. It's 1942, and SOE agent Maggie Hope is stuck in the wilds of Scotland, essentially on a time out from the war. She and her fellow inmates on the Isle of Scarra are sequestered there because they know too much or seem to be in danger of spilling what they do know. Maggie, who was whisked to Scarra fresh from a Gestapo interrogation in Paris (The Paris Spy) is resentful she's not doing her bit for the war effort. Her fellow inmates have all been traumatized by their war experience in various ways, but all of them feel the same as Maggie. MacNeal beautifully describes the Scottish setting – bleak, cold, windswept. The castle, bristling with antlers, tartan and blowsy chintz, is also lovingly described and it's not too far a stretch to imagine yourself in Scarra along with Maggie and her crew. As a body count begins to add up and no one can get to Scarra because of a storm, Maggie is forced to solve the murders herself. These novels are insanely enjoyable, providing a brisk read, a fabulous central character, and stories that have grown increasingly interesting and complex with each novel. I loved the structure and setting of this one and wonder what more the war has in store for Maggie.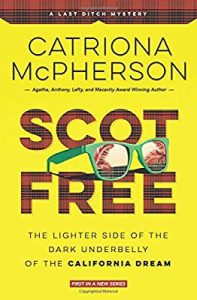 Scot Free, Catriona MacPherson. This light, funny, delightful novel from Catriona McPherson introduces readers to native Scot Lexy Campbell. She'd fallen for a hunky American and ended up moving to California where they married and lived in what she describes as a "beige barn," the type of house familiar to many Americans as a McMansion. Objections to her husband's lifestyle choices aside, he's also a cheater, and Lexy walks out on him on the 4th of July, moving in to the Last Ditch Motel. She's sure this is temporary. Lexy's job has been to work as a marriage counselor, and on this same ill fated evening, one half of her only client couple, Clovis Bombaro, is killed by an (apparently intentional) exploding firework. Clovis's wife, Vi, has been arrested for the crime but Lexy is sure she's innocent and heads to the courthouse to help Vi post bail. McPherson then manages to introduce a swath of totally fascinating supporting characters – many of whom live at the Last Ditch. Most memorable is the germ obsessed Todd, who takes over Lexy's clothing and underwear choices and redecorates her ratty motel room. The humor and satire in this book is never forced, it's completely natural, which makes it all the more hilarious. I found myself snickering and outright laughing as I read and I can't recommend this highly enough. A perfect smart escape read that made this reader very ready for another installment.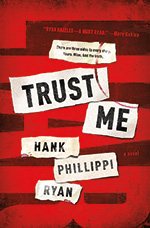 Trust Me, Hank Phillippi Ryan. Timely, suspenseful, well crafted – all true, and irrelevant, as this novel is impossible to put down, so as you read you may simply be inhaling Ryan's words. This novel has a tremendously addictive hook – Ryan's central character, journalist Mercer, is grieving the deaths of her daughter and husband. She's so consumed with her grief she's done little else but count the days since they left her side, memorializing them each day in the fog of her bathroom mirror by a number. She's pulled away from her grieving reluctantly by an old colleague who asks her to cover the trial of a woman accused of killing her toddler daughter, or "Baby Boston" as the child is known in the press. As Mercer watches and writes, she gets herself inside the heads of the "characters" in the Baby Boston drama – the parents of the accused and the accused herself. As she writes, the reader is allowed to read what she's written each day and it's incredibly believable, fitting the facts as she "knows" them from research and observation.
The verdict comes about half way through the story, and the book is then turned upside down as Mercer is forced to deal, one on one, with the accused killer in order to finish her book. Meeting the woman, Mercer's ideas of "truth" begin to change. What is true? The facts she can research, or is it the story the young mother, now a part of Mercer's book contract, spins out as her own version of the truth? Are facts so malleable? How about our interpretation of them? Ryan is wrapping these profound thoughts in the comfortable clothing of a great story, but after I finished the book I could not stop thinking about it. Could I be so easily manipulated? Was Mercer? This is a wonderful novel, the best combination of thoughtful storytelling and unforgettable characters. Mercer will stay in your heart.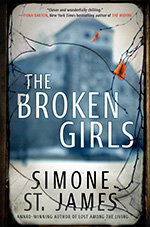 The Broken Girls, Simone St. James, This book is a knockout. I've read several books by St. James, but this one is by far my favorite. While she doesn't have a recurring series character, her novels are always historical, and they all feature an actual ghost. There are some mysteries where a ghost is suggested but turns out to be something else more explainable. St. James is firmly in the old school ghost story camp and it serves her well. The Broken Girls takes place at a girl's boarding school in Vermont. Part of the book is set in the Vermont of the 50's when the boarding school was still operational; and part of it is set in 2014 Vermont, where we meet central character Fiona Sheridan, who is much scarred by the now 20 years ago death of her sister on the boarding school grounds. The connecting thread across time is not merely the school but also the campus ghost, Mary Hand, who terrifyingly knows your most vulnerable places and fears and acts on them. There are all kinds of notes about her and whispered stories among the girls in the 50's; but many years later, Fiona is also convinced she's seen a ghost on campus. This book was impossible to put down and so haunting. While every character in the novel has a sad story to tell, it's also a story of bravery and survival on the part of some remarkable women who take the terrible hand they've been dealt and make something out of it. The atmosphere of almost winter – the skittering leaves and cold air, and in Fiona's time, the abandoned buildings of the school – create an environment that's hard to forget once you finish the book. The girls – and the grown women – are just as memorable. While a scary and disturbing story, it's also a strangely hopeful one.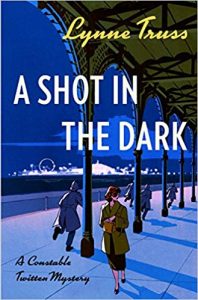 A Shot in the Dark, Lynn Truss. This is the kind of funny, dry, intelligent humor the Brits do so well, and the set up is delicious.The novel is set in Brighton in 1957, and makes frequent reference to Graham Greene's Brighton Rock, a classic novel about gangs. Truss's Brighton, while also beset by gangs, is a slightly less ominous place. The story opens as Inspector Steine is greeted by a new and enthusiastic recruit, Constable Twitten. Steine is pretty oblivious and only interested in resting on his past laurels – where two rival gangs took themselves out under his watch – he now insists, Stalin-like, that there is no more crime in Brighton. Twitten and his faithful Sergeant Brunswick beg to disagree.  This book is a quick mover, and Truss aims to give a complete picture of Brighton. Part of the story also concerns a theater critic heading to Brighton to see the kind of virtuous working class themed play he actually despises. His review is already written; he just has to see the play to confirm his opinion. Unfortunately, he's killed on opening night, which really lights a fire under the narrative. The many plot threads all become intertwined – and Truss is so respectful of the genre she includes a scene at the end where all the suspects are called together in one place – but she's also slyly tweaking a form she obviously loves. It's the love and the humor that sold me on this novel, which could have been a twee take on gangs and Brighton characters with a capital "C", but is instead a cleverly plotted story populated with extremely memorable characters. What a fresh start to what I hope will be a long lived series.