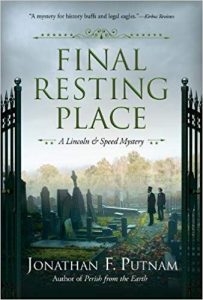 This is a lovely series, full of energy and insight.  This installment, set during the election season of 1838 in Springfield, Illinois, follows the story of a man shot during the 4th of July fireworks and his subsequent trial, where his defense is taken on by Abraham Lincoln.  The two central characters in this series are Joshua Fry Speed, known to history as Lincoln's best friend, and Lincoln himself.
Why, you may say to yourself, I know all about Abraham Lincoln.  Unless you are an historian, I assure you, you do not.  Putnam has chosen to set his series during Lincoln's younger years, before marriage to Mary Todd, when he's living what was then a hardscrabble life as a lawyer.  He and Speed share one bed in a rooming house; there's another bed in their room shared by two other men.
Speed owns the town general store, and Putnam is expert at bringing the small prairie town to life.  Springfield was small at the time but growing by leaps and bounds.  As the courthouse is built, Lincoln's office is over the temporary court chambers, and juries use his office to deliberate.
The feel of life at the time really comes through in Putnam's writing.  The election – Lincoln is running for re-election to the state legislature, and his longtime rival, Stephen Douglas, for Congress is vividly portrayed, with all its scrappy violence and brutal insults.  If you also want to know where the term "stump speech" comes from, or why women put candles in their windows, or how duels were usually resolved, this is the book for you.
Lincoln's melancholy is also well portrayed, and as a reader you really feel for him.  While his ne'er do well father and stepbrother have turned up in this book, he's lost his mother, his sister, and his first love at this point.  Another loss in this book plunges him into a deep depression.  It's well known Lincoln suffered from depression, of course, but the way its illustrated here really gives you a feel for what he must have struggled with all his life.
The relationship between Speed and Lincoln is also nicely portrayed.  Speed  serves as Lincoln's investigator, as he does in this novel, and the two men search for clues to clear the man accused of the murder. The resolution was surprising, but had also been set up so well it felt right. Reading one of these books is truly an immersive experience that puts you right back in 1838.