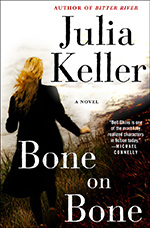 Bell Elkins is one of the greater creations in recent mystery fiction. A feisty, smart, no-holds-barred prosecuting attorney in tiny Acker's Gap, West Virginia, each book is infused with both the love of the land and the tragedy of it, a shadow that's deepened and grown darker through the course of the series. From the very first novel, A Killing in the Hills, Keller has had her finger on the pulse of contemporary culture. In that novel, the central event was a mass shooting at a fast food restaurant. In the most recent novel, Fast Falls the Night (2017), Keller focused on an alarmingly high series of overdoses related to opiods in one 24 hour period.
In Bone on Bone, Keller has shaken up Bell's life completely. As the book opens, not only is Bell is no longer the county prosecutor, she's finishing up a three year prison stint. Mentioned as an aside (this could be a spoiler, but it's in the first chapter) is the fact that her sister Shirley has died. As this gifted author peels away the layers of her story, sometimes going back in time, Bell's situation becomes heartbreakingly clear. There's still a secret to Bell's back story not revealed until the end of the novel, one that might make you think differently about Bell as the book ends.
The central story of the book is not Bell's, however, it's instead the story of Ellie, Brett and Tyler. Ellie and Brett are the parents dealing with the heartbreaking journey of having a heroin addict for a son. The path each of them takes is often unexpected – most chilling, however, is Ellie's determination to rid herself of her son once and for all, by shooting him.
While I guess this book isn't technically a noir novel, the situations the characters face – while not related to corruption – couldn't be more dire. Unlike many contemporary novels that call themselves noir, a term I find somewhat artificial, Keller's writing is so honed to the issues facing our culture that she's both contemporary and, because of her skill as a writer and her genius with character, timeless.
While she doesn't offer a solution to the problem of drug addiction she offers a personal, up close look at it, and illustrates the way this particular community deals with this particular situation. Because Keller's other talent is her pure mystery writing skill, she's able to offer twists and turns and a surprising ending, one that even has some portions that are actually hopeful. Every word this woman writes is worth reading.