This is an expansion of an earlier essay and the basis of a talk I've given a couple times.
Like many of you, I started reading mysteries in the form of Nancy Drew in grade school. I was entranced, and in middle school I decided to read every novel by Agatha Christie. I found I could read one a day and after reading a great many of them, I was able to figure out whodunit – sometimes.
During college I discovered Dorothy Sayers, Ngaio Marsh and Margery Allingham, and when my husband and I moved to Ann Arbor in 1988, it was only a couple years before we opened Aunt Agatha's. My husband Jamie worked at Borders for a few years and when we decided to branch out on our own, we went with the mystery genre. We named our store after Agatha and she remains, after 26 years, our bestselling author.
The passion for Agatha Christie never seems to go away. A friend, who is a critic and writer, suggested that it is harder to explain why you like something than why you dislike something, and while that's certainly true – think about it – I'm going to give it a shot.

First a little background on Agatha herself. She was born Agatha Miller in 1890 in Torquay, England. She had an American parent – her father, Frederick, and a British one, Clara, her determined mother. Clara bought the Torquay house, Ashfield, while her husband was away, and there the family remained. Agatha had two much older siblings, Monty and Madge, and was virtually an only child.
The shy little girl was schooled at home and was told by her mother that eight was an appropriate age to start reading. The curious Agatha of course started to read much earlier, at age 4. She loved making up stories and games, and she loved her pets. As she put it in her memoir, "One of the luckiest things that can happen to you in life, I think, is to have a happy childhood."
This happiness lasted until she was 11, when her genial, lazy father died at age 55, leaving Agatha and Clara in reduced circumstances.   She herself said that her father's death marked "the end of her childhood."
While her mother figured out a way to send her to finishing school in Paris, when she eventually returned home, she found her mother was ill and the two women went to Cairo for where they stayed at the Gezirah Palace Hotel for three months.
It was here that the 18-year-old Agatha, having dabbled in short stories and poetry, began to try writing in earnest. She eventually wrote a novel set in Cairo, Snow Upon the Desert, and submitted it under the pseudonym of Monosyllaba. Like her poetry and stories, this was rejected several times, and her mother suggested that she reach out to family friend and successful writer Eden Philpotts. He was able to give her several helpful bits of advice, and even introduced her to his editor, whom Agatha found terrifying. Philpott told her she was good with dialogue and should make it as natural as possible, and he told her to "leave your characters alone, so they can speak for themselves." He found her story structure admirable, and said to avoid "first hand moralizing," calling it "bad art." Then he advised her to read, particularly recommending the French author Gustave Flaubert.
Obviously Philpott had zeroed in on Agatha's true strengths as a writer – strong storytelling and good dialogue. He was encouraging, and she kept writing. However, there were other things happening in Agatha's life. She was a young woman and had several beaux, but she was eventually swept off her feet by Archie Christie. The two met just as war was breaking out in 1914. To the sheltered Agatha and Clara, the outbreak of war was a horrible shock, as well as the end of their peaceful Edwardian existence.
Their relationship was volatile; Archie was a daredevil, and in the War he served as a pilot, being much decorated and promoted for his bravery. Agatha served in the VAD – Voluntary Aid Detachment – and worked as a nurse, like many other young women of her generation, though she did not serve overseas. When Archie came home on leave in 1915 they snatched their chance and were married on Christmas Eve. Then they were separated again. All through the war they were separated, reunited, separated. Their real marriage didn't really begin until the war was over and Archie came home. The pair were 27 and 29.
The couple settled in a tiny flat; Agatha was soon pregnant and gave birth to Rosalind Margaret in 1919, and that year saw another important birth in her life: that of Hercule Poirot.   Agatha's sister Madge had challenged her to try her hand at a detective story, and because she was fascinated by puzzles, mathematical codes, and "strategems for keeping secrets safe", detective novels were a good fit for her. She loved Sherlock Holmes and Wilkie Collins.
Poirot is Belgian because Torquay was full of Belgian refugees. She wanted him to have police experience, but not be a policeman, so he is a retired luminary. She originally named him Hercules, but Hercule ultimately seemed to fit better with Poirot. She made him eccentric and brilliant, with his egg shaped head and huge mustaches, and like Holmes, he has his slightly stupid sidekick, Colonel Hastings, introduced in the very first book, The Mysterious Affair at Styles.   She submitted it, it was rejected twice, and she sent it on to the Bodley Head. She forgot about it until they contacted her and she agreed to terms that tied her to them for her next five books. Styles was published in 1920, followed by Murder on the Links(1923), Poirot Investigates (1926) and The Murder of Roger Ackroyd (1926).
It was the year Roger Ackroyd was published that became a pivotal one in Agatha's life. Ackroyd, whose denouement was suggested to her by her brother in law (and Lord Mountbatten, who was a fan) was a huge success.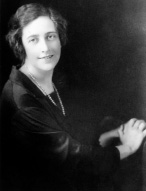 Unfortunately her personal life was in great turmoil. Her mother was ill and died; and her husband told her he wanted a divorce and was in love with another woman, Nancy Neele. Archie was not helpful as Agatha grieved for her mother and went alone to clear out the family home; he found unhappiness "embarrassing", and as Agatha adjusted to her new reality she became mired in what we would call today a deep episode of depression.
On December 3 of that year, Agatha checked on her sleeping daughter, got into the car Archie had encouraged her to purchase and learn to drive, and disappeared. Her car was found abandoned and a nationwide search ensued, with Col. Christie a prime suspect in Agatha's possible murder. Agatha had in reality gone to an hotel and was found 10 days later. The family line has always been that she suffered a bout of amnesia; but whatever it was, it was certainly some kind of emotional fugue state, brought on by depression and melancholy. In any case, she never again spoke of it, and it remains something of a mystery.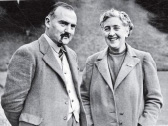 Not long after this she and Archie did divorce, and she bought herself a London row house. In 1928, when Rosalind was at school, she boarded the Orient Express in search of adventure. She traveled on to Bagdad, and went to a digging site at Ur. On a second trip in 1929, she met Max Mallowan, and the two were married in September of 1930. It was a lifelong, happy and agreeable marriage, with Agatha frequently accompanying Max on digs. She spent a great deal of her life traveling, and loved trains and new experiences. She even learned to surf in Capetown!
Eventually on digs Agatha had her own writing house, and she and Max only went to sites where they could work together. Agatha paid for her own board and lodging so as not to influence the funding. While she wrote during the 3 or 4 months they stayed on site, she also labeled exhibits, cleaned and conserved delicate ivory pieces, reconstructed pottery, developed photos and took her own field notes. All of these travels were reflected in her writing, beginning, of course with Murder on the Orient Express (1934) which she wrote at the Pera Palace Hotel in Istanbul. The hotel maintains the room dedicated to Agatha. But she also wrote Death on the Nile (1937), Murder in Mesopotamia (1936), Appointment with Death (1938), which is set in Jerusalem, Death Comes as the End (1944) and in 1951 They Came to Bagdad, all set in the same area of the world.
One very important influence on her writing came during the Second World War, when she worked in the pharmacy at the University College Hospital in London where she acquired her vast knowledge of poisons, which she frequently put to good use in her novels. The use of thallium as a poison was suggested to her by the chief at the University College Hospital, and she later used it in The Pale Horse (1961).
She was also much influenced of course by the events of the time. Both world wars played a huge part in her life, and her use of spies, espionage, and foreign agents are especially well represented in her novels featuring Tommy and Tuppence, who work as private detectives but whose work frequently intersects with British intelligence. They were the only characters of Christie's to have aged in real time, and the five novels range from 1922 to 1973.
Christie herself was investigated by MI5 as she had a character named Major Bletchley, and they were worried she had an inside source at the top secret Bletchley circle. But as she explained to friend and code breaker Dilly Knox, she picked the name "because I was stuck there on my way by train from Oxford to London and took revenge by giving the name to one of my least lovable characters." She based the Major on a tedious former Indian officer of her acquaintance.
Another influence on Agatha was her brother in law's home, Abney Hall, specifically setting After the Funeral (1953), there, but Abney was always the basis for the ultimate country house in her mind. Most everything was grist for her mill, with even ordinary household tasks producing results. She put it this way: "the best time for planning a book is while you're doing the dishes." She wasn't one to talk about her creative process, insisting the books would speak for themselves. It makes you wonder how she would have functioned today with the expected author tours, mystery conventions, interviews, and social media.
The closest I've come to finding a mention of the creative process is in one of my favorite Poirot books, The Hollow.   One of the central characters is a sculptress, and as she finishes a clay head, she thinks to herself: "It feels nice, she thought, to be a human being again – and not that other thing. Nice to have stopped feeling restless and miserable and driven. Nice to be able to stop walking around the streets unhappily, looking for something, and feeling irritable and impatient because, really, you didn't know what you were looking for! Now, thank goodness, there would only be hard work – and who minded hard work?"
Agatha certainly never minded hard work – she was incredibly prolific, producing 30 Poirot novels, 12 Miss Marple novels, 5 Tommy and Tuppence novels, 3 Colonel Race novels, many stand alone novels and dozens and dozens of short stories, as well as several plays, including the longest running play in the world, The Mousetrap. The Mousetrap has been running in London's west end theater district since 1952. On leaving the theater, playgoers are traditionally encouraged not to reveal the twist ending.
So, as I asked myself at the beginning of this talk, why do I like Agatha Christie? It could be admiration for her many accomplishments. It could be that in an era when many women were housewives, she forged her own career, and enjoyed a life with a spouse who had his own vital career. While I don't think she would have considered herself a feminist, as she was really a very traditional person, she certainly was.
I might admire her because she joined fellow crime writers Anthony Berkley (the imprint Berkley Prime Crime is named for him) and Dorothy L. Sayers in founding the detection club in 1930. (She served as president from 1957 until her death in 1976). After a war where so many young men had been killed or traumatized, puzzles, crosswords, and games like bridge became immensely popular as did the puzzle mysteries that Agatha so excelled at. While the novels were dismissed as "cosy" by some, these writers, traumatized by war in different ways, didn't care to wallow in gore. Dorothy Sayers, embracing the zeitgeist of the time, came up with an oath new members had to swear to:
Do you promise that your detectives shall well and truly detect the crimes presented to them using those wits which it may please you to bestow upon them and not placing reliance on nor making use of Divine Revelation, Feminine Intuition, Mumbo Jumbo, Jiggery-Pokery, Coincidence, or Act of God? 
And the "rules" of the club followed suit, including no supernatural agencies; no twins; not more than one secret passage or room; no hitherto undiscovered poisons; and the "Watson" character needed to be slightly less intelligent than the average reader.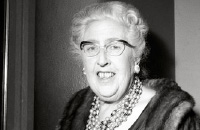 And while this is silly and fun, of course, the formula has held and become classic. Christie was responsible for the invention of countless tropes which remain in almost constant use. I think there are several that we can credit to her, either as her own invention or in using them so brilliantly they became hers. One is the "unreliable" narrator, not her invention, of course, but when she makes that narrator the killer, as she does in The Murder of Roger Ackroyd, she took it to another level. She came up with "everyone dies," as in And Then There Were None; and she came up with everyone is the killer, as in Murder on the Orient Express. She was fond of solving past crimes in the present (Murder in Retrospect), a trope much in use today. And she even wrote one of the scariest psychological thrillers ever written, Endless Night, in 1967. This one especially has certainly influenced a raft of writers, from Ruth Rendell to Ruth Ware. She introduced the concept of gathering the suspects at the end so the detective can explain the crime. Her fertile brain, much like Edgar Allan Poe's (who is credited with inventing both mystery and horror fiction) inaugurated so many aspects of the crime novel, which she fine tuned and made her own.
She also leaves a giant legacy in the form of what is now called the "cozy" mystery. Every cozy author I've ever met mentions his or her indebtedness to Christie. Vicki Delany, who has written several cozy mystery series, defines cozies this way: "The characters live in a very pleasant world and their goal in solving the crime is to return their community to its pleasant state."   It's the best definition of a cozy I've run across, and it is Agatha's writerly world view. She does begin with an orderly universe. Sometimes the people within it are in disarray – unhappy in some way – but the world she wants to reassemble by solving the crime is a clear and stable one. There are literally hundreds of cozy mystery writers who owe their essential world view to Agatha Christie.
And then, to me, there's Miss Marple. I discussed her invention of Poirot earlier. While Poirot is a brilliant creation, he has his antecedents, beginning with Sherlock Holmes himself. He was a twist on a formula. To me, Miss Marple is not only revolutionary, she is subversive. She first appeared in 1927, in a short story titled The Tuesday Night Club, which appears in the collection The Thirteen Problems. She was based on Agatha's grandmother, who Agatha described this way: "Although a completely cheerful person, she always expected the worst of anyone and everything. And with almost frightening accuracy she was usually proved right." The name came from Marple Hall, near her brother in law's home Abney Hall. Miss Marple has another antecendent, Miss Caroline Sheppard, in the Murder of Roger Ackroyd. The opening breakfast scene in that novel is one of my favorite scenes in any Christie book:
"The motto of the mongoose family, so Mr. Kipling tells us, is "Go and find out." If Caroline ever adopts a crest, I should certainly suggest a mongoose rampant. One might omit the first part of the motto. Caroline can do any amount of finding out by sitting placidly at home."
And so Miss Marple was widely introduced in the first Marple novel, The Murder at the Vicarage, in 1930. When we meet her, at a vicarage tea party, the rector thinks to himself: "Miss Marple is a white-haired old lady with a gentle, appealing manner – Miss Wetherby is a mixture of vinegar and gush. Of the two Miss Marple is much the more dangerous."
Miss Marple, with her gardening, her fluffy knitting, and her sweet manner, is deceptive, and she goes on to take control of the novel, gently correcting the vicar and the police when they get it wrong. While Christie uses words like "elderly," "gossip," and "spinster" to describe Miss Marple, Miss Marple, despite these apparently negative traits, always prevails. Like all old ladies, Miss Marple is frequently ignored and dismissed. It's character subversion as worthy as any plot twist Christie employs in her novels.
Miss Marple, like Hercule Poirot, has one basic rule she applies to each case. With Poirot, the rule is "the little grey cells," i.e., using his logical and intelligent brain to deduce what's going on. Among Poirot's many descendants are detectives like Rex Stout's Nero Wolfe and TV detectives like Columbo and Monk. Emotion is pretty much out of the equation.
Miss Marple, on the other hand, finds a parallel person from her wide acquaintance and discovers, usually, that as people are the same everywhere, she can understand their character and then figure out what's happened. It's really the opposite of Poirot. As Miss Marple explains it in Murder at the Vicarage, "You see… living alone as I do, in a rather out-of-the-way part of the world, one has to have a hobby….my hobby is – and always has been – Human Nature. So varied, and so very fascinating." She goes on to describe how she classes people as types and works from there.
Agatha's look at a particular set of social class, codes of behavior, and way of life, is complete. It's almost like Jane Austen. Austen also worked within a tiny framework but within that framework, she discovered the universe. So, I think, does Christie, who delivers a crime ridden, funny, unique and lasting universe within her pages. I'm getting closer to why I like her so much. I like her humor, I love Miss Marple (more so the older I get), and I love the way she tells a story.
Christie eventually tired of Poirot. By the end of the 1930's she already found him "insufferable"; by the 1960's she considered him "an egocentric creep." There are far fewer Marple novels – after Marple's introduction in 1927 she didn't write another until 1942 (The Body in the Library), and so perhaps that's why she didn't tire of her. She was often asked if they would ever appear in a story together and she said, no, Poirot "would not like being taught his business… by an elderly spinster lady."
But she didn't want the characters to live on after her own death, either, and she wrote final novels for each of them which she put in a vault. They were published shortly before her own death as incipient dementia made clear she would no longer be writing. Curtain was published in 1975; Sleeping Murder was published in 1976. Poirot has returned in recent years, in the form of several novels by different authors, most recently by Sophie Hannah.
But on to why I really like her. I had to get a little help, and I asked some fellow readers what they liked about Christie and got some interesting and varied answers.
One reader said, "I love that her novels are so tightly and precisely written. There is never a wasted word, nor one lacking, and always a plot that is woven well, like a fine piece of lace. She's still the queen."
Another said "She explores human problems again and again from every angle. She has a sense of openness, humor and humility about it."
"Christie novels are like a dry Martini – cold, balanced, perfect." –author Susan Elia MacNeal
"We can see these people, hear them and know them. For a writer starting out, that ability to nail people in a line or two was a valuable lesson to learn. The plotting too, obviously. Those interwoven story arcs, each with a set-up, development and pay-off (often an unexpected one) taught me much of what I know about the black art of narrative. It's no exaggeration to say that The Murder at the Vicarage set me on a path I've been happy to follow for 30 years." –author Val McDermid
"It's necessary to answer the question of 'who killed x?' but this isn't sufficient. The real mysterious hook in crime fiction is not so much whodunnit, but 'how on earth can the apparently inexplicable be explained?'" –author Sophie Hannah
So I think I've enumerated reasons Christie can be admired – and the reason other writers admire her. Pithy characterizations, humor, tight plots. All the Golden Age writers were able to deliver much of the same – but somehow, Christie is the one that's most often read, re-read and cherished. So why is she beloved? I love Miss Marple, for one thing. I love the way she tells a story, for another, and I love that there are small characters I will always remember because of her concise and direct descriptions. But I think part of the reason I love her is intangible. Once I was selling some titles to a fellow fan and we just looked at each other and said – "Magic." And there's no better explanation of why I love her.