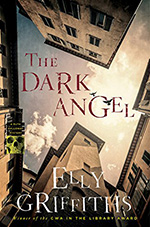 Elly Griffiths goes from strength to strength with her Ruth Galloway series. She's created a long form look at a main character that most readers not only love, but identify with. In this outing as Ruth hits the beach with her glam friend Shona, her discomfort at wearing her old black one piece in public is something pretty much any woman can relate to. But of course there's more than an identification with Ruth Galloway that makes Griffiths' novels a standout – she's an effortless and energetic storyteller who punctuates her writing with healthy dollops of humor. What's not to love?
As the book opens, Ruth is reluctantly attending the wedding of policeman "Cloughie" – a likable good guy on DCI Nelson's team – to a glam actress. Ruth dreads seeing Nelson and his presently pregnant wife Michelle. Regular readers of the series are aware that Ruth and Nelson have an illegitimate daughter, Kate, and that Michelle tolerates Nelson's small participation in Kate's life. Spicing things up is a recent affair between Michelle and Tim, another officer who worked for Nelson, and Michelle is far from sure that the baby she's carrying is Nelson's.
Despite Kate's complete appreciation of a sparkly bride, all Ruth can think is that she needs a vacation, and when she gets a call from a former colleague in Italy, asking her to consult on some bones and offering her a free place to stay for two weeks, she hurriedly accepts, taking her friend Shona and her son Louis along.
The bones are certainly curious – the skeleton her friend has discovered was found buried face down with a small stone wedged in his mouth – and Ruth's professional curiosity (she's an archeologist) is certainly piqued. She balances work with vacation in this novel, giving the reader a luscious virtual tour of the small village in the Italian hills where they are staying.
All the same, Griffiths is up to her usual tricks – she has a love of the slightly gothic and of history, and she brings in the Romans, Mussolini, an earthquake, a couple blackouts, a mysterious boar's tooth and of course, a dead body in an appropriately goth location.
Back in King's Lynn, Ruth's hometown, Nelson is slightly troubled by the release of a prisoner he put away for killing his family. The man appears to have become a Christian in prison but Nelson is not so sure. Griffiths takes all these elements and creates a great story with them, even somehow believably getting both Nelson and Cathbad to Italy. Plus there's a real wowser of an ending, with complicated repercussions for just about every major character. This is another great read from this more than reliable author.