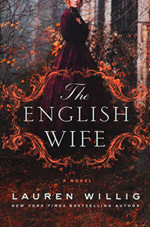 If you are a fan of great writers of the recent past like Mary Stewart or Daphne du Maurier, Lauren Willig is the writer for you, truly putting the romance part into romantic suspense. A clever mystery, a tragic romance, unforgettable characters—several of whom are dead—Willig has all the elements of romantic, gothic suspense in her story and she runs away with them.
Set at the turn of the 19th century, from about 1894 to 1900, Willig sets her story slightly in the past as well as in the present, so she's sticking to the twin narrative pattern that is her trademark. She takes the story of the meeting of humble Georgie, an actress in London at a time when stage folk were not so revered, and the fabulously wealthy American, Bayard VanDuyvil, or simply Bay.
It's obvious to the reader though not so much to Georgie that Bay is enamored—Georgie can barely bring herself to hope that she can elevate herself out of her hardscrabble life simply by falling in love. Even as she cautions herself against fairytales, she finds herself a married woman enjoying a Paris honeymoon before she can believe it.
In the present, the book opens at a ball at a lavish home in New England, with the head of the household found dead—a dagger through his heart—during his housewarming costume ball. His wife is nowhere to be seen, and the work of the novel is to match up these two stories as of course the dead couple are Bay and Georgie.
Doing the detective work is Bay's bereaved and somewhat mousey sister Janie, who enlists the unlikely help of a common—gasp—journalist. Janie's mother could not be a bigger snob (she looks down on the Vanderbilts) so Janie is on her own, somewhat hindered in her investigation by her cousin Anne, who long ago stole Janie's fiancée. Anne is now separated and living with the VanDuyvils.
The story of Janie and the journalist, Burke assumes center stage, interspersed with the story of Bay and Georgie and how they ended up dead. To tell much more would be to give away too many details of this clever, sinuous, elegant story that has a gasper of an ending. I couldn't recommend it more highly.